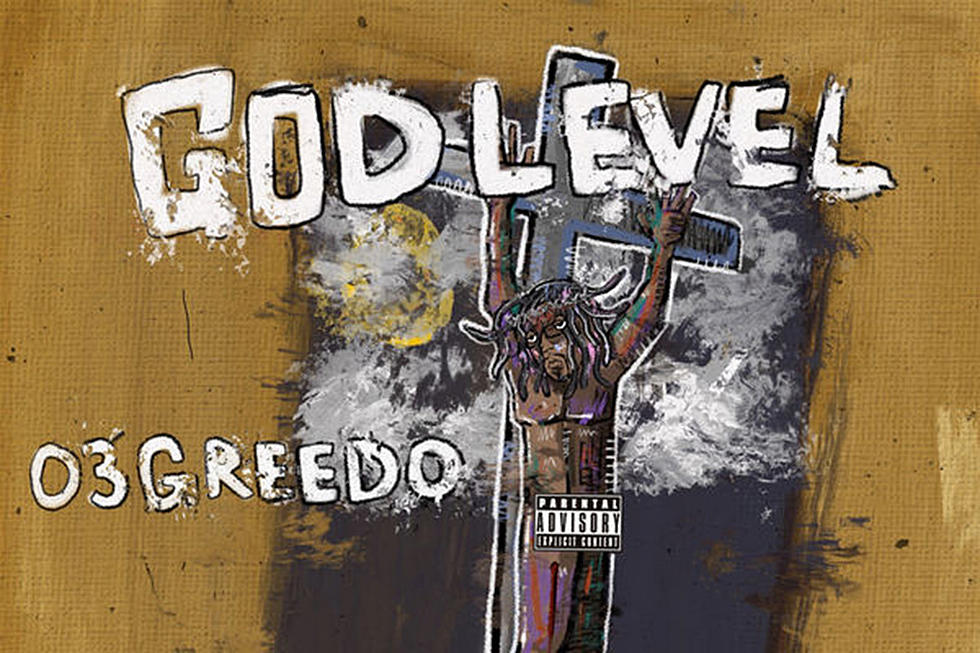 03 Greedo Delivers 'God Level' Album Ahead of 20-Year Prison Sentence
Alamo Records
03 Greedo is making good on his promise to extend his musical legacy ahead of his 20-year jail sentence by delivering yet another full-length project titled God Level on Tuesday (June 26).
The 27-track project finds the Watts product rapping candidly about his beloved city of Los Angeles as he rattles rhymes over off-kilter melodies. The rapper's fourth album features a rolodex of hitmakers including Rich The Kid, Lil Uzi Vert, KEY! and Yhung T.O. of supergroup SOBxRBE. God Level's somber warm weather anthems are complemented by production from Kenny Beats. The cover art, which features a hand-drawn version of Greedo on a cross, is reminiscent of Tupac's The Don Killuminati: The 7 Day Theory artwork.
Greedo's success over the course of the past year has been marred by his harrowing legal troubles dating back from 2016. The rapper is due to serve up to 20 years in prison after being arrested for possession of drugs and guns while in Texas.
Press play on 03 Greedo's God Level and take a look at the cover art as well as tracklist below.
03 Greedo's God Level Tracklist
1. "Blower" feat. AD
2. "Finally"
3. "Fall Off"
4. "Basehead"
5. "Prayer for My Lost"
6. "Buckhead" featuring Key!, Runway Richy, ManMan Savage and Mal & Quill
7. "In My Feelings"
8. "Praying to God"
9. "Bacc to Jail"
10. "Gun Bucc"
11. "Floating"
12. "Dibiase"
13. "Conscience"
14. "Fortnite (Remix)" featuring Rich The Kid
15. "Static"
16. "Street Life"
17. "100 100 100"
18. "Good Grape"
19. "Onna Way to the Paper" featuring Yhung T.O.
20. "High Off Me" featuring Yung Bans
21. "Cutlass"
22. "Different Flavors"
23. "Mr. Clean"
24. "Tiffany Magnolia"
25. "Mr. OT"
26. "No Disrespect"
27. "Never Bend (Remix)" featuring Lil Uzi Vert
See New Music Releases for June 2018