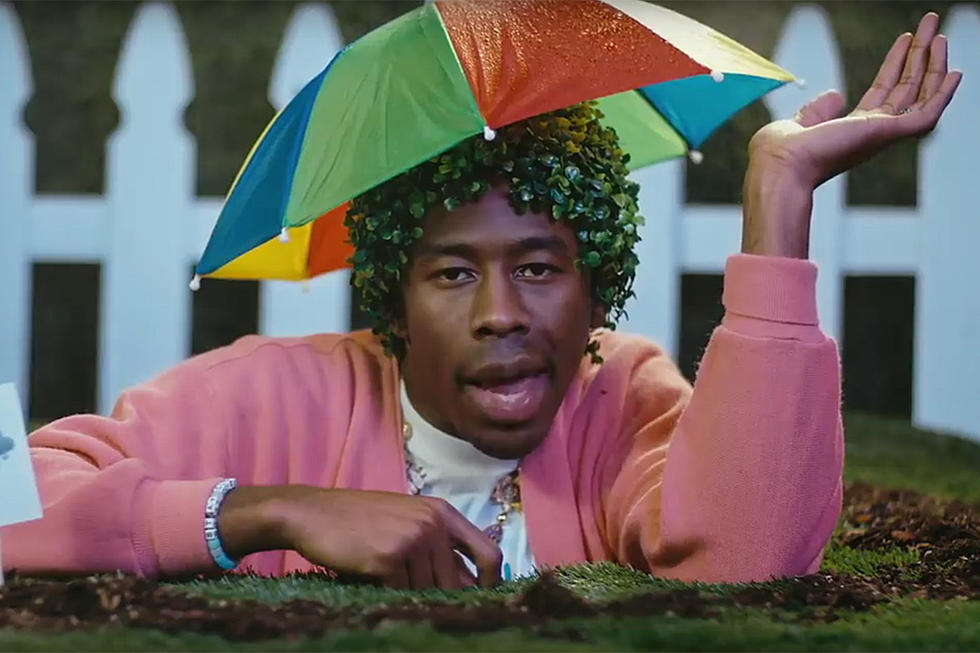 Tyler, The Creator Grows From the Ground in Kali Uchis' "After the Storm" Video
KaliUchisVEVO via YouTube
The smooth track, which features additional vocals from funk legend Bootsy Collins, gets a surreal video directed by Nadia Lee Cohen. The visuals begin with Uchis sitting in vintage-inspired kitchen, as an animated Bootsy sings from the front of a cereal box.
Kali then takes a trip to the grocery store where she picks up a packet of seeds featuring Tyler on the package. The singer proceeds to plant the seeds which leads to the rapper growing out of the ground.
"Sun is beaming on me like headlights beaming on Bambi," he raps in the video. "Now let's pretend the street is the room and you are a Camry/'Cause your drama candid."
"After the Storm" will be featured on Uchis' upcoming project, which is set to release in spring 2018. Along with her appearance on Tyler's Flower Boy, the songstress was also featured on the rapper's Cherry Bomb album.
Up next for Tyler, the artist will be competing for Best Rap Album at the 2018 Grammy Awards. The 26-year-old's Flower Boy will compete against JAY-Z's 4:44, Kendrick Lamar's DAMN., Migos' Culture and Rapsody's Laila's Wisdom.
Check out the "After the Storm" video below.
See 50 of the Best Hip-Hop Projects of 2017