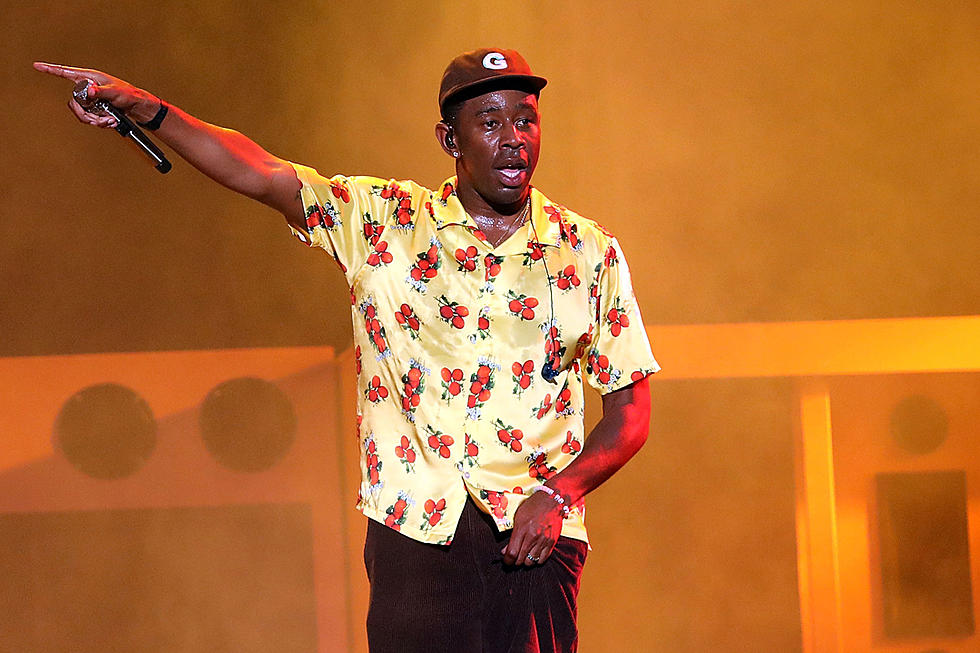 Tyler, The Creator Has His Own Ice Cream Flavor
Taylor Hill, Getty Images
On Monday (July 1), the former Odd Future leader unveiled on his Twitter account his new ice cream called Snowflake. The flavorful confection is a mix of two colors, the Snowflake flavor features "cool peppermint on the ivory side, warm spearmint on the green side, with buttery white chocolate melted throughout, white chocolate flakes for some crunch."
Tyler's Snowflake ice cream creation is the result of a joint venture between the rapper's GOLF Le FLEUR* brand and Jeni's Splendid Ice Creams, a Columbus, Ohio-based ice cream company. Fans can order the ice cream on Saturday (July 6) at both the GOLF and Jeni's websites at 10 a.m. It will also be available on the same day at Tyler's GOLF store in Los Angeles, and on July 8 at various Jeni's locations on July 8.
"As much as I love white chocolate chip cookies, I can't get over the fact that someone made the universal rule that they always have to come with those useless macadamia nuts," Tyler wrote in a letter with the tweet in which he announced his ice cream flavor. "For as long as I can remember, mint ice cream seemed to always come with every chocolate chip but white. I finally got the two away from their clingy friends and set up a play date for my mouth."
Tyler follows Tory Lanez as another proprietor in the ice cream business. Tory just opened an ice cream parlor Notorious Creamery in Fort Lauderdale, Fla., last month.
Check out Tyler The Creator's announcement of his new ice cream flavor Snowflake below.
See 65 Hip-Hop Albums Turning 20 in 2019