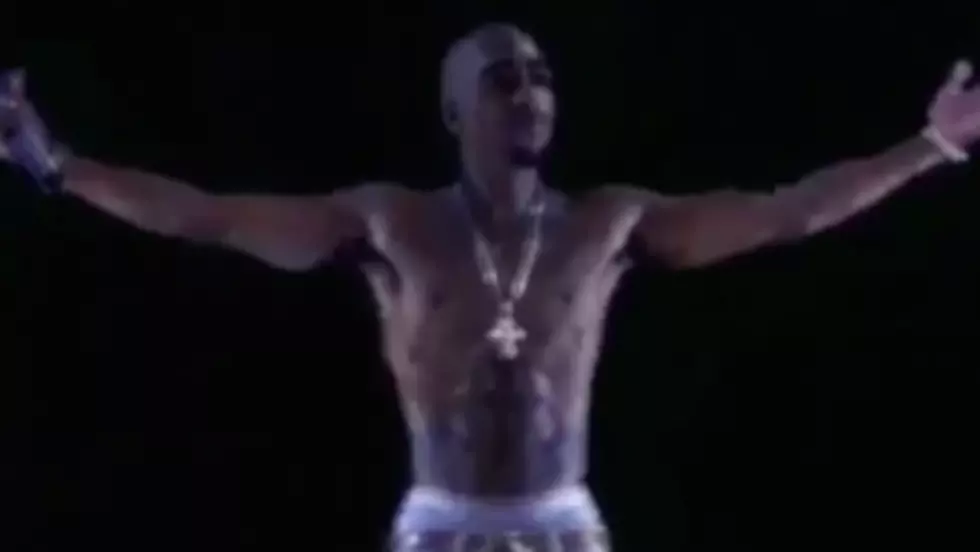 Tupac Hologram Wins Prestigious Cannes Lions Titanium Award
The 2Pac hologram drew rave reviews upon its debut at the Coachella music festival back in April. Now, it's winning awards too.
According to AllHipHop, the virtual 'Pac was awarded a prestigious Cannes Lions Titanitum Award after the Digital Domain Media Group—which was responsible for the hologram—entered their prized creation into the 59th annual Cannes Lions International Festival of Creativity in Cannes, France.
"When Dr. Dre came to us with his vision we knew that the world had never seen anything like this and that the response was going to be huge," Ed Ulbrich, the Chief Creative Officer of Digital Domain, told AHH. "Having 'virtual 2Pac' and the idea of virtual performers recognized with a Cannes Lion Titanium Award is beyond exciting."
The initial viewing of the virtual 'Pac sparked rumors that Dr. Dre and Snoop Dogg would be taking the hologram on tour with them. However, Dre shot down such reports.
"As you know, we had a hologram of Tupac Shakur show up as a part of our show, and I want to thank a couple of companies out there that made my idea come to life," the West Coast pioneer began in a message to his fans, posted on the YouTube page of Interscope Records, where he is signed. "I wanna say what's up to AV Concepts, who actually projected the hologram; I wanna say what's up to Digital Domain for actually putting the image together—they did an incredible job and everybody out there loved it.
"It was strictly for Coachella—get it right," Dre added. "I wanna get rid of all the rumors out there…this was not done for a tour. If a tour happens? We'll see. This was done strictly for Coachella 2012, baby. Just for you."
Back in April, weeks after the hologram debuted, Billboard Biz reported that many of 2Pac's albums, including Greatest Hits, All Eyez On Me and Me Against The World, received a jolt in sales.—Jakinder Singh