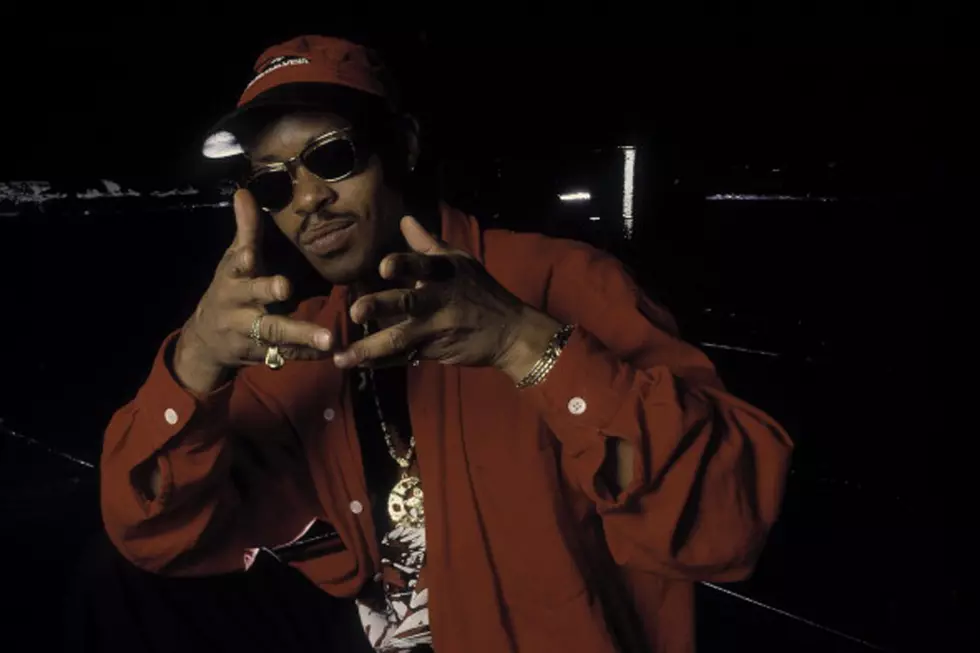 Today in Hip-Hop: R.I.P. Guru (July 17, 1962 – April 19, 2010)
Paul Natkin, Getty Images
On this day, April 19, in hip-hop history...
2010: After a lengthy battle with cancer, Boston-born rapper Guru died at the age of 48 on April 19, 2010.
A pioneering Golden Age MC and one half of the seminal group Gang Starr, Guru (government name Keith Elam) went into cardiac arrest back on February 28, and fell into a coma following surgery. He was survived by his parents, three siblings and his son Keith.
Gang Starr was founded with DJ 1 in Boston in 1985, but the duo split four years later. DJ Premier assumed the open position, and the two dropped their first single, "Words I Manifest" to critical acclaim. Gang Starr went on to release six albums and a greatest hits compilation. Their '98 LP Moment of Truth was certified gold, and two singles, "Mass Appeal" and "You Know My Steez," charted on the Billboard Hot 100. Guru was one of the first mainstream rappers to deploy dense, multisyllabic rhyme schemes. While Preemo laid jazz-heavy beats and scratched samples over hooks, Guru stood out for being "wild with his monotone style," rarely raising his voice even when spitting some of the most poignant subject matter coming out of New York. His raspy, mellow vocals found their way into tracks with almost every major rapper from the era, including Nas, Jay Z, Big L and De La Soul.
Guru found solo success with his Jazzmatazz collaborations, which saw the MC linking up with jazz legends like Roy Ayers and Ronny Jordan. The series had four volumes, with the final installment coming in 2007.
Controversy surrounding Guru's alleged deathbed letter arose shortly after his passing. The note, which was described by production partner Solar, supposedly distanced himself from Premier, founded a charity named Each One Counts, and excessively praised Solar for his bedside care and career work. Concerns initially arose when it was uncovered that Each One Counts was not registered in Guru's name. Premo and several members of the family denied the claim that Guru awoke from his coma to compose the letter, and Guru's family additionally said that Solar had prevented them from seeing or contacting Guru before his death.
But the legacy still lives on. Various tributes and rereleases have honored the late, great emcee. The "suspicious character strapped with the sounds profound" should be in rotation all day, and our thoughts will be with the Elam family. Rest in peace, Guru. --Steven Goldstein
40 Hip-Hop Albums Turning 20 in 2017