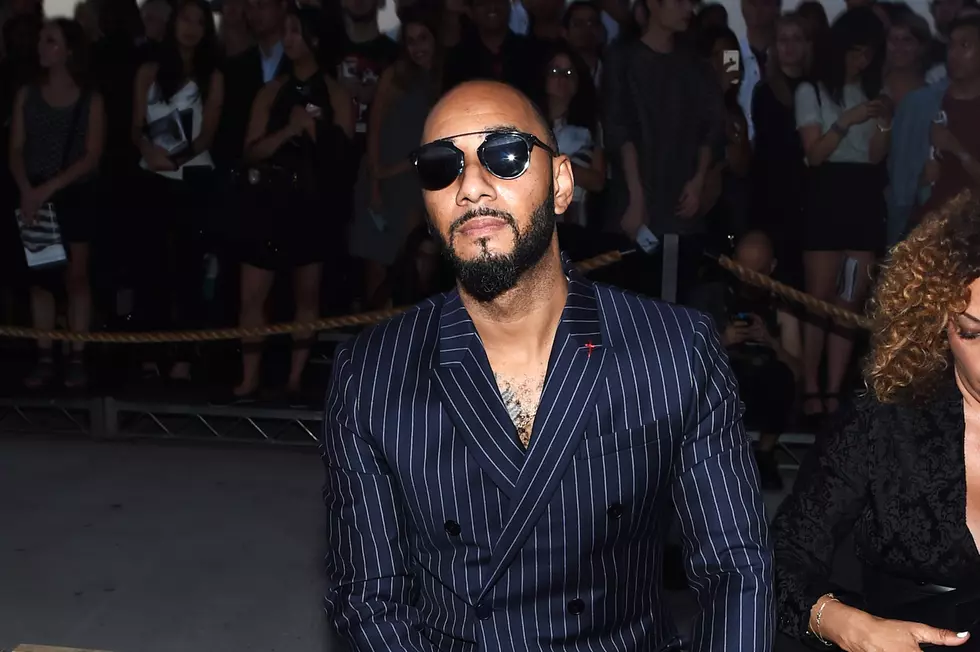 Swizz Beatz Will Host the 2015 Global Spin Awards
Larry Busacca/Getty Images
The Global Spin Awards are back for a fourth consecutive year and this time they'll be hosted by none other than Swizz Beatz. The awards show will be taking place on Nov. 17 at New York City's Best Buy Theater, with nominees including DJ Khaled, DJ Mustard, DJ Drama, Questlove, Jermaine Dupri, Statik Selektah, Whoo Kid, Tiesto, Diplo, Skrillex, Funk Flex, DJ Esco and plenty more.
"I am thrilled to host this year's fourth annual Global Spin Awards," Swizz Beatz said in a press release accompanying the announcement. "This award show gives talented DJs the overdue recognition they deserve. Every individual that has been nominated contributes to the culture and more importantly, the music. I am honored to serve as the host of the fourth annual award show and be a part of this universal team of phenomenal DJs."
Last year's host was LaLa Anthony, with Mustard, Dupri and Diplo taking home the bigger of the awards. Check out the list of nominees for the 2015 Global Spin Awards below.
DJ OF THE YEAR
DJ Khaled
DJ Envy
DJ Mustard
DJ Vice
DJ Irie
DJ Drama
Justin Credible
NATIONAL MIXSHOW DJ OF THE YEAR
DJ Envy
DJ 33 1/3
DJ Quicksilva
Baka Boyz
DJ Mr. Vince
REGIONAL MIXSHOW DJ OF THE YEAR (NORTHEAST)
DJ Self
DJ Quicksilva
DJ Envy
DJ Enuff
Funkmaster Flex
DJ Pupdawg
REGIONAL MIXSHOW DJ OF THE YEAR (SOUTH)
DJ Infamous
DJ Drama
DJ J1
DJ E Feezy
DJ Nasty (Miami)
DJ Mr. Rogers
REGIONAL MIXSHOW DJ OF THE YEAR (MIDWEST)
DJ Pharris
DJ Steph Floss
DJ Krisstyle
DJ Moon Dawg
DJ AllStyle
REGIONAL MIXSHOW DJ OF THE YEAR (WEST)
DJ Felli Fel
DJ Big Von
DJ Carisma
Justin Credible
DJ Amen
NATIONAL CLUB DJ OF THE YEAR (ALL FORMAT)
DJ Self
DJ Irie
DJ D-Nice
DJ Prostyle
DJ Vice
DJ Ruckus
DJ Quicksilva
REGIONAL CLUB DJ OF THE YEAR (SOUTH)
DJ Ace (Atlanta)
DJ E Feezy
DJ Infamous
DJ Stevie J
DJ Mr. Rogers
DJ Esco
REGIONAL CLUB DJ OF THE YEAR (NORTHEAST)
DJ Self
DJ Camilo
DJ Quicksilva
DJ Prostyle
DJ Envy
Funkmaster Flex
REGIONAL CLUB DJ OF THE YEAR (MIDWEST)
DJ Sean Mac
DJ Steph Floss
DJ TimBuck2
DJ Tab
DJ BJ
DJ Sir Thurl
REGIONAL CLUB DJ OF THE YEAR (WEST)
DJ Mark Da Spot
DJ Carisma
DJ Amen
Jermaine Dupri
DJ Dre Sinatra
OPEN FORMAT DJ OF THE YEAR
DJ D-Nice
DJ Mos
DJ Vice
Jus Ske
Justin Credible
Questlove
REGIONAL OPEN FORMAT CLUB DJ OF THE YEAR (NORTHEAST)
DJ D-Nice
DJ Mos
Jus Ske
Questlove
DJ Nem
Mel Debarge
REGIONAL OPEN FORMAT CLUB DJ OF THE YEAR (SOUTH)
DJ Irie
Mr Mauricio
DJ Chino (Orlando)
Dalton
Obscene
REGIONAL OPEN FORMAT CLUB DJ OF THE YEAR (MIDWEST)
DJ Chuck Inglish
DJ Metro
DJ Mike Scott
DJ Spinstyles
Jump Smokers
REGIONAL OPEN FORMAT CLUB DJ OF THE YEAR (WEST)
DJ Vice
Justin Credible
DJ Five
DJ Politik
DJ J Espinosa
Jermaine Dupri
ONLINE/SATELLITE RADIO DJ OF THE YEAR
DJ Whoo Kid
DJ Statik Selektah
DJ Wonder
DJ Suss One
DJ Kay Slay
TURNTABLIST OF THE YEAR
DJ Scratch
Jazzy Jeff
DJ Craze
DJ Fatfingaz
DJ Jaycee
DJ Billy Busch
INTERNATIONAL DJ OF THE YEAR
Tim Westwood
DJ Whoo Kid
Tiesto
Diplo
Benji B
REGGAE DJ OF THE YEAR
DJ Norie
Bobby Konders
Max Glazer
Waggy T
DJ Madout
DJ Young Chow
LATIN DJ OF THE YEAR
Alex Sensation
DJ C-Lo
DJ Flipstar
DJ Lobo
DJ Kast One
DJ Lus
HIP HOP DJ OF THE YEAR
DJ Khaled
DJ Self
Funkmaster Flex
DJ Clue
DJ Mustard
EDM DJ OF THE YEAR
DJ Skrillex
Diplo
Afro Jack
Calvin Harris
Steve Aoki
DJ Snake
FEMALE DJ OF THE YEAR
DJ Dimepiece
DJ Carisma
DJ Kiss
DJ Juicy M
Nervo
CELEBRITY DJ OF THE YEAR
Jermaine Dupri
Lil Jon
DJ Daddy Kat (Wiz Khalifa)
Paris Hilton
BREAKTHROUGH DJ OF THE YEAR
DJ Carisma
DJ Spinking
DJ Will (Power 105.1)
DJ Esco
DJ J Espinosa
DJ PRODUCER OF THE YEAR
DJ Mustard
DJ Khaled
DJ Snake
DJ Spinz
Diplo
Statik Selektah
DJ REMIXER OF THE YEAR
Ted Smooth
DJ Snake
DJ Noodles
Benja Styles
Diplo
DJ ENTREPRENEUR OF THE YEAR
DJ Khaled
Funkmaster Flex
DJ Irie
DJ Vice
DJ RECORD LABEL OF THE YEAR
We The Best
Fools Gold Records
Mad Decent
Big Beat
DJ ALBUM OF THE YEAR
Statik Selektah, Lucky 7
DJ Spinatik, Came From Nothin'
Skrillex & Diplo, Jack U
Calvin Harris, Motion
DJ Snake, Turn't Up
MIXTAPE DJ OF THE YEAR
DJ Esudd
DJ Clue
DJ Esco
DJ Ty Boogie
Superstar Jay