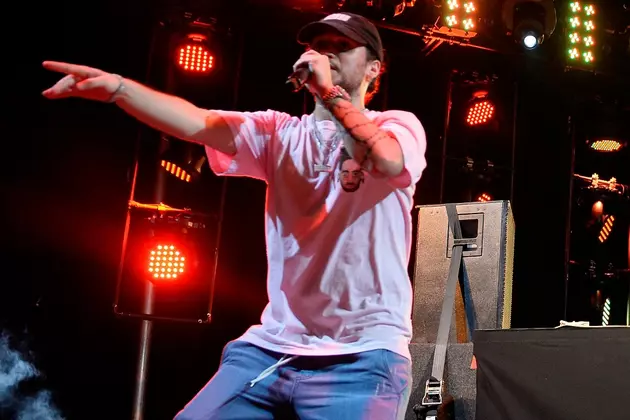 Russ Causes Controversy With Anti-Drug Shirt
Matt Cowan, Getty Images
Russ isn't exactly the sort of guy to hold his tongue, and that's something you'll realize within moments of watching any of his interviews. Recently, the rapper proved that point once again when he used a T-shirt to denounce rappers that use drugs.
In a tweet he posted a short time after one of his shows, Russ included an image of himself wearing a shirt that reads, "How much Xans and Lean do you have to do before you realize you're a fucking loser." In the tweet itself, he wrote, "After show. Message."
While most people would say drug addiction isn't necessarily cool, there are a good deal of folks who might find Russ' comments to be insensitive and short-sighted. Some on Twitter noted that plenty of people use drugs because they're depressed. More than a few Twitter users chimed in on the matter, but perhaps the most relevant tweet of all came from Fredo Santana.
"Until I can stop thinking bout my dead homies an the trauma that I been thru in my life that's when I'll stop 😈," Fredo said in a tweet replying to Russ, who dropped his debut album, There's Really a Wolf, back in May.
For his part, Russ, who recently donated money to relief efforts for Hurricane Harvey, wasn't backing down. He explained his reasoning behind the shirt before Fredo even responded to his initial tweet. "If I stopped ONE kid from abusing xans or lean, mission accomplished.. better than getting ONE kid to try that shit. Period," he tweeted after a few folks came at him for his comments. "Doing xanax and lean cuz your favorite rapper makes it sound cool is all fun and games till your impressionable ass gets addicted. Stop," he wrote in another.
Check out Russ' controversial shirt, as well as Fredo, Nessly and TM88's response tweets below. Russ' explanation tweets can be found in the gallery beneath that.
Russ Sparks Controversy With Anti-Drugs Shirt