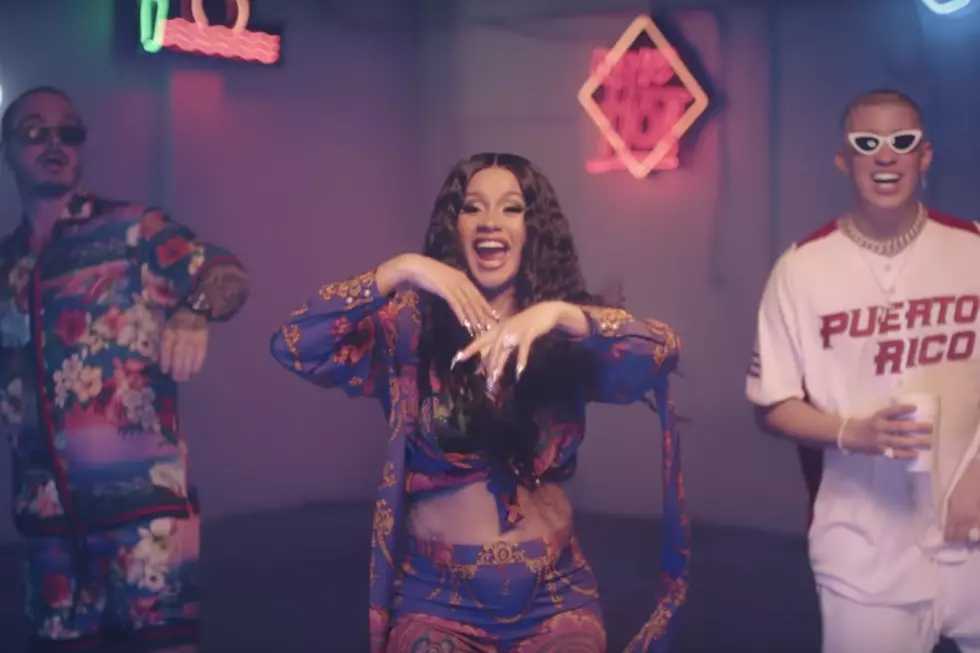 Remembering the Biggest Hip-Hop Trends of the 2010s
Cardi B via YouTube
Over the course of its lifespan, hip-hop has changed multiple times, as a genre and a culture.
From 1973 to 2019, we've seen the music take different courses, watched the fashion get several facelifts, witnessed the dances diversify and heard the lingo undergo various transitions. Every decade or era is unique, and each new cycle comes with its own easily identifiable trends that makes it stand apart. Some of these crazes associated with the genre are good, some bad and some we wish would GTFOH.
While hip-hop grew up in the 1980s, settling its traditions and establishing its own unique elements, by the 1990s clear changes were taking place as the culture matured and began to be accepted by the mainstream.
The 2000s was unique in its own right. It was the era of mixtapes, extra tall T-shirts, oversized jerseys, Easter pink drinks, Auto-Tune, ringtones, the South's rise and New York City's perceived decline.
The 2010s featured a whole new set of mini movements that helped shaped the decade, for better for worse. As the old saying goes, the only constant is change and, hate it or love it, fads drive the culture.
With the decade coming to a close, XXL looks back on some of the trends that took over during the last 10 years.
The roots of Latin trap reportedly date back to 2007. This decade, U.S. rappers started riding the wave and linking up with popular LT artists like Ozuna, Anuel AA and Bad Bunny on the regular, with songs like Cardi B's No. 1 single "I Like It" leading the way.

While the Afrobeats invasion (not to be confused with afrobeat) was taking over in the 2000s and 2010s in West Africa and the U.K., rappers stateside really started catching on during this decade. Artists like Drake, French Montana and Swae Lee have all tested the waters multiple times in the past few years, with Drizzy's "One Dance" featuring WizKid and Kayla becoming the second-most streamed song of all time on Spotify.

In the world of streaming, more songs equal more streams and more streams equals more accolades and more accolades mean…you get it. Rapper and labels get it, too. And over the last decade albums, have gotten longer and longer and longer. We are looking at you, Chris Brown.

Conventional album rollouts are a thing of the past. Who needs months of album promotion when a few weeks or less can generate the same buzz? The 2010s featured an abundance of albums that came out on very short notice, including Future's DS2, Kendrick Lamar's To Pimp a Butterfly, Dr. Dre's Compton and J. Cole's For Your Eyez Only. Eminem's Kamikaze literally came out of nowhere in 2018.

Chief Keef takes credit, but is he really to blame? In the 2010s, mumble rap became a thing hip-hop purists hated for its lack of lyrical dexterity. Yet, instead of quickly wasting away, it literally became a sub-genre of rap that was heatedly debated over between the old and new generations.

Johnny Nunez, Getty Images

Johnny Nunez, Getty Images

While there were a number of big joint albums we were promised and didn't get, the decade delivered on a slew of others. The 2010s featured Jay-Z and Kanye West's Watch the Throne, Drake and Future's What a Time to Be Alive, Lil Wayne and 2 Chainz's ColleGrove, Young Thug and Rich Homie Quan's Tha Tour, Nas and Damien Marley's Distant Relatives, Future and Juice Wrld's Wrld on Drugs, and plenty more.

Nicki Minaj rose to dominance as one of the biggest artists on the planet in the 2010s. In her wake, dozens more talented women have staked their claim as forces to be reckoned with in hip-hop. Cardi B is breaking records and taking home awards, Megan is making hits, Rapsody is your favorite lyricists favorite female MC. There was plenty to be excited about.

David Dee Delgado / Maury Phillips / Jamie McCarthy, Getty Images (3)

David Dee Delgado / Maury Phillips / Jamie McCarthy, Getty Images (3)

If OJ Da Juiceman got a nickel for every time a rapper punctuated one of their bars with "aye" in the past 10 years, he would be Jeff Bezos rich. The craze caught on and stayed with every rapper who possesses a microphone seemingly uttering the phrase at least once.

Prince Williams, Getty Images

Prince Williams, Getty Images

The term swag is totally 2000s, but rappers yelling out "swag!" as a punctuation during songs or just in everyday conversation was a figure of speech used ad nauseam. The fad has waned, though, so it probably won't carry on into the 2020s.

Gaelle Beri, Getty Images

Gaelle Beri, Getty Images

Juicy J is the originator, but the Migos put their stamp on the signature flow that has become their own. The industry took notice and everyone from Drake to J. Cole has adopted it on tracks.

Jerritt Clark, Getty Images

Jerritt Clark, Getty Images

Face Tattoos and Colorful Dreads

Rappers are a diverse group and range from the clean-cut to the grimy. When the 2010s are looked back upon, the decade will definitely be remembered for the emergence of the Skid Row look. Graffiti-like face ink and Kool-Aid color hair were definitely mandatory in the new rapper starter pack.

Bauer-Griffin, Getty Images

Bauer-Griffin, Getty Images

In the 2000s, the fashion was XXL. In the 2010s, it took a total 180. Rappers went from wearing clothes big enough to fit two people to bragging out not being a to fit a wallet in their skinnies.

Prince Williams, Getty Images

Prince Williams, Getty Images

With the advancements in technology, rappers have stepped up their promotion game. One widely utilized method artists have used to build anticipation is the cinematic album trailer. Get your popcorn ready.

Hip-hop has gone pop, and thus is totally entrenched in mainstream culture at this point, which means everyone wants their hip-hop fill. We got all we could handle this decade in the form in hip-hop reality shows. Loathed by some and loved by others, shows like Love & Hip Hop, Growing Up Hip Hop, Rhythm and Flow, T.I. and Tiny: The Family Hustle ruled.