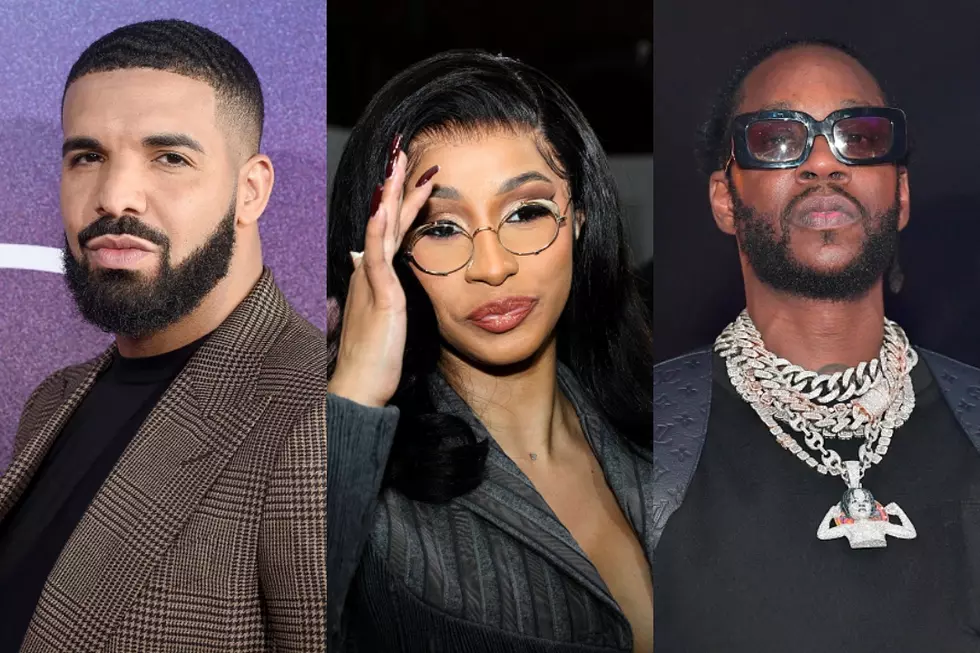 A Deep Dive Into Rappers Using Other Rappers' Flows
Gregg DeGuire / Pierre Suu / Prince Williams, Getty Images (3)
On J. Cole's 2014 track "Fire Squad," he raps, "History repeats itself and that's just how it goes/Same way that these rappers always bite each other's flows." There is no cap in that. Being original in music is far more imaginary than realistic. Kanye West cosigned that statement as well in a film called The Art of 16 Bars, where he says that, "Hip-hop is based off biting, period. Even though they say it's biting because we take other old people's music and jack it."
Someone's flow cannot be copyrighted, giving artists free reign to use whoever's cadence they want. Some rappers have done this to pay homage, as heard on 2 Chainz's "Used 2" where he shows love to Juvenile and the angelic twerk anthem "Back That Azz Up." But there are other times where flow robbery is met with harsh criticism for its thievery, as exemplified on Drake's "KMT" which leaned on the same flow as XXXTentacion's "Look At Me."
When it doesn't come in the form of perceived disrespect, biting a notable flow can resurface a nostalgic feeling and take you back to a time in rap history where you heard a song or artist for the first time. More than anyone else, we've peeped this happen when it comes to Ma$e's classic suave flow heard in songs like "Move to L.A. and "Worst Behavior," which you'll see later on this list.
So today, XXL takes a look back at 15 times in the past decade where rappers have bitten other rappers' flows and the aftermath of doing so.
Flow Used: M-1 of Dead Prez's flow on "It's Bigger Than Hip-Hop"

It's been a long decade for Mr. Do Right and Kill Everything. Even that reference itself seems wildly outdated, but for this one, we have to take it back to the 6 God's rookie season. On "Over," the standout single from his debut album, Thank Me Later, Drake leans on the flow used on Dead Prez's "It's Bigger Than Hip-Hop" to bring his second verse to fruition.

"They say, 'One thing about music when it hits you feel no pain/White folks say it controls your brain/I know better than that/It's just game," Drake raps, mimicking M-1's, "One thing 'bout music when it hit you feel no pain/White folks say it controls your brain I know better than that, that's game." In a quick interview with MTV, Drake admitted that he's always loved that verse, so he chose to interpolate it into his own record, as we all heard.

Flow Used: Juvenile's flow on "Back That Azz Up"

As a single on his second album, B.O.A.T.S. II: Me Time, 2 Chainz drafted Mannie Fresh as a co-writer and producer for "Used 2" to help authenticate his tribute to Juvenile's classic hit "Back That Azz Up." On top of Mannie's signature New Orleans bounce-laced production, Chainz utilizes Juvie's flow by slashing in a confident "yeah" to add emphasis to the subjects he addresses in his verse. "Yeah, I'm the nigga, yeah, don't forget it, yeah/Gold Nefertiti, yeah, Lamborghini, yeah," he raps.

Playing his salute out to the fullest, the Atlanta rapper also filmed the music video in New Orleans and called on Lil Wayne, Mannie, of course, and Juvenile to make cameos. B.G. was locked up at the time, but still made his way into the shoot by way of a T-shirt that called for his freedom.

Flow Used: Future's flow on "Shit"

Quickly after Future released his grungy track "Shit," Atlanta rapper Que came out with the instant hit "OG Bobby Johnson," which clones Pluto's flow when it comes to how the words and rhymes are stacked in. On the first verse of "Shit," Future raps, "Bought the ho a hunned pair of red bottoms (shit)/That's a quarter milly on a hand job nigga," which when matched up with Que's "Wipe a nigga out like an outbreak/Choppa start bustin' make the house shake" on "OG Bobby Johnson," sounds similar enough to be received as an unofficial remix.

One thing's for sure: the songs are replicas of one another. The comparison garnered backlash from fans and even fellow rappers like A$AP Rocky. In an interview with Red Bull Music Academy in 2015, Rocky said, "This ain't dissing nobody, but I don't understand how Future can make a song like 'Shit,' then this nigga, I forget his name, you make 'OG Bobby Johnson'....It's the same thing Future's saying. And we allowed that." Que would end up tapping in with the Mob's A$AP Ferg for the official remix though despite Rocky's comments.

Flow Used: Ma$e's flow on The Notorious B.I.G.'s "Mo Money Mo Problems"

Drake was certainly stepping into a more cocky and aggressive lane with his music by the time his sophomore album, Nothing Was the Same, dropped in September of 2013. Attempting to weave in his harder A-side, which would come out fully in his next mixtape, If You're Reading This, It's Too Late, Drizzy added "Worst Behavior" to the project.

For the song, he notably tapped into Ma$e's flow on "Mo Money Mo Problems" on the third verse. "Who's hot, who not?/Tell me who rock, who sell out in stores?/You tell me who flop, who copped the new drop, whose jewels got rocks," he spat, mirroring Ma$e's punchy bars on the classic Bad Boy anthem. "Worst Behavior" was an undeniable standout on the album, and was regarded as one of the best records to come out of 2013. So it's safe to say that Drake played this one right.

Flow Used: Hotstylz's flow on "Lookin' Boy" Featuring Yung Joc

Released as the third single from Eminem's eighth studio album, The Marshall Mathers LP 2, the Grammy Award-nominated "Rap God" was met with a lot of positive reviews upon its release, mostly stemming from Em's lightning flow and thesaurus amount of words. (The song entered Guinness' Book of World Records for the most words in a single song.) Of course, there are your typical controversial lyrics that caused some backlash, but so did Shady's use of Hotstylz's flow on "Lookin' Boy." "Hey, lookin' boy! What you say, lookin' boy?/I get a 'Hell yeah' from Dre, lookin' boy," Em raps in his second verse.

In an interview with XXL in 2013, Hotstylz members explained that they were offended that Slim didn't reach out to ask for their consent first. They responded by dissing the Detroit rapper in a song called "Rap Fraud" before filing a multi-million dollar lawsuit. A settlement was reached in February of 2016.

"Part II (On The Run)"

Jay-Z Featuring Beyonce

Flow Used: Juvenile's flow on "Back That Azz Up"

Juvenile's "Back That Azz Up" was really a cultural reset. His singsong flow resonated from New Orleans to Brooklyn, finding itself in the hands of Jay-Z on "Part II (On The Run)" On the second verse, Hov raps, "Touch a nigga where his rib at, I click-clack/Push your muthafuckin' wig back, I did that/I been wilding since a juvie, she was a good girl 'til she knew me, now she is in the drop, bustin' Uey's, screaming."

In addition to explicitly stating his name, Jay-Z leans on Juvie's rhyme scheme in the end of his third verse of the record as well. "She fell in love with the bad guy, the bad guy/What you doing with them rap guys, them rap guys," he spits. It was 15 years since "Back That Azz Up" was released by the time this song dropped in 2014. It's clear that the classic twerk anthem will never fade away.

"Who Do You Love?"

YG Featuring Drake

Flow Used: Rappin 4-Tay's flow on "Playaz Circle"

YG's DJ Mustard-produced "Who Do You Love?" was a hit right out of the gates. Its West Coast bounce was key, but so was a Drake feature that stirred up a little bit of controversy. In the OVO head honcho's verse, he adopts some of the same lines and certainly the same braggadocios flow as San Francisco-bred artist Rappin' 4-Tay on "Playaz Circle." "I got a shorty name Texas and/She got a buddy name Young JB and now you know the deal," Drake rapped in comparison to 4-Tay's, "I got a ho named Reel-to-Reel/She got a buddy named SP 12, now you know the deal."

The two verses are rap Siamese twins, with Drake adopting and regurgitating a clear influence. But 4-Tay wanted his nod in the form of something physical, too. Requesting compensation for what he feels like was a ghostwritten verse because of its blatant similarity, Drake's team agreed to pay 4-Tay $100,000 for his "services."

Flow Used: Kendrick Lamar's flow on "The Art of Peer Pressure"

Kendrick Lamar's good kid, m.A.A.d city has already gone down as one of the best albums in rap history. The fourth song on it, "The Art of Peer Pressure," is one of the most skillfully told stories on the project, grabbing listeners by the throat from the jump. Any fan, like Tory Lanez, could appreciate that record in its entirety. But Lanez decided to take his love for the track up a notch.

On his debut album, I Told You, the Canadian artist uses K-Dot's flow on "4AM Flex," reciting a tale of his own with the same verse tempo and song pulse. Tory begins his second verse by rapping, "Me and the homie watched me pull off the corner/Inside of an old Honda Accord," which imitates Kendrick's cadence and lyrics of, "Me and my niggas four deep in a white Toyota."

In this instance, there's no way Tory was doing anything but showing love to the Compton rapper because the duplication was near perfect.

"KMT"

Drake Featuring Giggs

Flow Used: XXXTentacion's flow on "Look At Me"

There are actually plenty of fan-created mash-ups between XXXTentacion's platinum record "Look At Me" and Drake's "KMT." Why? Because the catchiest parts of both songs come with the rapid-fire flow that was first used by XXX in 2015. Though Drake would house "KMT" on his compilation album More Life in 2017, "Look At Me" was so big of a song that fans couldn't hear the 6 God's interpolation without viewing it as a straight copy.

Drizzy's, "Demon just got out the can (Yeah)/I gave my bro an advance (Yeah)" is identical to X's raps: "I'm like bitch, who is your mans?, aye/Can't keep my dick in my pants, aye."

In a 2017 interview with DJ Semtex, Aubrey denied stealing the 2017 XXL Freshman's flow with intention. But despite his clarification, X was pretty pissed to say the least, lashing out at the Canadian rapper for being a style jacker.

Flow Used: Kodak Black's flow on "No Flockin"

Cardi B's Grammy Award-nominated track "Bodak Yellow" peaked as the No. 1 song in the country in 2017, distinctly matching Kodak Black's flow on his street record "No Flockin," which came out a couple years prior in 2014. The chorus is wildly infectious, causing you to sing the words, "Said lil' bitch, you can't fuck with me if you wanted to," in a tone and delayed rhythm that might as well have been Yak himself.

The song was so spot-on that fans of course called out Bardi for using another rapper's flow, but she wasn't concerned. During a concert in 2017, she addressed the issue with confidence. "I'ma sound like all your favorite rappers," she said to the audience. "I'ma take all they flows and I'ma body it, bitch." Kodak would later appear on the remix to her song.

Flow Used: Ma$e's flow on "What You Want"

On one of the best songs on Tyga's fifth album, Bitch I'm the Shit 2, he flips Ma$e's "What You Want" for his Ty Dolla $ign-assisted single "Move to L.A." But the guitar chords weren't the only thing that the Young Money signee borrowed to rework the hit. When Tyga played an OG version of "Move to L.A." for Kanye West, 'Ye said that he would love to hear more of "that Ma$e flow."

The Cali-born rapper listened, accepted and applied, floating with the same cadence as the Harlem World legend from the first bar to the last. "Now, Raww be the man, wanna see you doin' good/I don't wanna get rich, leave you in the hood," Tyga begins on the hit, subbing in his name to promote a possible lavish life as Ma$e did on one of the hottest tracks of his debut album, Harlem World.

"Powerglide"

Rae Sremmurd Featuring Juicy J

Flow Used: DJ Paul of Three 6 Mafia's flow on "Side 2 Side"

Flow robbing often toggles the line of theft and homage, but for Rae Sremmurd's party banger "Powerglide," the latter half is apparent. Using the same flow as Three 6 Mafia's "Side 2 Side," the Mississippi duo brings back the 2005 track with the help of Juicy J, spearing in a contagious chorus that flips the original "I'm in the club posted up (up) got my arms folded/Blunt in my mouth and these haters I'm scopin," into a modern day, "What's in ya' mug? Toasted up, nah, I ain't hostin'/Kush all in my lap because these hoes don't wanna roll it."

Although Rae Sremmurd caters to an entirely different audience, the timelessness of the original songs proves its power once again due to this execution. This is one of the dope examples where using another rapper's flow has a chef's kiss type of result.

"Pharoahs"

Dom Kennedy Featuring The Game, Jay 305 and Moe Roy

Flow Used: Nipsey Hussle's flow on just about everything

The Game is known to show an insurmountable love for music and artists that he was or still is a fan of. As two of the West Coast's rawest talents, he became close with Nipsey Hussle. So much that he fully sampled Nipsey's flow on Dom Kennedy's "Pharoah" to show respect. The song came out five months after Hussle was fatally shot in front of his Marathon clothing store in 2019.

The Game obviously didn't take the loss too well, grieving in daily posts on Instagram. But through weaving in Nipsey Hussle's prolifically relaxed rap cadence, Game continued the legacy for his fallen homeboy. "Memory of my nigga Vito/Back and forth to Toledo/Everything stuffed in that Regal, come on," Game rapped. The Marathon will forever continue in admiral ways like this.

Flow Used: Eminem's flow on "Superman"

It should come as a surprise to no one that this list starts and ends with Drake. Ahead of his surprise mixtape, Dark Lane Demo Tapes, in May, Drizzy released two singles: "Chicago Freestyle" and "When to Say When." On the second of the two songs, Drake shows love to one of his rap favorite's Eminem by copying his lyrics and flow on "Superman." The original lyrics to the song go, "But I do know one thing though/Bitches, they come, they go/Saturday through Sunday, Monday/Monday through Sunday, yo."

With a little cleaning, Drake rapped the same on "When to Say When." "But I do know one thing though/Women they come they go/Saturday, through Sunday, Monday/Monday through Sunday, yo," he spit. We all know how things go with Drake. Some people loved the way he weaved in an old song from a rap giant, and others hated or rather criticized the move, ignoring its intention to show appreciation.