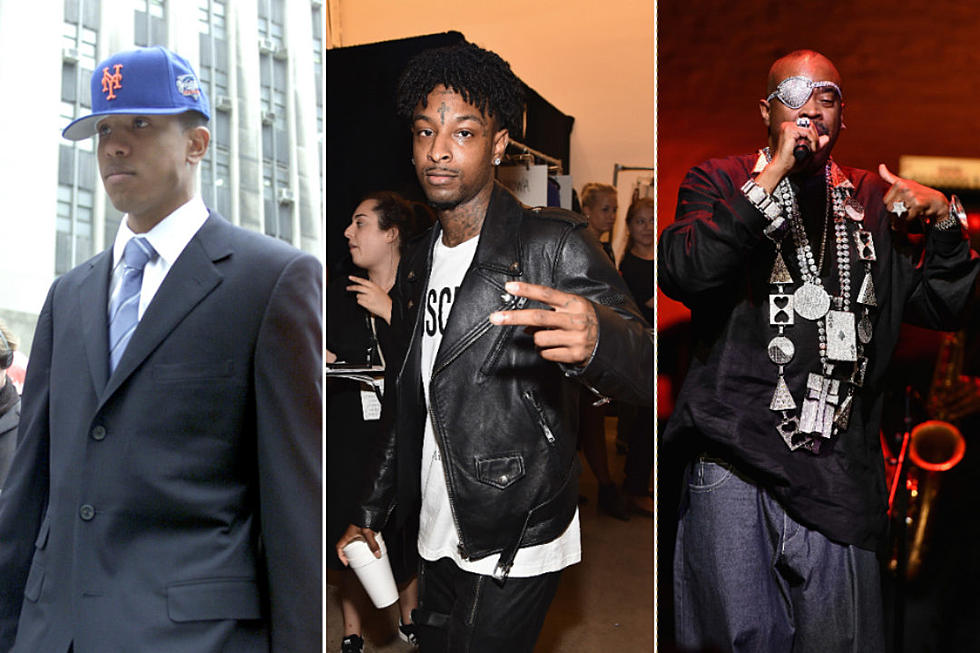 7 Rappers Who Have Faced Deportation
Robert Mecea / Theo Wargo / Noam Galai, Getty Images (3)
The issue of immigration has been a hot-button topic on the news in recent years and the matter unceremoniously landed on hip-hop's doorstep with 21 Savage's recent arrest.
On Super Bowl Sunday (Feb. 3), the Slaughter Gang rhymer was taken into custody by the U.S. Immigration and Customs Enforcement (ICE), who say the rapper is actually a citizen of the United Kingdom and illegally taking residence in the States.
The news almost seemed unreal until the agency started rolling out its case. ICE spokesman Bryan Cox spoke with the press and revealed details of 21's arrest, telling Atlanta news station WSBTV, "U.S. Immigration and Customs Enforcement (ICE) arrested unlawfully present United Kingdom national Sha Yaa Bin Abraham-Joseph AKA '21 Savage' during a targeted operation with federal and local law enforcement partners early Sunday (Feb. 3) in metro Atlanta. Mr. Abraham-Joseph was taken into ICE custody as he is unlawfully present in the U.S. and also a convicted felon."
As of this writing, 21 is in ICE custody, awaiting a federal immigration court case that will determine his status in the U.S. Though this instance seems like an outlier due to most fans believing the rapper's origins were East Atlanta, the I Am > I Was rapper isn't the first MC have his standing in the Unites States placed in limbo. Over the years, several rap artists have been faced with deportation—with some even getting the official boot from Uncle Sam.
In the wake of the sad, strange news of 21 Savage possibly facing removal from the country, XXL looks into the history books and compiles a list of other MCs who have faced similar fates.
On Feb. 3, 2019, 21 Savage, born Shéyaa Bin Abraham, was arrested by U.S. Immigration and Customs Enforcement. The federal agency accused the rapper of being a UK citizen that originally entered the States on a non-immigrant visa, which expired nearly 13 years ago, and cited his status as a convicted felon. Shortly afterward, a birth certificate surfaced that proved the rapper was indeed born in England.

Status: In ICE custody, currently awaiting a federal immigration court hearing.

The Geto Boys member, originally from Jamaica, was arrested in Georgia in May 2010 for possession of marijuana and cocaine. Upon his arrest, police discovered he was carrying a green card and he had three previous convictions. The matter was sent to Atlanta Immigration Court, which mulled over sending the rapper back to his native land, despite him having spent decades in the U.S. In October of the same year, he was released from custody after winning his removal case.

Status: Free. Living in U.S.

Cali artist Chippy Nonstop was gaining steam when she ran into trouble trying to get back into the States following an Asian tour. Upon trying to re-enter the U.S., Homeland Security told the rapper she had a visa issue and would not be allowed to return to the place she called home. Chippy was then sent back to Canada, where she had citizenship, but no family to speak of. Despite valiant efforts—including pleading with former President Obama via petition—she remains banned from touching U.S. soil.

Status: Deported. Living in Canada.

Laj Money was becoming one of Sierra Leone's most famous rap natives living in the U.S. when he was locked up on an eight-month sentence for identity theft, credit card fraud, carrying fake immigration documents and car theft in 2016. He was later discovered to be an undocumented illegal alien, who had been in the U.S. since his youth. When he was released from prison, he spent time in ICE custody for 14 months and was eventually booted back to The Mother Land despite trying to fight the relocation.

Status: Deported. Living in Sierra Leone.

London-born rapper MF Doom never obtained his U.S. citizenship after moving to New York City as a youth and eventually making a name for himself on the rap scene. In 2010, however, he was denied entry back into the U.S. after touring. He didn't seem too bothered about it at the time, telling a news outlet, "I'm done with the United States. It's no big deal."

The rapper settled in South London and continues to make music.

Status: Remains British citizen.

The former Bad Boy artist has origins in Belize, yet he moved to Brooklyn as a child. In 1999, he was involved in an infamous shooting at Club New York while partying with Diddy and J. Lo. Two years later, he was convicted of first-degree assault for his role in the fracas. He was sentenced to 10 years in prison.

Shyne was set free in October 2009, but immediately snatched up by U.S. Immigration and Customs. Due to him never becoming a naturalized U.S. citizen, he was eventually deported back to Belize weeks later.

Status: Deported. Currently living in Belize.

In 1990, Rick The Ruler got caught up in the law after a lengthy squabble with a relative and former employee nearly turned deadly when the rapper shot at the man on a New York City street corner.

The London native eventually plead guilty to two counts of attempted murder, assault, use of a firearm and criminal possession of a weapon. Four years after his 1997 release, he was arrested by Immigration and Naturalization Service (INS) trying to reenter the country following shows in the Caribbean. The rapper spent the next five years fighting deportation in court. In May 2008, he was granted a pardon on his charges from nearly two decades earlier by the then New York Governor, David Paterson. Rick has since championed for the reformation of the U.S. immigration system.