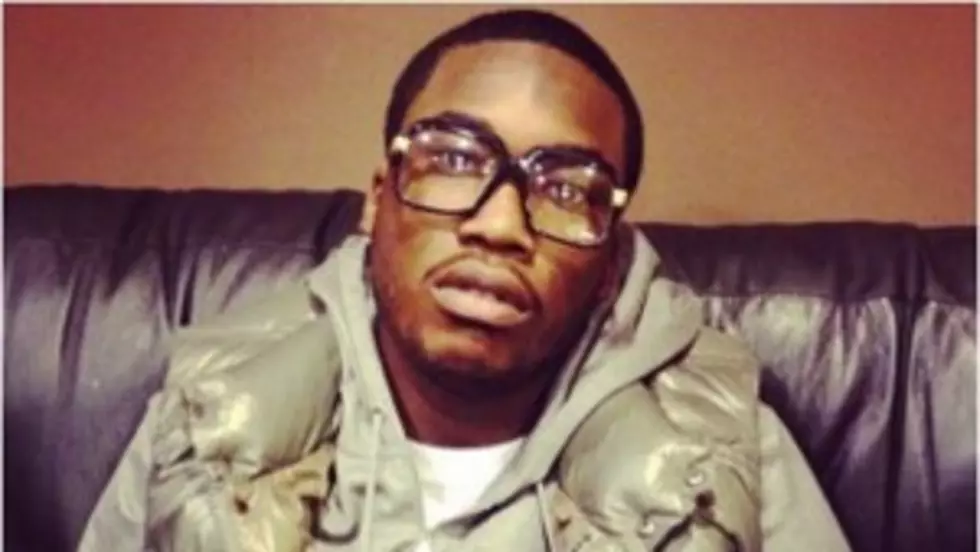 Meek Mill Debates Philadelphia Pastor Who Called for "Amen" Boycott
Meek Mill and Rev. Jomo K. Johnson attempted to hash out their differences live on air earlier today (July 11) on Philadelphia's Hot 107.9.
Meek called into The Q Deezy Show to address Johnson and his calls for a boycott of the Maybach Music Group rapper for his song "Amen." As previously reported, earlier this week, Johnson told the Philadelphia Daily News, "As a hip-hop fan, I want to encourage every rap fan in Philadelphia who is a believer in Jesus Christ, to boycott Meek Mill until he acknowledges this blatant disrespect. And being resident of North Philadelphia and pastor, I revoke Meek's 'hood pass' until this happens."
(Listen to the full audio here.)
Right as the on air conversation between the two began, Meek voiced his concerns. "This looking like you trying to get famous, or you need some attention, because you could have came to me and said anything you wanted to say," he said. "I mighta helped you. If you needed money for your church, I mighta woulda gave you that money. I mighta even remixed the song with Kirk Franklin. Anything you wanted to do. You went about it like you looking for attention and fame."
Johnson retorted, "My plea to you is to turn from sin, turn from blasphemy, turn from unrighteousness, that you're purporting in your music—turn to Jesus Christ and receive eternal life. It doesn't matter how much money you get, without Jesus Christ you will be lost eternally."
The Pastor said he had once served four years in jail, for aggravated assault on an officer, and God changed his life.
"I got an even lighter charge than aggravated assault, so your record is worse than mine, basically," the rapper responded. "I'm not here to judge you. The way I'm looking at it: you want to be famous, or you want some money." He referenced work in the community, like giving out coats to kids, which he showed in his "Faded Too Long" video, and asked the Pastor, "Where was you at?"
"I've spent 25 stacks to move in the hood while you're not there," Johnson responded. "I'm on Germantown and Somerset doing ministry where you're not, Mr. Mill."
A little later, he played on the rapper's name. "You may be Meek, [but] I'm not!" he said. "And if you disrespect our God, then we have a right to proclaim that."
The Warner Bros. signee soon referenced his own belief in God, as well as that his grandmother is 80-years-old, an avid churchgoer, and hasn't had the same negative feelings towards her grandson's music that the Pastor was voicing. "You can't judge me!" he shouted.
"I recognize that you are a talented artist, but you are using your gifts for a wrong purpose," the Pastor opined. He accused the music of promoting rape, theft, and Black on Black crime, among other things.
"I'm watching over these kids," Meek promised. "I be in the streets everyday." He then called upon violent movies, as well as Eminem's history of violent lyrics, and asked, "Why you talkin' to me?" before quickly answering his own question: "You look like you want attention."
"For your own soul, you need to confess this to God," Johnson urged, saying that he initially reached out to Meek five months ago, though he got no response. "God loves you, but he hates your sin."
Meek attempted to turn the table. "Let's do the statistics on rappers and pastors with rape. Zero percent rappers ever came to the light of raping a child. Pastors, it's no match. What you talkin' about? Is you protesting Eddie Long?"
Johnson quickly took the discussion to a new level. "Have you ever raped a woman before?" he asked. "Because if you haven't, then you're lying; your music is a lie."
"You sound like a psycho right now, dog," Meek came back. "You trying to take another Black man down for you to get some credibility."
As tempers continued to flair, the conversation soon fizzled, and host Q Deezy said he hoped he would be able to speak with the two in an off-air setting to settle their differences.—Adam Fleischer (@AdamXXL)