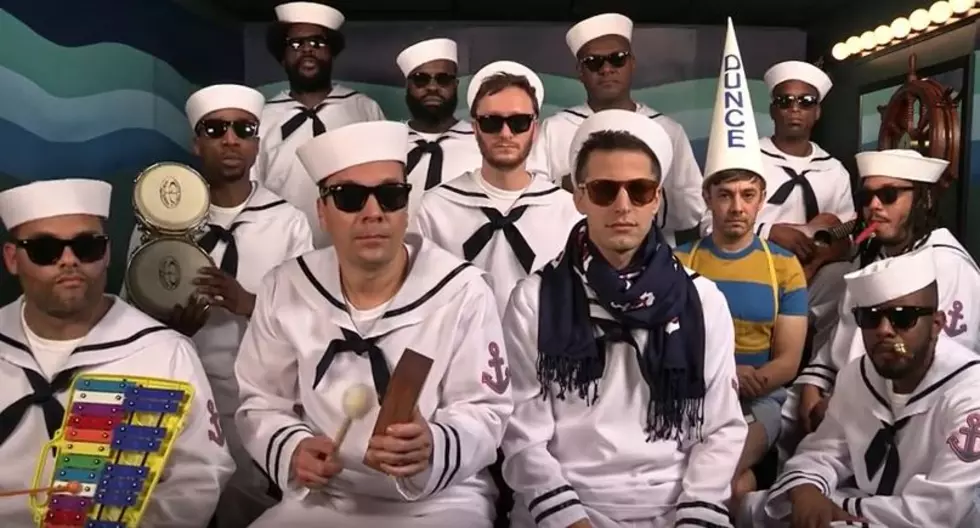 The Lonely Island Perform "I'm on a Boat" with Jimmy Fallon and The Roots
YouTube
The Lonely Island have put a new spin on their hilarious song "I'm on a Boat." The comedy trio teamed up with Jimmy Fallon and The Roots for a rendition of the track featuring classroom instruments. The Tonight Show production saw everyone get dressed up in sailor outfits to perform this clean version of the song.
The group had to get a little creative and cover for all the swear words in the original track. The Lonely Island, Fallon and The Roots did a nice job at keeping it PG for the censors though. Here's just a taste of the new lyrics.
"Take a picture, trick, I'm on a boat, Rick/We drinking Santana champ, cause it's so crisp (crisp)/I got my swim trunks and my flippie-floppies/I'm flipping burgers, you at Kinko's straight flipping copies/I'm riding on a dolphin, doing flips and tricks/The dolphin's splashing, getting everybody all wet/But this ain't Sea World, this is real as it gets/I'm on a boat mommy, daddy, don't you ever forget," Andy Sandberg and Akiva Schaffer rap on this version.
Black Thought got to show off his singing chops too of "I'm on a Boat" as he took over T-Pain's role. The Roots member performed T-Pain's final verse on the track before letting the "I fucked a mermaid" line slip. This brought the performance to a halt as everyone turned to stare at Black Thought. That did not derail them too much as everyone jumped right back into the hook.
The Lonely Island are currently promoting their new film Popstar: Never Stop Never Stopping, which will be in theaters on June 3.
20 Albums Turning 10 in 2016