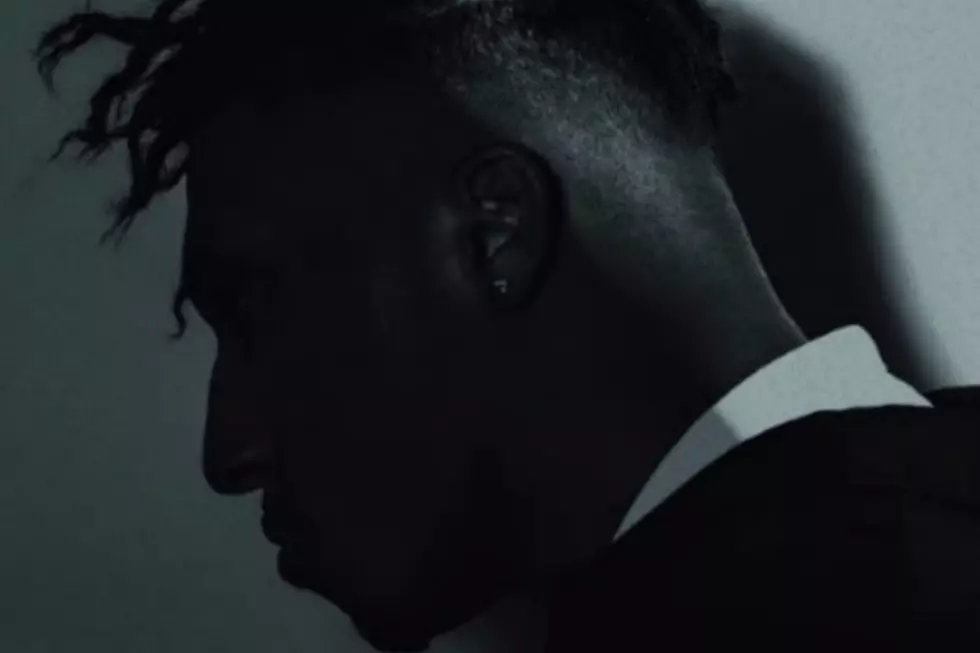 Lecrae Offers Food for Thought on 'All Things Work Together' Album
Reach Records/Columbia Records
In spite of occasional undertones that can be pegged as nihilistic and demonic in nature, hip-hop has always had an open conversation when it comes to religion and been tolerant of all forms of faith. One rapper who has embodied this relationship in a way few other artists have is Lecrae, who has established himself as the preeminent rapper for rap fans of the Christian faith.
Many may attempt to categorize the Houston native as a Christian rapper due to his transparency about his religious values, however, beyond the surface, Lecrae is a man of many moods, thoughts and experiences that can find common ground with those from the pews to the trap and beyond, which is conveyed on the rapper's latest long player, All Things Work Together. His first solo album since the release of his gold-certified 2014 effort, Anomaly, All Things Work Together also comes on the heels of his partnership with Columbia Records, which he inked last year, making this release his most blockbuster collection to date.
Wasting no time getting into the thick of things, Lecrae touches on his experiences and lessons learned over the past few years, as well as issues plaguing his community and the world at large on the introductory salvo, "Always Knew." "Still killin' over colors, now it's black and blue/We dyin' every day, B, we just don't make the news/When you speak out for your race, just watch/They gon' twist and say you hate these cops," Lecrae spews over production by Ramon "REO" Owen, who employs sturdy drums and a wailing vocal sample for the backdrop, which the Reach Records CEO navigates with the finesse of a seasoned veteran.
The effect that insufficient funds can have on one's work ethic is highlighted on the Boi-1da and T-Minus-produced "Broke," a selection from All Thing Work Together on which Lecrae harkens back to his humble beginnings as an impoverished youth. "Never fell in love with the coco, Never had to hold up the store with the .44/Never had the door kicked in by the feds while I'm laying in the bed on the bread that I'm gon' blow," the MC admits, sidestepping any illusions of trap lore, instead focusing on the determination and grit born out of the struggle that fueled his rise to power.
"Blessings," which pairs Lecrae with singer extraordinaire Ty Dolla $ign, is an instant standout from All Things Work Together and exudes a spirit of gratitude. "If I ever took a loss, I learned a lesson/I won't ever think I'm better than the next man," Ty Dolla $ign croons. Lecrae revels in his good fortune while also showing appreciation for his success and growth, rhyming, "I remember pushin' mama's little white Hyundai with no gas money/I just bought a car, cash money, I ain't even tryna brag on it."
Go Grizzly cooks up a jittery beat for Lecrae to flex over with "Whatchu Mean," which the spitter drops a litany of sports references on before allowing costar Aha Gazelle to take center stage with a animated stanza of his own.
"If they want me, come and get me!/Man, I ain't scared of none of y'all/The only thing I fear is the IRS and God," Lecrae barks on "Come and Get Me," a slick number that finds him in a state of aggression. No I.D. & DJ Dahi helm the boards on "Come and Get Me," a bass guitar and tambourine-laden soundscape that finds Lecrae making brash proclamations like, "Let me be real one time/If you want a religious puppet you gon' have to hang this guy," a warning to those attempting to typecast him or use his platform for an agenda.
All Things Work Together includes an array of collaborations, particularly on the latter half of the album, which features appearances from an array of vocalists, one of the more notable instances being Tori Kelly's appearance on "I'll Find You," produced by Danny Majic and DJ Frank E. Released as the third single from the album, "I'll Find You" displays Kelly and Lecrae's innate chemistry with one another, as they deliver what has the potential to be one of the biggest song's of the latter's career.
Vocalist Lewis Sky, who appears on "8:28," proves to be another key contributor, putting forth a stellar performance and setting the tone on an optimistic and triumphant note. "Help me, Lord, I ain't ever have no daddy/Feel like a failin' father tryna raise my family," Lecrae spills over production by Ayo The Producer and Keyzbaby while touching on the inner turmoil and tragedy endured in America in recent years. He then sends a more positive message and ends the album on a spiritual high with "Worth It." Produced by Swoope, "Worth It" brings listeners to the pulpit with tender organ keys and delicate vocals by Jawan Harris and Kierra Sheard, who croon, "It's just a little dirt, it's just a little stain/Trust me, you're still worth it/Just goin' through the pain." Following that up, Lecrae puts forth a testimonial of repentance and forgiveness: "I've been overstressin', I've been second guessin'/I was on them Xan's for a second, I was feelin' so defeated."
More than a decade deep into his career, Lecrae continues to reach new heights and break new ground, with All Things Work Together serving as another stepping stone towards rap immortality. While All Things Work Together is devoid of the transcendent material that time stamps an era in a cultural scope, it's value as a strong collection of songs that whets the appetites of those hungry for food for thought is not to be questioned. Delivering songs that resonate in the secular world while sticking to his spiritual base, Lecrae thrives on All Things Work Together, an album that will only increase his flock of disciples.
See 20 of Your Favorite Rappers Naming Their Favorite Rappers