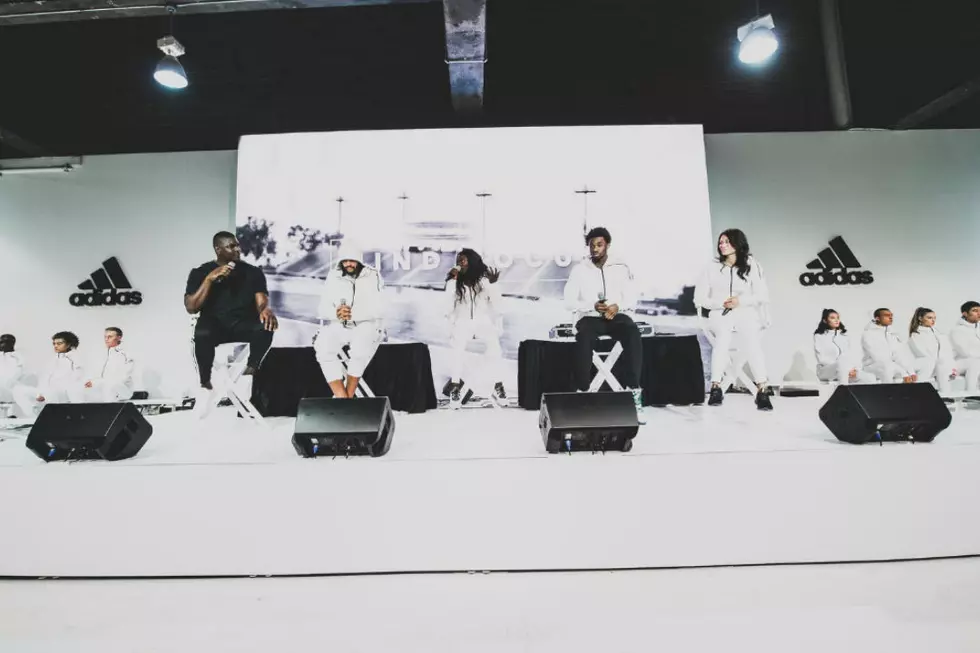 New York Knicks Player Joakim Noah Praises Adidas Athletics, Shares Game Day Playlist
Adidas
Adidas is expanding its brand with its newest division yet. Last night (Aug. 31), Adidas Athletics was introduced to consumers at a star-studded event in New York City. Minnesota Timberwolves guard Andrew Wiggins, New York Knicks player Joakim Noah, junior tennis star Coco Shilin and U.S. track star Tori Bowie were all in attendance for the main event.
Adidas' Athletics division is the newest business unit for the brand and consists of dedicated product design and development. The new apparel category bridges the gap between athletes' style and their on-field performance. Highlighted by the cozy Z.N.E. Hoodie, which is made of heavyweight cotton material, the hood's large size enables athletes to eliminate external distractions -- including visual, audible, and environmental --allowing the athlete to focus on their pre-game mind-set. Beyond the design, the Z.N.E. Hoodie carries hidden elements for athletes' personal items, which can each be tailored to their individual needs.
Along with the presentation of the Athletics apparel, Adidas tapped hip-hop mega producer Metro Boomin to provide the music of the night before New Jersey rapper and 2015 XXL Freshman Fetty Wap hit the stage to close out the eventful night.
The coveted Adidas Z.N.E. Hoodies are set to launch on Sept. 7, and will arrive in white, ice blue, collegiate navy, black and olive cargo for men and white, black, blue, red, vapour steel and collegiate navy for women. The hoodies are set to retail for a suggested price of $100 at Adidas stores, adidas.com, Champs, Kith, Dick's Sporting Goods, Macy's and select boutique retailers.
During last night's festivities, XXL caught up with the newest member of the New York Knicks, Joakim Noah, to discuss the Adidas Athletics apparel, the shoes he'll be rocking on the court this NBA season and his musical preferences. Check out the interview below.
XXL: Talk to me about the new Adidas Athletics line, the innovative Z.N.E. Hoodie and the entire #FindFocus event?
Joakim Noah: Well, I wasn't really sure what I was doing at first. I've been with Adidas for a while but it made sense once I learned about the event. As an athlete, there's a lot of outside pressures, a lot of distractions and I think this hoodie kind of represents staying focused and staying in the zone. It pretty much sums up what I'm going through right now. I am very proud to wear product, it's a bit hot in here, but this is a great hoodie.
What shoes will you be rocking this year on the court with the Knicks?
I'm gonna be wearing the new Andrew Wiggins shoes, the Adidas Crazy Explosive.
How do you feel about Adidas' innovative Boost technology?
Ever since this Boost thing came out I feel like Adidas changed the game completely. I can't wear anything else expect for Boost. I'll wear a suit with a Boost sneaker, but I don't wear suits so that will never happen, but the Boost technology from Adidas has made a huge impact in the game.
Speaking of Boost, a few NBA players hit the court rocking the Adidas Yeezy Boost. Will we ever catch Noah wearing the Yeezy Boost during an NBA game?
Nah, man that's a little too much. I'm really hype about the Crazy Explosive sneaker. I think it's a great shoe. Don't get me wrong, I like the Yeezy Boost sneakers. I wear them off the court but I can't play games when it comes to the court. I've had a few injuries so I 'm not playing around.
How excited are you to join the New York Knicks this season?
I'm really excited, man. I'm working hard. Right now, I just find myself going to the practice facility and meeting all the new faces and trying to get a routine going. I think we have a lot of new faces, a lot of veterans. A lot of great young talent so we're trying to put it all together and do something that's going to make the city proud. I grew up watching all of the New York teams and to me, the Knicks is the ultimate underdog team so I'm proud to be a part of that.
Now that you're in New York and in the midst of practices before the start of the season, which artists are in your playlist to get you amped up for practices? What do you listen to before games?
I like my old school stuff. I like Dipset. I like my Illmatic. I love listening to Gang Starr. I have a long ride to the practice facility now so I'm playing a whole bunch of stuff in the car ride, but it really depends on my mood and it depends on what kind of day it's going to be. Whether it be my recovery day or a game day, my playlist changes. Game days, I go a little harder so I put on those G-Unit mixtapes to get me game-ready.
See 50 Fire Hip-Hop Albums You Need to Listen to This Summer