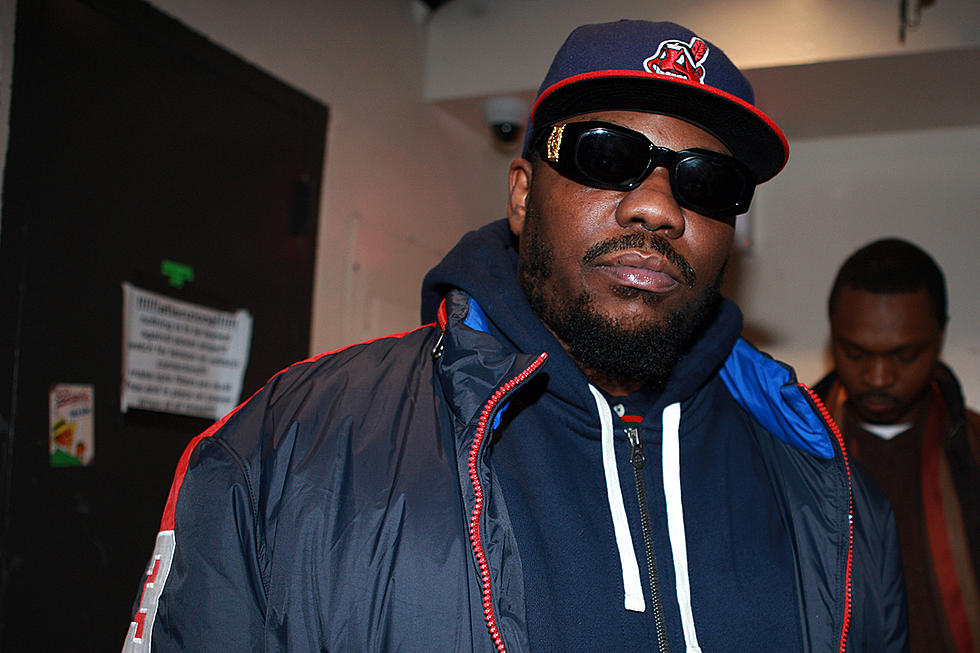 Happy Birthday, Beanie Sigel!
Shareif Ziyadat, Getty Images
Today, March 6, is the 44th birthday of multi-platinum selling Philly rapper, Beanie Sigel.
There are few rappers that can say they've had the career that Beanie Sigel has had and can live to tell about it. Outside of 2Pac and DMX, there probably isn't a more celebrated and equally tragic career and life than the Broad Street Bully's. In honor of Bean's born day, check out some of his best cuts and career highlights over the years.
The Roots An'Nem Introduce Sigel To The World
Beanie Sigel's appearance on The Roots "Adrenaline" is one of the first moments that B. Sigel earned a reputation for hopping on tracks and drawing his line in the sand. The product of tagging along to a Roots jam session, Beans kicked in doors and stole bricks on the track co-produced by Scott Storch, upstaging everyone else on the song. It was recorded before he even signed to the Roc, but wasn't released until after he began making a name for himself at the house Jay, Dame and Biggs built.
People complain about Trinidad James getting signed after rapping for just 10 months with one mixtape. Well, in 98-99 Sigel signed with Roc-A-Fella and went on tour after spitting one freestyle for Jay-Z. His first assignment came on "Reservior Dogs" alongside Jigga, Sauce Money and The Lox. He topped that by proceeding to "clap up, smack up, duct tape, rope and wrap up" MCs on the remix to "Money, Cash, Hoes."
If there was ever a rap song that made you want to live a straight-laced life and stay the hell up out of jail, it's Sigel's vivid incarceration description "What Ya Life Like" from his appropriately titled 2000 debut album The Truth. If only Beans could scare himself straight.
Don't Take Beans Out In Public
While hardly anyone doubted that Sigel lived what he rapped, all doubts were silenced when he was filmed scuffling in a nightclub while shooting MTV's Diary on his then-boss Jay-Z. Jigga's quote that "Beans is a street cat and doesn't know any better" rings as a testament to this day.
Absent fathers or deadbeat dads had always been a frequent topic in rap music, but the art of addressing them so changed in 2000 when Beans opened up and let it all out on Jay-Z's "Where Have You Been?" This is how you really make a "Song Cry."
The word "real" is only synonymous with a handful of rappers and Beanie Sigel and Scarface account for 50% of them alone. The duo rapped together on Bean's first two albums, his 2007 album The Solution and shared two songs with Hova himself. The world was teased with an announcement of a Mac and Brad album in 2012, and we're still waiting.
Nobody is above getting made fun of, even gangster rappers. Not sure exactly what Sigel was high off of in this Smack DVD clip of Peedi Crakk freestyling, but no, and we mean absolutely no Peedi Crakk rhyme should bring these types of reactions out a grown ass man.
Almost a decade before Chief Keef was shooting videos while under house arrest, Beans was doing it on Smack DVD. By this time it was hard to keep up with Sigel's rap sheet, but his actual raps, were still hard.
Introducing State Property
Philly has always argued that they had better DJs than NYC, but it wasn't until Sigel put together his State Property squadron that people saw a argument for the MCs too. Freeway, Peedi Crakk, Young Gunz, Oschino and Sparks breathed some new energy into Roc-A-Fella and might have even lit a new spark in the Jiggaman's style too.
State Property Clothing Line
Yes, there was a time when Beanie Sigel was so popular that a few people actually wanted to dress like him. The short lived clothing line still pops up in the streets here and there, but it will mostly be remembered for having gun holsters in the jackets.
You didn't we were going to salute the man without taking part in the festivities, did you? Beanie Sigel graced two XXL covers. He shared his first with Jay-Z in 2001 and then split a cover with Lil Wayne in 2005.
If there already wasn't enough street folk lore attached to Sigel's name, even more was added when it was revealed that around the time Kanye West first joined Roc-A-Fella and was christened with his chain, Sigel came to Ye's defense when he sensed that he was about to be robbed outside of Chelsea Diner in NYC. Legend has it that Kanye sent out a bat signal for help and Beans and crew showed up with his trusty "utility belt" on his waist.
Beans Kicks Jadakiss' Ball Over The Fence
Beans earned a reputation for taking on the battles of his Roc La Familia members, Jay-Z in particular, and this was one of the primest examples. The world was actually relieved when The Broad Street Bully kept his "beef" with Jadakiss on wax when he took his "Throw Ya Hands Up" beat and turned it against him. Mainly because he's the type of cat that will actually do everything he said in real life.
It Was All Good Just A Week Ago
Rap will have you rushing to keep a man's chain around his neck one minute, and calling him gay the next. Displeased with hip-hop's fashion-forward ways at the time, Sigel had some less than flattering words for Kanye West who he felt was the ringleader. "That's not cool to be..."
The 2012 version the South By Southwest music festival was probably the most corporate supported one in its history thus far. But while the mainstream rap artists were rocking sponsored stages, Beans kept it street (literally) and treated the crowd to an impromptu freestyle.
Sigel is Philly personified, but after an altercation with one time ally Kosmic Kev who produced his classic The Best of Beanie Sigel mixtape, he and his music was banned from airplay on the city's biggest radio station, Power 99, right as he was promoting his debut album.
Throwing Rocks At The Throne
Around 2009, feeling bitter and betrayed by his former boss, Sigel started dedicating a lot of his time to dissing Jay-Z every chance he could. Whether it was in songs, radio interviews, or online, Beans used just about every medium he could to let Jigga, and whoever wanted to listen, know just how he felt.
Years after the fact, it was reported that Beanie Sigel wanted to sign with G-Unit Records while Roc-A-Fella was in limbo, but Jay-Z wouldn't let him. Years later Beans would try to sign with the Unit again and even put out a song called "I Go Off," with 50 Cent doing what he was doing best at the time, dissing Jay-Z. According to Beans the deal never happened because 50 never paid him a cent.
Despite his name being in the courts and papers more than on the Billboard charts over the last ten years, Sigel only spent a year and day behind bars through it all. But, the feds finally caught up with him and stuck him with tax evasion charges, sentencing him to two years in prison. He managed to release a new album and appeared to be getting his life together leading up to his report date. There were also reports that he was about to mend his broken relationship with Jay-Z and do a surprise performance with State Property at the Made In America festival in Philadelphia in 2013. But, Sigel got arrested on guns, drugs and conspiracy charges just days before the event and was sent to jail early. Because of that, more time was added to his sentence. Sigel was released from prison on August 14, 2014 and is reportedly serving out the rest of his sentence in Philadelphia and working on new music with Roc Nation producer Jahlil Beats.
Happy Birthday, B. Sigel!
11 Rappers Who Were Shot While They Were in the Spotlight