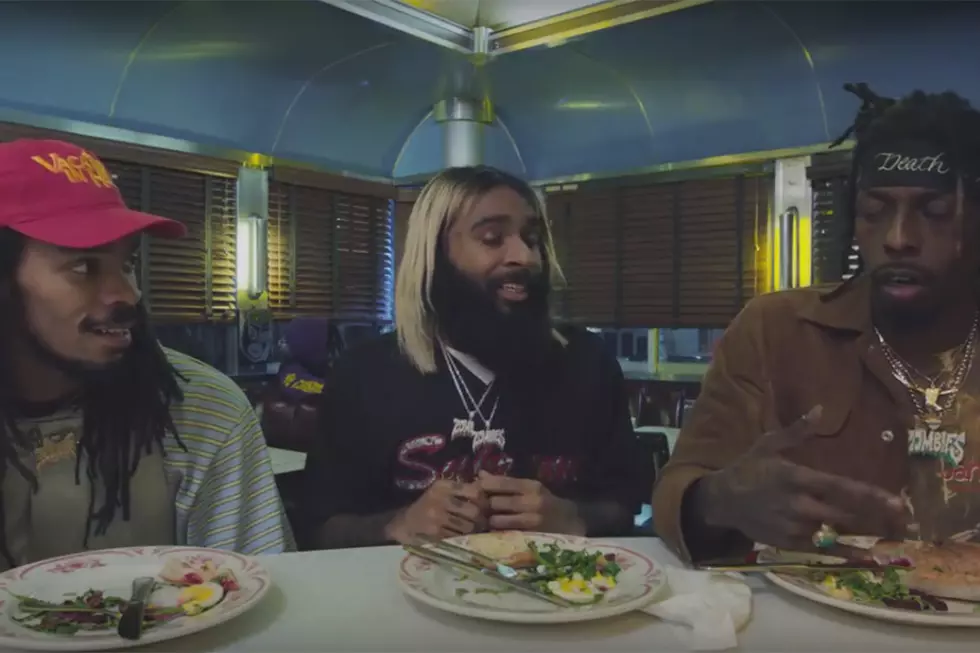 Flatbush Zombies Deliver New Movie 'Vacation' Featuring Actor John Leguizamo and More
FlatbushZombies TV via YouTube
Ahead of the release of their Vacation in Hell album, Flatbush Zombies dropped an accompanying movie that finds the members of the group figuring out how they're going to market their latest project.
The Vacation movie, which is directed by Phillip T. Annand, starts off with Erick Arc Elliot, Zombie Juice and Meechy Darko sitting in a diner, wondering how they can end up on the Billboard chart with all the other music that is being released. "How the fuck we supposed to know Cardi dropping her shit tomorrow," Erick Arc asks.
After previewing a few songs from the album, the trio gets some unlikely advice from John Leguizamo, Lin-Manuel Miranda and Ice-T. While the group contemplates going for a more mainstream sound to sell records, Lin-Manuel urges Erick Arc to keep at the conscious rap. As for Zombie and Meechy, Ice-T tells Zombie to keep "talking that shit," while Leguizamo asks Meechy to get back to his dark style of rap.
The movie ends with the group continuing to wonder how to market the album before Meechy comes up with the perfect plan. "Put the hook at the end of the fucking video, nigga that's how," he says. "Niggas love hooks."
Along with the movie, Flatbush Zombies also dropped their latest single, "Vacation" featuring Joey Bada$$. The song, which is featured heavily in the Vacation movie, features a bouncy instrumental with a catchy hook from Zombie Juice.
On Friday (April 6), Flatbush Zombies dropped their Vacation in Hell LP. The 19-track project includes guest appearances from Joey Bada$$, A$AP Twelvyy, Bun B, Jadakiss, Nyck Caution, Denzel Curry and more. Production on the album is handled by the likes of Hector Delgado, Kirk Knight and Eric the Architect.
Check out the Vacation movie and listen to the new song below.
See New Music Releases for April 2018