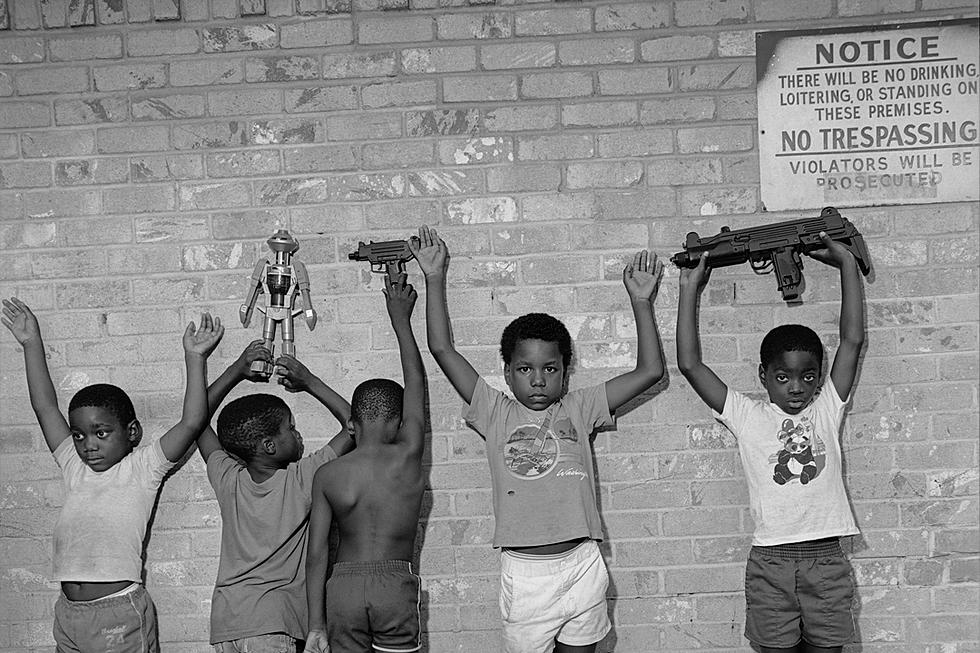 20 of the Best Lyrics From Nas' 'Nasir' Album
Mass Appeal / Def Jam
If you're a fan of top-notch hip-hop lyricism, chances are Nas is your guy. The legendary rapper has been providing sterling stories and perfect verses for more than 25 years, dating back to his show-stealing appearance on Main Source's "Live at the Barbecue" in 1991. And here he is in 2018, continuing to drop wisdom in 16-bar bites. He's taken a long hiatus since his last album, 2012's critically acclaimed Life Is Good, but the self-proclaimed thug poet returns with Nasir, a seven-track album produced entirely by Kanye West.
Word of Nas' 11th solo studio album has been buzzing since 2016, when he dropped the alluringly titled "Nas Album Done" on DJ Khaled's Major Key album. Yet two years passed without any full-length project from God's Son. In April, Kanye West took to Twitter to announce that he'd teamed with Nas to produce his next project—one of five albums that he'd pilot and release throughout May and June. Kanye and Nas have a long, if sporadic, working history. But to hear the two music minds cook up a full project was nearly unimaginable.
Released on Friday, Nasir continues Nas' tradition of delivering topically diverse lyrical spills over potent production. The album is the product of a small ensemble of talent, including appearances by Puff Daddy, Kanye West, The-Dream, Tony Williams and G.O.O.D. Music's rising star 070 Shake. However, Nas' words remain the driving force.
After spending the weekend unpacking Nas' latest, XXL compiled 20 of the best lyrics from Nasir that speak to Nas' wizardry and excellence with words.
"Not For Radio"

Nas Featuring Puff Daddy and 070 Shake

"Black Kemet gods, black Egyptian gods/Summoned from heaven, blessed, dressed in only Goyard/Homie go hard like Stone and Robert in a stolen car/Shoot the ballot box, no voter cards, they all are frauds/Senegal's finest, minerals, diamonds/The earth is cursed but I survive many climates/Calm and thoroughly, they try to Hyman Roth me/John Fitzgerald me, the industry never bought me" —Nas

"Not For Radio"

Nas Featuring Puff Daddy and 070 Shake

"To Catholics, Moors and Masons/John Hanson was not the first black pres to make it/Abe Lincoln did not free the enslaved/Progress was made 'cause we forced the proclamation/SWAT was created to stop the Panthers/Glocks were created for murder enhancement/For hunting men, circumstances/Edgar Hoover was black, Willie Lynch was a myth/Colombians created crack, the government made stacks" —Nas

"Cops Shot the Kid"

Nas Featuring Kanye West

"White kids are brought in alive/Black kids get hit with like five/Get scared, you panic, you're goin' down/The disadvantages of the brown/How in the hell the parents gon' bury their own kids, not the other way around?/Reminds me of Emmett Till/Let's remind 'em why Kap kneels" —Nas

"Cops Shot the Kid"

Nas Featuring Kanye West

"Stay tuned up and down your timeline/This fake news, people is all lyin'/Money is bein' made when a mom cries/Won't be satisfied 'til we all die/Tell me, who do we call to report crime/If 9-1-1 doin' the driveby?/It's certain things I can't abide by/I ain't bein' extreme, this is my side" —Kanye West

"A vet stylin' at Met Gala, tuna salad from La Scala/Black sweats, swallow a lot of reefer/God, it's hard to quit the bottom feeder, lobster eater/When I fast, I see Elijah's features/A million cash for a Nas feature/Nas cheaper, do it for free if you do it for me/52-bar verse if the beat is movin' me" —Nas

"Stumble through customs, coppin' Cubans at the Duty Free/Layin' on the most expensive beds, still I'm losing sleep/Next to Jet's Beauty of the Week 1993/Chin grabber, neck choker, in-her-mouth spitter/Blouse ripper, ass gripper, that dig-you-out nigga" —Nas

"You are an extension of what I've worked hard to build/You believe in your own lies, can't be real/And the odds is that what you love can kill you/Like a heart physician who dies from a heart attack/I know the consumer behavior, I target that/You impressed with what they wearin', I started that" —Nas

"It's kinda terrific/The product of Slick Rick/Somebody woulda told me then I'll come outta this shit rich/And start up a business/I woulda thought they was playin'/All them niggas I ran with, all that weight they was weighin'/A light bulb switched in my mind at the classes I cut/Just a spazz puttin' wax in the blunt" —Nas

"Bonjour"

Nas Featuring Tony Williams

"I should be more mature, sure, I'm spoiled/Hit up the South of France after tour, bonjour/How many girls pre-bate/Right before they date/So she can have restraint?/She still get slayed/That's ill behavior, want the whip matted/Want her ass the fattest/Beat it: Thriller jacket" —Nas

"Bonjour"

Nas Featuring Tony Williams

"Eat at selective kitchens, speak on our next intentions/Over-creamy Polenta, it come chef-recommended/Come through the side entrance/I arrive, bitches/Crackheads still owe me from '89 fixes/Havin' drinks in Vegas, my business/She didn't see me comin', now she's an eyewitness" —Nas

"Bonjour"

Nas Featuring Tony Williams

"Vacay share twisted, whatever happened missed it/Vacations I didn't like, put myself through a guilt trip/All these beautiful places, but the cities be poor/You wealthy when your kid's upbringing better than yours" —Nas

"Bonjour"

Nas Featuring Tony Williams

"All this money we gettin'/Could be gone in a minute/If we don't invest it/We long-term affected/Watch who you gettin' pregnant, that's long-term stressin'/I got a mil for every bump on your face, that's what I call a blessing" —Nas

"Everything"

Nas Featuring Kanye West and The-Dream

"Dark boy, don't you cry/There's too much life left in those eyes/Don't you let that face go waterfall/Don't you learn to love your scars and all/Dark boy, don't you die/They're just human, let them lie/You just know your world and speak your truth/Let them come to you" —The-Dream

"Everything"

Nas Featuring Kanye West and The-Dream

"When the media slings mud, we use it to build huts/Irrefutable facts, merciful, beautiful black/Beloved brother, you fail to embarrass him, harassin' him/To my life, your life pales in comparison/So go write whatever blog, messiness is not ever the god" —Nas

"Everything"

Nas Featuring Kanye West and The-Dream

"Listen vultures/I've been shackled by Western culture/You convinced most of my people to live off emotion/That's why we competin'/Death by the chrome barrel, forgot the secrets/My Kilimanjaro bone marrow's the deepest/You can peep at the comments, but don't fall for that/We want freedom, I'm a scholar, an almanac" —Nas

"Everything"

Nas Featuring Kanye West and The-Dream

"Who knew I would grow to meet presidents that respect me?/If Starbucks is bought by Nestlé, please don't arrest me/I need to use your restroom and I ain't buy no espresso/Soon enough, assume the cuffs, the position/Not new to us, since back on the bus sittin'/Said 'Screw that bus!' Boycotted that bus outta business/The future's us, yet every citizen's in prison" —Nas

"Adam and Eve"

Nas Featuring The-Dream

"Chip off their shoulders and soldiers, on they grizzle/My granddaddy Mack Little married Nannie Little/They passed down wisdom, blessings were given/Pray my sins don't get passed to my children/I made a killin', I'm alive like the morning star/Court Jordans for the price on stock, so what the Hornets are?/I need evaluations, I'm savvy, y'all/Eatin' foie gras and caviar" —Nas

"Adam and Eve"

Nas Featuring The-Dream

"The ghosts of gangsters dance/Chinchillas shake on the hanger/The force of this banger/Yeah, my language advanced, my cadence amazin'/The voice triggers somethin', what is this conundrum?/The clouds scurry, your spirit rumble, a boyish smile/Still puff the loud, it's nothin' less than a quarter pound" —Nas

"Adam and Eve"

Nas Featuring The-Dream

"What come first, peace or the paper?/Before I had a piece of paper/Peace was in my favor/Before I sat to eat at the table/It had leeches and traitors/Cut the fat from the meat/Extract the weak/Bon appétit/No bacon, brothers is swine/It's so hard to trust 'em 'cause my hustler's mine" —Nas

"Never sold a record for the beat, it's my verses they purchase/Without production I'm worthless/But I'm more than the surface/Want me to sound like every song on the Top 40/I'm not for you, you not for me/You bore me/I drop lines prestigious schools read to their students/Look at my album plaques, somebody agrees with the music" —Nas