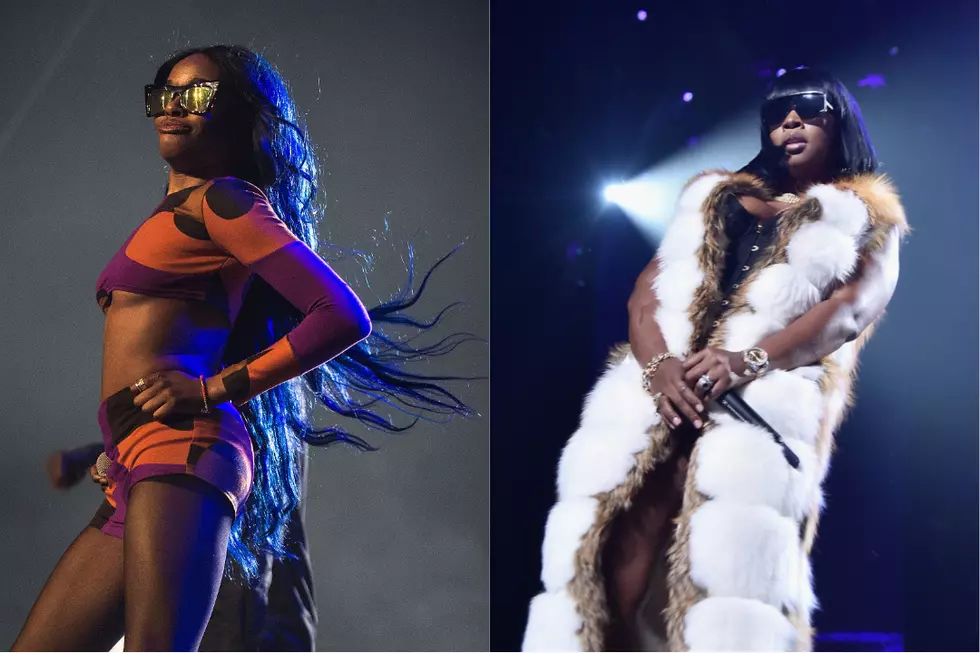 Azealia Banks Contemplates Suing Remy Ma Over Instagram Spat
Cassandra Hannagan/Theo Wargo, Getty Images (2)
As previously reported, the dust up started last weekend, when Banks didn't take too kindly to a statement Remy made in an interview on Ebro in the Morning. "When I came home it was nothing. It was tumbleweeds blowing through as far as female artists is concerned," she said during the sit-down.
Banks fired back on Instagram. "Remy - the hottest things you've released since you've been out of jail are Nicki love letters and she's still miles more important than you," she posted, adding, "Let me rephrase ... Remy ... you absolutely must step your shit up. The music you have been releasing is some serious old head rap shit and it's 100% unfair that you stand up on your reality tv booster seat and make any statements about female rap as if you have done a single thing to move the cultural needle since you've been home. It is not 2000."
Remy responded by exposing old, at time desperate-sounding, texts she received from the Harlem rapper begging Rem to link up with her. "Ayo, I know you ain't talkin about me, dog. You? What?! You been on my dick; you love my style," she captioned the numerous screenshots. Remy even exposed an alleged text where Banks vents about the appearance of her lady parts, with attached photos of vaginas.
Now that Banks has had time to stew over the situation, she might respond by taking legal action, or at least that's what she wants us to think. "Just realizing that I can sue Remy Ma for trying to paint me in a false light," Banks typed on her Instagram story. "Those pictures were not of my vagina yet she showed them to the world trying to say it was. I responded to something she said publicly and her response was making a private conversation between the two of us public."
In a different post she added, "Is she still on parole? This can get messy." She followed that with a screenshot of revenge porn laws she found on the internet.
"Sorry folks. I don't live my life by those ghetto society 'no snitching' rules," she added.
She wouldn't take it there, would she? Uhh, maybe.
See Azealia Banks' posts below.
See 20 of Your Favorite Rappers Naming Their Favorite Rappers