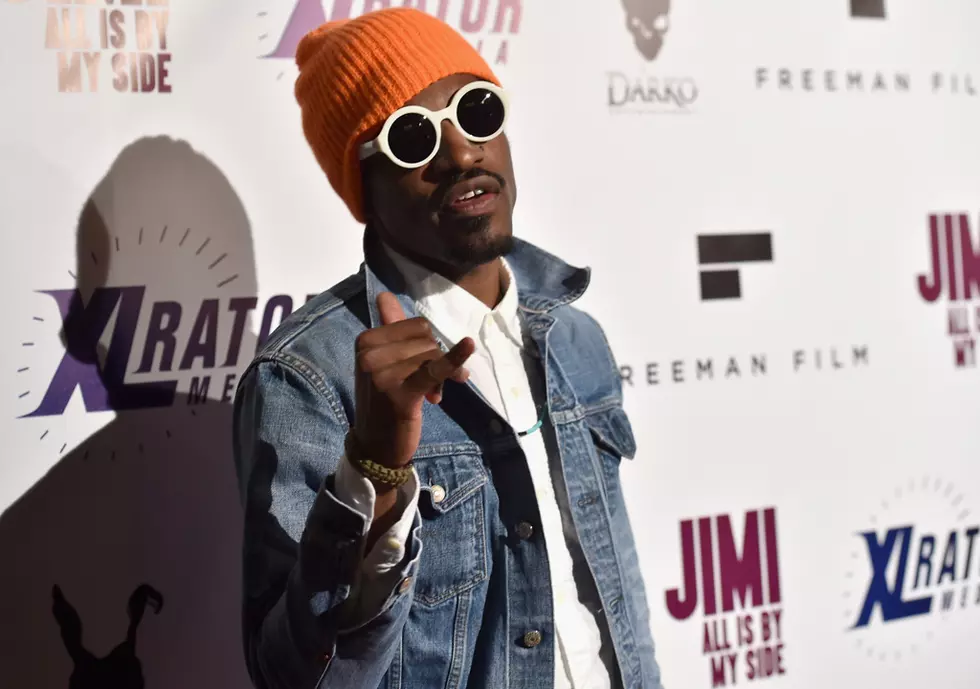 25 of the Best Andre 3000 Guest Verses
Alberto E. Rodriguez, Getty Images
Without argument, we can all unanimously agree that ATL's own OutKast, the duo comprised of Andre 3000 and Big Boi, evolved into possibly the most unique group in hip-hop. Getting their start in the early '90s, they helped to popularize the southern sound (of Organized Noize), and along the way sold well over 25 million records.
It was at the time of their sophomore release, Aquemini, that the two rappers started to harshly distinguish their individual personalities. Big Boi had more street aesthetic, while Andre 3000 began to really stand out, with his ever-evolving lyrical content and his wardrobe choices. An example, of course, being his bizarre blend of football-inspired gear and animal print pants in the infamous "Rosa Parks" video. The duo took the complimentary contrast a step further when they released Stankonia, which included songs like "B.O.B.," and helped to usher in the trademark blend of weirdness that makes them so historically significant in the culture's timeline. It wasn't until their groundbreaking Speakerboxx/Love Below, which was for all intents and purposes two solo albums, that Andre took the full plunge into the 3 Stacks we know today.
With an artistic aura that could be felt in his sing-song cadence and a style sensibility that can only be explained as Dapper Dan meets 1950s England (with a dash of '60s spirit), Andre established himself as one of the most daring artists in the game. He diversified his portfolio throughout the 2000s, appearing in numerous films (including his more recent role in the Hendrix biopic), and pulling off a handful of side projects that range from fashion to a children's cartoon. He also exudes an undeniable charm that has made him a favorite with female fans over the years, leading him to appear in a national advertising campaign for Gillette.
Unfortunately, Andre 3000 hasn't blessed us with a solo body of work in many years -- too many years in fact. However, he's popped up time and time again to deliver super dope 16s and guest spots on some of your favorite rapper's tracks. As he prepares to celebrate his 40th birthday, we've taken the liberty of collecting some of his best guest verses. So straighten your ascot and check out some big bars from one of ATL's finest. So fresh, so clean.
"Sorry"

T.I. Featuring Andre 3000

"Everybody"

Fonzworth Bentley Featuring Andre 3000 & Kanye West

"Benz Friendz"

Future Featuring Andre 3000

"What a Job"

Devin The Dude Featuring Andre 3000 & Snoop Dogg

"International Player's Anthem (I Choose You)"

UGK Featuring Andre 3000

"Hello"

Erykah Badu Featuring Andre 3000

"I Do"

Jeezy Featuring Jay Z & Andre 3000

"Nectarine"

Cherokee Featuring Andre 3000

"It's Ok"

Slimm Calhoun Featuring Andre 3000

"That's Sexy"

Q-Tip Featuring Andre 3000

"The Real Her"

Drake Featuring Lil Wayne & Andre 3000

"Sumthin' Wicked This Way Comes"

TLC Featuring Andre 3000

"Ride"

Ciara Featuring Bei Major, Ludacris & Andre 3000

"Sixteen"

Rick Ross Featuring Andre 3000

"UFO"

Tink Featuring Timbaland & Andre 3000

"Millionaire"

Kelis Featuring Andre 3000

"Walk It Out (Remix)"

UNK Featuring Jim Jones & Andre 3000

"Party"

Beyonce Featuring J. Cole & Andre 3000

"Deuces"

Chris Brown Featuring Drake, T.I., Fabolous, Kanye, Rick Ross & Andre 3000

"Green Light"

John Legend Featuring Andre 3000

"Pink Matter"

Frank Ocean Featuring Andre 3000

"Dedication to My Ex (Miss That)"

Lloyd Featuring Andre 3000

"30 Something"

Jay Z Featuring Andre 3000 & Ice Cube

"Interlude"

Lil Wayne Featuring Tech N9ne & Andre 3000

"Throw Some Ds"

Rich Boy Featuring Andre 3000