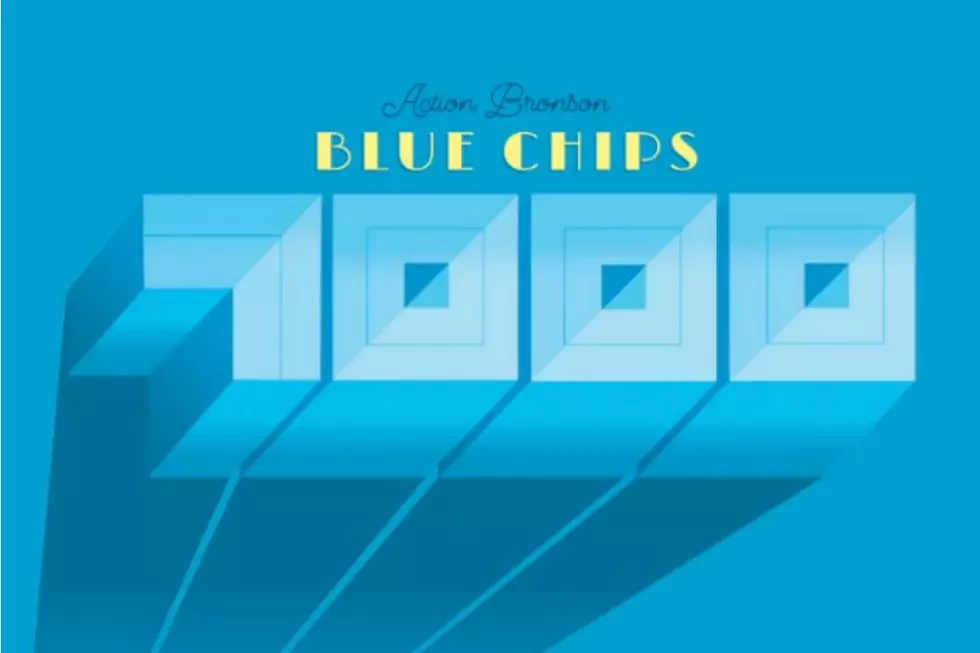 Action Bronson Satisfies With Absurdity on 'Blue Chips 7000′ Album
Atlantic Records
At one point, new Action Bronson seemed like a regularly scheduled event, with new projects coming out every few months. Between 2011 and 2013, the New York MC dropped eight mixtapes, EPs and albums and quickly made a name for himself as one of the best rising rappers of a generation.
Since then, Bronson's release schedule has slowed down significantly, perhaps largely due to a shift in focus towards television, now having hosted two TV shows on Viceland. In 2015, he released his major label debut, Mr. Wonderful, which was a bit of a shift from the goofy raps that made him famous and more conceptual in nature. Two years later, we have his second studio album, Blue Chips 7000, which is decidedly a step back into classic Bronson.
The album is the third entry into Bronson's Blue Chips series, which began as a series of mixtapes with producer Party Supplies. Blue Chips 7000 is the first project in the series where Party Supplies takes a bit of a backseat on the boards. His presence is still felt throughout the album, but Bronson spreads the production duties to other frequent collaborators such as The Alchemist, Knxwledge and Harry Fraud.
Lyrically, the album is the same ridiculous Action Bronson that listeners have come to know and love. His boasts are grandiose and laced with references to food and sports. On "Let It Rain," he brags, "It's been an hour but that blunt still hittin' like a champion/Eatin' scampi with Batali, 50 feet from the Pantheon/And that's my life, 60K for the glass pipe/I'll break it on your head if you don't act right." Yet at this point the lines don't feel as ridiculous as they once would. This isn't some fantastical situation Bronson is talking about. He's really been high while eating with Mario Batali in Rome. The once absurd situations Bronson would rap about have become his actual life.
The rhymer keeps this up throughout the project, piling quotables on quotables. On album closer "Durag vs. Headband," Bronson claims "Fuck, That's Delicious on box set/Me and my mans smokin' on big drugs and feasting on the ox leg." "My Right Lung" sees him longing for just one simple pleasure: "I'd give my right lung if I could dunk a basketball one time."
Guests are used sparingly on Blue Chips 7000. Big Body Bes shows up on two tracks, talking smack on "TANK" and providing hook duties on "Durag vs. Headband." Frequent collaborator Meyhem Lauren and Jamaican singer Jah Tiger show up on "Hot Pepper." Finally, fellow larger-than-life big man Rick Ross shows up on "9-24-7000" to throw down some brags of his own: "All my niggas down, we lookin' like Fu-Schnickens/Got a few tickets for bitches who truly digged us/College dormitories, fill 'em with smooth lyrics/Air Max 95s, grey sweats, true menace."
While not all production duties are done by Party Supplies on this round of Blue Chips, the album still maintains that kitschy vibe that the mixtape series previously established. Party Supplies' "Let It Rain" beat has an addicting, funky loop that finishes off with a stellar saxophone solo. Harry Fraud adds some smooth keys and jazzy drums to the mix. The beat on "TANK" sounds like the backing track to a 1980s Billy Joel song. These producers know Bronson's voice so well, and know exactly when to go all-out with some huge samples or keep it subdued and let Bronson's words do all the talking.
Blue Chips 7000 as a whole is more consistent than Mr. Wonderful was. There's not that amount experimentation that sometimes threw that project off the rails. At the same time, there aren't the highlights Mr. Wonderful had either. Nothing on this project really touches tracks like "Easy Rider" and "Actin' Crazy" from that last album. Blue Chips 7000 is also fairly back-loaded. The first five tracks are perfectly fine, but things don't really get going on the LP until "Let It Rain."
The familiarity of the album can also be a bit of an issue. Bronson still sounds like he's having plenty of fun, but he's touching back on notes that listeners have heard him cover plenty of times already. The overall feeling the album, which is plenty good, may cause you to go back to those first two Blue Chips albums, when Bronson was feeling perhaps a bit hungrier. As his stardom has increased, perhaps Blue Chips 7000 sees Action Bronson getting comfortable in a pattern. The album is a bit like Chinese takeout; it satisfies your craving for new Bronson for a little bit, but in a couple hours you want more.