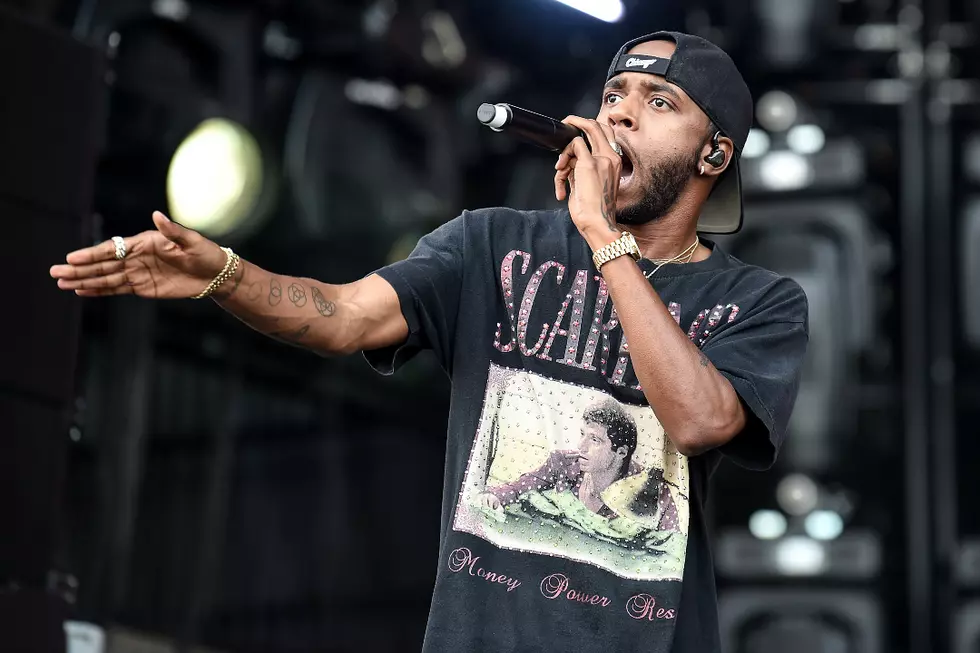 6lack Preps 'East Atlanta Love Letter' Album and New World Tour
Tabatha Fireman, Getty Images
The follow-up to 6lack's debut album Free 6lack is coming soon. We don't know when exactly, but the "Prblms" rapper shared the project's title on Instagram yesterday (Aug. 13). He dubs the new full-length East Atlanta Love Letter, and also shares the dates for a new tour.
The announcement comes via an Instagram post featuring a black envelope that reads, "My album is titled East Atlanta Love Letter." 6lack also used the visual trope in June when teasing the project's progress, writing on the envelope, "I think my album is done."
The rapper-singer followed the album announcement by sharing details for a world tour supported by Summer Walker, They., Boogie and Tierra Whack. 6lack plans to hit 34 cities across four countries between Oct. and Dec. Ticket sales open Aug. 17 and will be available via eastatlantaloveletter.com.
So far, we've only heard one song expected to appear on the new project, "Switch," which features backup vocals from Ty Dolla $ign and received a video last month. 6lack also guested with Ty on Khalid's summer single "OTW."
Check out the dates for 6lack's From East Atlanta With Love Tour below, where you'll also find his Instagram post revealing the new album's title.
6lack's From East Atlanta With Love Tour Dates
Oct. 5 — Johannesburg, South Africa
Oct. 6 — Cape Town, South Africa
Oct. 10 — Fremantle, Australia $
Oct. 12 — Melbourne, Australia $
Oct. 13 — Brisbane, Australia $
Oct. 16 — Sydney, Australia $
Oct. 18 — Auckland, New Zealand $
Nov. 2 — Memphis, Tenn.
Nov. 3 — Nashville, Tenn.
Nov. 5 — Charlotte, N.C.
Nov. 6 — Raleigh, N.C.
Nov. 8 — Montreal, Quebec
Nov. 9 — Boston, Mass.
Nov. 11 — Washington, D.C.
Nov. 14 — New York, N.Y. +
Nov. 16 — Cleveland, Ohio
Nov. 18 — Toronto, Ontario +
Nov. 20 — Pittsburgh, Pa.
Nov. 23 — Chicago, Ill.
Nov. 25 — Minneapolis, Minn.
Nov. 29 — Vancouver, British Columbia
Nov. 30 — Seattle, Wash.
Dec. 3 — San Francisco, Calif. +
Dec. 5 — Los Angeles, Calif. +
Dec. 7 — Las Vegas, Nev.
Dec. 8 — Phoenix, Ariz.
Dec. 10 — Albuquerque, N.M.
Dec. 11 — Dallas, Texas
Dec. 12 — Austin, Texas
Dec. 14 — Houston, Texas
Dec. 15 — New Orleans, La.
Dec. 17 — Orlando, Fla.
Dec. 18 — Miami, Fla.
Dec. 21 — Atlanta, Ga. +
$ — Supported by They and Boogie
+ — Supported by Tierra Whack and Summer Walker
All other dates supported by Summer Walker only
94 Hip-Hop Artists Going Platinum in 2018