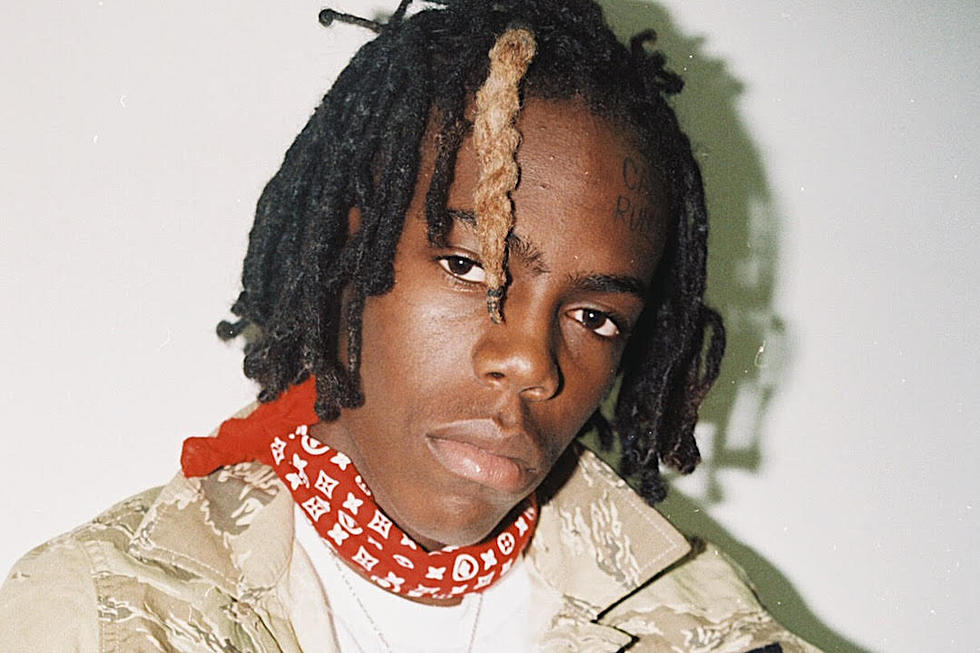 The Break Presents: Yung Bans
@JunyaWrk
Every few years, new rappers emerge from the streets of Atlanta and reprise the area's sound with an added personal touch. In the 1990s/early 2000s, OutKast and Goodie Mob provided Southern hip-hop with soul. In the past decade, Young Thug and Future gave trap music melody. In 2017, we have Yung Bans, who is continuing in the footsteps of the latter artists, but toning down the vibe a touch.
"If I ain't good at nothin' else, I'm good at rapping," shares a confident Yung Bans during his recent visit to the XXL offices. The Union City, Ga., native is part of hip-hop's new wave—artists like Lil Skies, Trippie Redd and Young Nudy, who play on emotions over woozy, somewhat-eerie trap production.
Bans began rapping in the sixth-grade, rhyming over instrumentals like Hustle & Flow's "Whoop That Trick" with his little brother. It was during his high school years, however, that he decided to make a career out of it, teaming up with Playboi Carti on his first viral hit, "4Tspoon." A short while after, Yung Bans collaborated with XXXTentacion and Ski Mask The Slump God on "ILOVEITWHENTHEYRUN," a lo-fi banger that's been streamed more than 37 million times to date.
This month, the adolescent rhymer dropped not just one, but two EPs. The projects—Yung Bans and Yung Bans Vol. 2—are concise, with 12 combined tracks and features from Lil Skies and Smokepurpp. Yet Bans is continuing to work on his new sound, which he says is leading in the direction of his latest single, "Lonely." "I've been making more stuff like that—more melodic songs; no more just trap rappin," he explains. "I'm on some new shit 'cause I got bored with that."
With music out on Spotify and Apple Music, Bans has already secured the bag, but for 2018, he's focused on his end game. "By the end of next year, I really wanna have my dream house [and] dream car," he says. "I just wanna be the man I envision in my brain, or very much close to accomplishing all my goals."
Learn more about Yung Bans on XXL's The Break.
I grew up listening to: "Chief Keef Sosa; Tyler, The Creator; Wayne [and] Young Scooter."
My style's been compared to: "People compare me [to] everybody. I've been reading all the comments on the videos and stuff—[they say], 'He sounds like Kodak [Black] and Famous Dex mixed together, he sound like Rich The Kid, he sounds like 2013 [Playboi] Carti.' All that stuff. But these niggas sound like me."
Most people don't know: "My age. People probably think I'm like 20-something. I just turned 18."
My standout song to date: "My favorite song that I made is probably 'Lonely.' I like the feel and vibe it give off. I like that song a lot. [My engineer] played the beat, and the beat told me what to say. [When] I started making the hook, it was more like a melodic hook and the words came clear with it. Sometimes the beat will come on and it's trying to tell you what to say, but it ain't clear. When I heard that beat, it was clear; 'This is what I'ma say'. Every bar."
My goal in hip-hop is: "To make the best music the world ever heard, and be the best artist I could be. And just stay working until I sign the best artists in the world, and I ain't gotta rap no more. I'm teaching little kids how to rap."
I'm going to be the next: "I gotta think on that, you gotta give me time. Next time we gon' know."
Standouts: Yung Bans - EP
"ILOVEITWHENTHEYRUN" XXXTentacion Feat. Yung Bans and Ski Mask The Slump God
"4Tspoon" Feat. Playboi Carti
See 50 of the Best Hip-Hop Projects of 2017