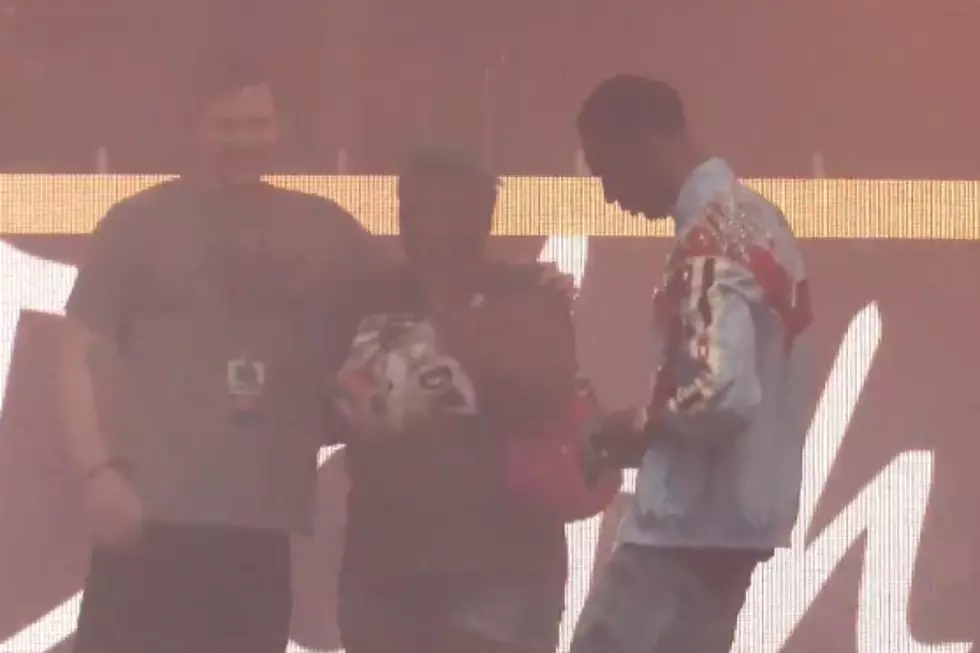 Young Dolph Gives $20,000 to Fired Duke University Coffee Shop Employees During 2018 Rolling Loud Performance
Revolt via Twitter
Young Dolph definitely knows how to put on a show. The Memphis, Tenn. rapper had one of the most memorable sets at the 2018 Rolling Loud Festival in Miami on Friday (May 11). On top of killing the stage, he gave away $20,000 to a man and woman who were recently fired for playing his music.
As previously reported, Duke University Vice President of Student Affairs Larry Moneta requested the termination of two coffee shop workers, Britni Brown and Kevin Simmons, after he walked into the on-campus establishment Joe Van Gogh's and heard the lyrics to Dolph's "Get Paid" being played. Despite reportedly not having any past misconduct infractions, the firing was carried out due to Duke's contract with the independent shop.
Dolph clearly heard about the situation and revealed he was lending a helping hand during his set. During a break in the action, Dolph addressed the crowd. "I know y'all familiar with the situation that happened at Duke University the other day, right?" he said, pacing the stage.
He continued, "They fired two workers in a coffee shop for bumping my shit in the store. Matter fact, I brought them out here, flew them out here, with me. This the kind of shit I do. Keep in mind, that was a VP at Duke University that fired them at work for playing the song 'Get Paid.' Check this out. This what we gon' do. I know for a fact that that VP at that school, he getting money, but he ain't getting money like Dolph. Until y'all get you a new job, until y'all find you a new job, I got $20,000 for y'all right now."
Dolph then whipped out some bands from his pocket and gave it to Simmons and Brown who were standing on stage. The crowd went crazy and the "Slave Owners" rapper rolled into a rousing rendition of his track "Get Paid."
Dolph put on a memorable show at the 2017 Rolling Loud Festival in Southern California last year as well, as he pulled up in an ambulance after being shot earlier in the year.
In a new revelation in the Duke University firing case, the coffee shop Simmons and Brown were let go from has announced they will cut ties from the university over the controversial decision. "I believe it's the right thing to do to preserve Joe Van Gogh's brand independence without conditions," Joe Van Gogh owner Robbie Roberts said in a statement.
Check out photos and footage from Dolph's 2018 Rolling Loud Miami set below.
See Photos of Young Dolph's Performance at 2018 Rolling Loud Miami