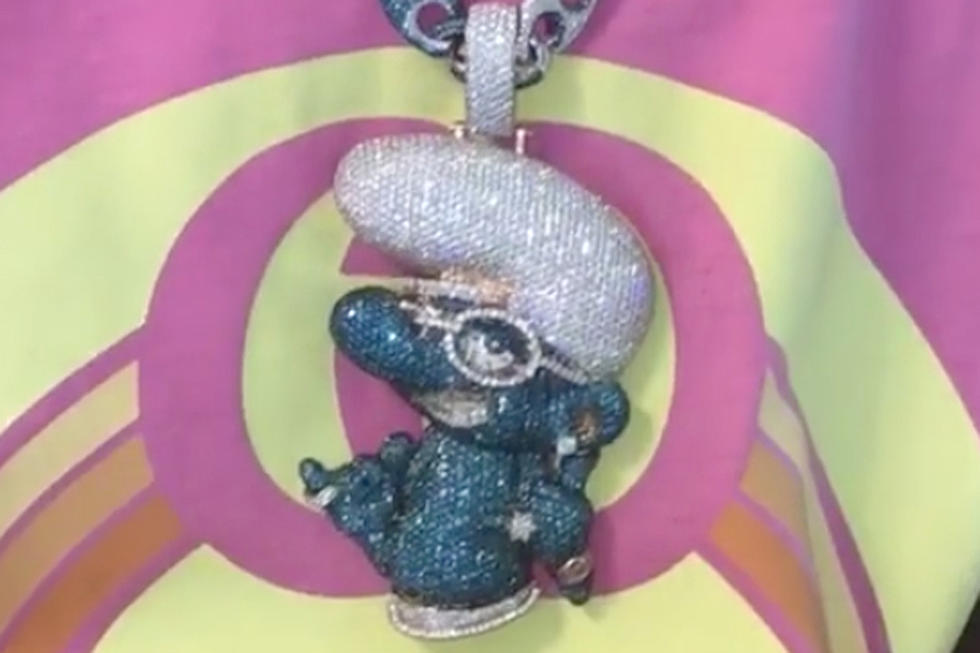 Young Dolph Cops New Iced-Out Smurf Chain
@youngdolph via Instagram
Young Dolph becomes the latest artist to cop himself an extravagant chain. Yesterday (Oct. 7), the Memphis-bred rapper jumped onto Instagram to show off his iced-out Smurf pendant and his equally icy accompanying ring and watch.
In the video we can see Dolph bouncing back and forth as some loud music plays over speakers. Throughout the clip, of course, we also get a close-up look at his new jewelry. His new chain comes with a miniature version of a blue creature from The Smurfs.
Celebrating his new neckwear, Dolph captioned the post, "Paper route frank #RoleModel #Major." Word.
Dolph's new pieces of jewelry, which are all seemingly comprised of blue and white diamonds or gold, were crafted by famed jeweler Eliantte, who has previously made pieces for Migos. In his own documentation of the Smurf pendant, which also includes a mini watch for the Smurf itself, Eliantte recalls the instructions Dolph gave him when he was putting together the piece.
"@youngdolph Said Go Crazy," Eliantte wrote in the caption for an IG post with video of the pendant, the chain for which he says includes Gucci links.
Eliantte had been teasing Dolph's new ice for since at least mid-September, and it looks like the final product was definitely worth the hype.
Dolph is now over two weeks removed from unloading his Role Model project, which includes features from Offset, Snoop Dogg and more. With folks like LeBron James giving him props for his latest effort, it's safe to say he deserved to give himself a little reward.
Check out Dolph's new ice for yourself in the Instagram posts below. Take a look at Drake's flossy owl chain when you're done with that.
Here's the Ultimate Guide to Rappers With Acronyms in Their Name