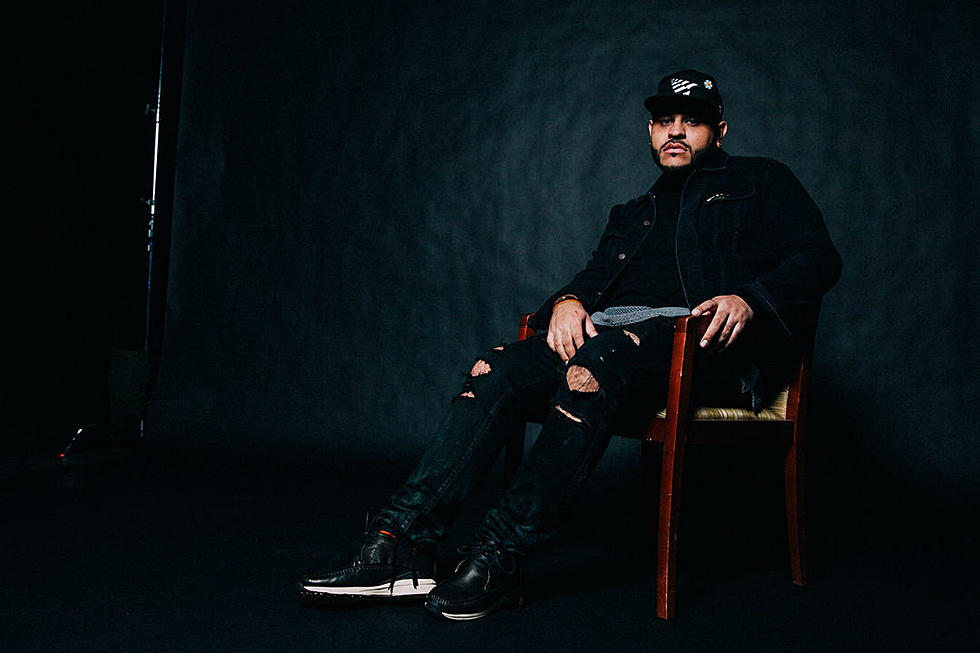 Here's How Upscale Vandal Went From Hip-Hop Stylist to Launching a Consulting Firm
Upscale Vandal
Mike Camargo, better known to the world of fashion and streetwear as Upscale Vandal, is one of the more popular influencers in today's lifestyle-driven culture. Currently working with the likes of Pusha T and Latin megastar J Balvin, Upscale's grind to success in the fashion industry is certainly respectable and noteworthy.
He began his career as an intern, being a stylist assistant for celebrity stylist April Roomet. Upscale was able to learn the ropes of the fashion industry while working with coveted acts like Santigold and Big Sean at the time. While following this path, he also discovered another passion when he became intrigued with the sales portion of the fashion business.
Moving away from the styling side of things, the Colombian-born, New York native eventually found his first sales position job in the fashion industry, working for clothing brand Private Stock denim. He worked with the apparel brand for more than a year then left the position for Pharrell Williams' Billionaire Boys Club as a South East Rep for the brand. After two years, he became the main sales rep for the entire BBC brand in the U.S. Upscale Vandal's work ethic and innovative marketing ideas at BBC didn't go unnoticed as he was able to build a solid and strong friendship with his BBC founder and CEO, Pharrell.
Then Roc Nation recruited him to help develop some of the apparel and accessories that Emory "Vegas" Jones was working on at the time. Providing his creative vision and experience in fashion, Upscale Vandal served as a vital source for the development of Roc Nation's popular paper plane hats. Following his time at the Roc, the 30-year-old continued consulting for major fashion and corporate brands, eventually creating a consulting firm of his own called UVG, the Upscale Vandal Group, where he currently has clients Pusha T and J Balvin.
During New York Fashion Week, XXL caught up with Upscale Vandal to discuss a number of topics including his come up in the fashion industry, his time at BBC working for Pharrell, his consulting firm UVG and his current work with the likes of Pusha T.
XXL: How did you get involved in the fashion industry?
Upscale Vandal: Before I got into the industry, I was in the streets and you know I had gotten into a couple of situations that unfortunately transpired the wrong way and I had to go end up doing some time, so I knew that when I came home I wanted to start changing my life for the positive and the first thing I did was call all of the people that I knew and I started asking for internships.
My dude Zoe from Chicago knew April Roomet, who was a celebrity stylist, and she had followed me on social media and knew I had all of the sneakers and stuff and I started interning for her as a stylist assistant. Her clients at the time were Big Sean, Nas and a few others, and I was like still coming home from prison at the time, so it was my last two months and I was still dealing with probation and she let me work with Santigold because Santigold didn't need that much time, so I focused on how the styling game worked and that was pretty much my first entry into the business.
At the time that you were working as a stylist assistant, did it interest you to pursue any other jobs in the field?
Once I started working as a style assistant, I started learning sales, so my first sales job was under this dude Dean Singh, who's been in the industry for a long time, gave me a sales position at a brand called Private Stock denim so it was my first sales position ever and I like sales a lot more than styling because there was more of an infrastructure to the business.
I did sales at Private Stock for a year-and-a-half, but then when there was a situation with my probation and I got locked up again so I lost my job and when I came home I had met a few people that were working at Rocawear and Roc Apparel. The company was buying a portion of BBC, so I had known Loic [Villepontoux] and Phillip [Leeds], who were brand managers for Billionaire Boys Club, and they were like, "Look! We'll approve you but you have to apply through Roc Nation," so I applied and met with Ronnie DeMichael and Emory "Vegas" Jones and I got hired as the South East Sales Rep for BBC and in two years I took over the whole BBC business and I was doing all of the sales for two-and-a-half years.
What was next for you after you left the BBC brand?
BBC ended up going back private management and Pharrell offered me a job, but Roc Nation wanted me to stay and help them develop some of the stuff that Emory was working on, which was Roc Nation apparel, so I stayed on and started doing brand kind of marketing consulting in that space, so like the Roc Nation paper plane hats that you see and all that stuff, Emory was developing that and would always seek my opinion and try to get my opinion for those type of things and that's what I was doing at Roc Nation for another year after I left BBC.
While working closely with Pharrell, what do you think was the best piece of advice that he gave you and why?
Man, it was trust the process. The reason me and Pharrell built a relationship was because there was a lot of conflict in between what Roc Nation apparel and what BBC wanted to do as far as like the way to grow a brand correctly and there were just like business-minded things, so what I did was try to keep the brands true ideals as real to what the brand used to be, which is kind of tight-knit even though that wasn't the motto that we were trying to go for because we actually had to do business and the brand at one point wasn't that profitable.
So Pharrell always used to tell me, "Look, man, you got the right path, just trust the process. You know what you're doing. Don't let nobody shake you out of that ground," and that kind of built a bond between us, you know what I mean? He trusted me to know that I was doing the right thing even if I took some bumps and bruises on the path, he wanted me to trust the process and stay true to that.
Was it through Pharrell that you met Pusha T and started to work with him?
Nah, I knew Pusha through Malice. I used to go to all the Sneaker Pimps shows and all the sneaker shows with Dave Jeff and DJ Clark Kent used to also always invite me to all these sneaker things when I was in the streets since he used to know that I really loved fashion and wanted to get into the industry, so he was like, "Yo, you need to be around these things more."
So the Clipse, you know, used to be like the first internet group, the first HypeBeast group, so I used to be around them a lot and Gene, Malice, No Malice, was the one I used to talk to the most, you know what I'm saying? And he would always like recognize me and say whats up to me and then I started to be around Pusha a little bit more and then when I went away and came back I saw him at the BBC offices and we kind of just started talking, exchanged info, and we talked about Play Cloths and that's where that kind of came from.
After linking up with Pusha, what were some of the things you started to work on with him?
It was just organically just talking about ideas and giving him my opinion for Play Cloths, ideas for his own album roll out and all of those things, you know what I'm saying, so that's how it ended up working out at first. We didn't end up working on an actual project until maybe like almost two years ago.
How influential has hip-hop been in your career and why?
For me, it's everything. When I first got to this country, I lived in an area where it was predominately Black and Hispanic so it was all hip-hop music and reggaeton so me seeing what dope dealers, rappers, athletes, dress like was kind of the inspiration behind my look and seeing that music had inspired all of that was dope.
Nowadays, you're often seen working alongside stars like Pusha T, J Balvin and others. What do you now and what should we expect from you?
Now I have my own consulting firm with my partner Curtains. It's called the UVG, Upscale Vandal Group, but basically we do consulting for a lot of blue chip companies and a lot of mixed media companies a lot of musicians and athletes. I've worked on projects for everyone from Pepsi and Google. I still work closely with Roc Nation. I work with Pusha T. Latin megastar J Balvin is one of my clients. I handle all of his lifestyle development.
I also have a lot of projects in the works this year that I can't really talk yet, but I definitely have a lot going on this year.
Can you possibly tell us what Pharrell or Pusha T have in store for 2017? More sneaker collabs?
All I can say is that the new BBC store has a lot in works so look out for that. A lot of new projects. I know Pusha T has a lot of things going on for Adidas, so look out for that and my guy J Balvin has a lot of stuff coming soon.
You're known online as well for giving advice to your followers on how to break into the fashion industry, but what's the best piece of advice that you have for people aspiring to be in your shoes one day?
Man, get rid of your ego. Set your ego aside. If you want your career to be successful, you have to forget your ego and do it for the greater good of yourself and the people around you.
20 Hip-Hop Albums Turning 10 in 2017