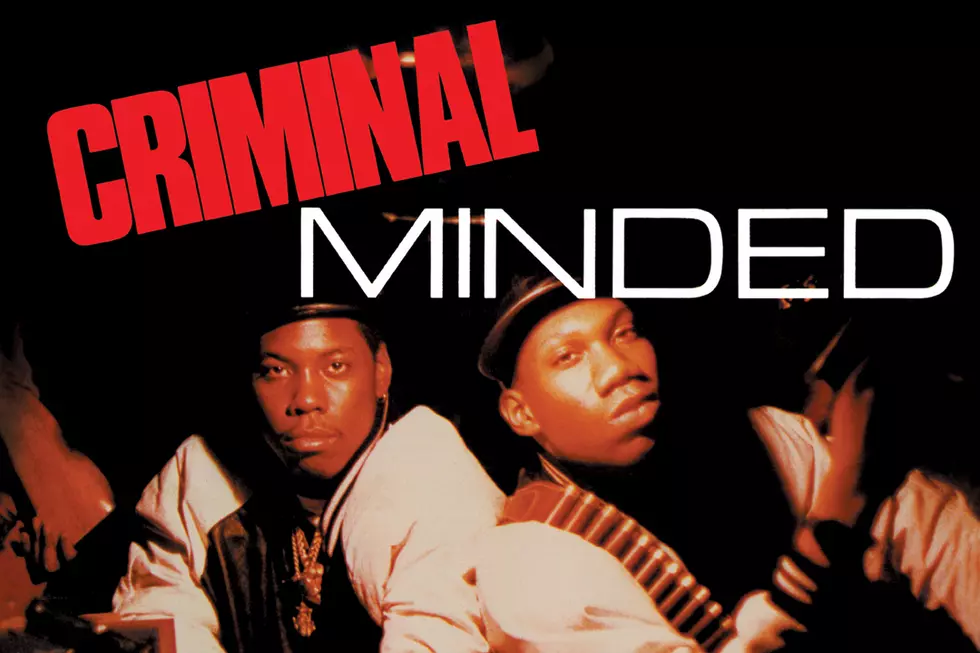 Today in Hip-Hop: Boogie Down Productions Drop 'Criminal Minded' Album
B-Boy Records
On this day, March 3, in hip-hop history...
1987: A rap group from the South Bronx ended up changing the fabric of hip-hop with their debut album.
Boogie Down Productions is a group featuring Bronx rap legend KRS-One, DJ Scott La Rock and D-Nice. Most of the motivation for the album was based on KRS' beef with fellow New York City rappers MC Shan and the Juice Crew, who would go on to become hip-hop pioneers in their own right. Two of the album's tracks, "The Bridge is Over" and "South Bronx," were pointed disses at the rival crew, and helped further the beef.
KRS-One felt challenged by MC Shan's lyrics on his song "The Bridge," feeling that Shan was trying to claim Queens as the home of hip-hop, where Shan was living at the time (he's a Brooklyn native). Feeling slighted, KRS-One took no prisoners with his response, "The Bridge is Over" rapping, "Party people in the place to be, KRS-One attacks/You got dropped off MCA cause the rhymes you wrote was wack/So you think that hip-hop had its start out in Queensbridge/If you pop that junk up in the Bronx you might not live."
"South Bronx" was more of the same, with KRS taking personalized jabs at members of the Juice Crew.
In addition to the beef, Boogie Down Productions' Criminal Minded meant a lot to hip-hop. The samples, which included everything from dancehall to The Beatles, were new and uncommon at the time, setting the stage for what would become known as the sound of East Coast gangsta rap. The cover featured KRS and Scott La Rock holding guns; this was the first time rappers were holding firearms on the cover of a major hip-hop release. Their importance to hip-hop came with tragedy, as Scott La Rock was killed by gunfire months after the album's release. The group's music and influence will live on forever.
See 60 Hip-Hop Albums Turning 20 in 2018