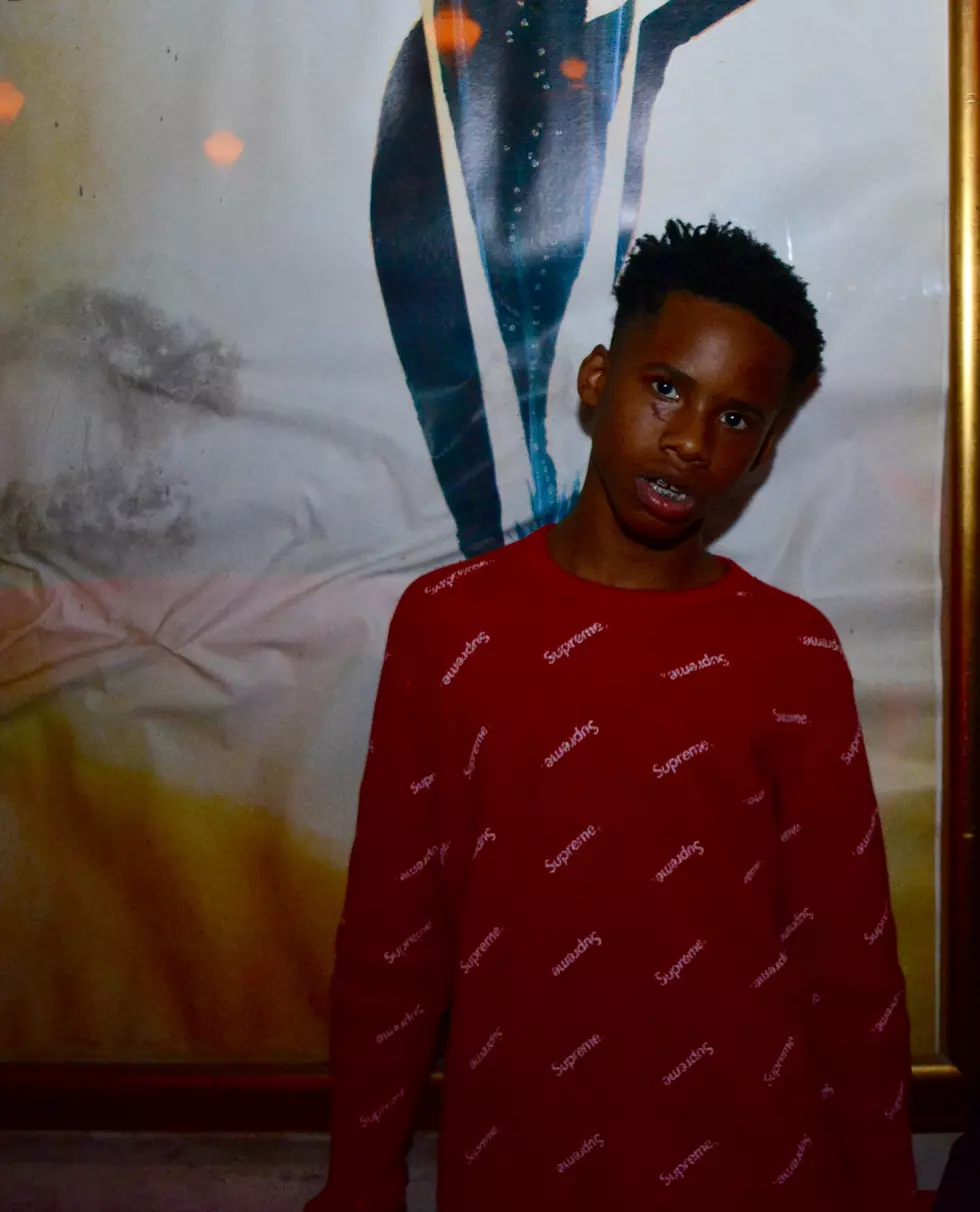 New Details Emerge in Tay-K's Second Murder Charge
Brandon Smith
17-year-old Dallas area rapper Tay-K has been blowing up this year after dropping his video for "The Race," which he filmed after allegedly going on the run while facing a capital murder charge in Mansfield, Texas. The initial charge stemmed from an alleged robbery of a Mansfield home on July 27, 2016 that left one man, 21-year-old Ethan Walker, dead. Tay-K was eventually apprehended in New Jersey and is now being held in Tarrant County Jail on $500,000 bond.
But yesterday (Oct. 5), My San Antonio reported Tay-K is now also facing a second capital murder charge, which the Tarrant County Jail confirmed to XXL this morning. The rapper born Taymor McIntyre is reportedly a suspect in the fatal April 23, 2017 shooting that left one man dead at a Chick-fil-A in San Antonio.
According to a police report obtained by My San Antonio, three people were seen arguing in the back of a black SUV on the Loop 410 access road when someone in the front passenger seat apparently pointed a gun at the victim, named Mark Anthony Saldivar. Witnesses say Saldivar, who was 23 at the time, got out of the car and started screaming for help before standing in front of the SUV.
The car accelerated towards Saldivar and missed hitting him, but he was able to grab hold of the car and jump onto it, said police. As the SUV pulled into a Chick-fil-A parking lot, Saldivar allegedly jumped onto the vehicle and started kicking the windshield.
That's when police say one passenger got out of the car, shot Saldivar once, and hopped back in before the car took off. An affidavit claims four people were in the SUV when it sped off, and one of them was McIntyre. The other three suspects are not yet known.
Saldivar was found dead in the Chick-fil-A parking lot with marijuana in his mouth and a bag of it under him. A police report says there's surveillance footage of the incident, and Crime Stoppers have announced a $5,000 reward for anyone with information on what happened.
On July 23 of last year, a probable cause affidavit claims Tay-K conspired with four others to rob Ethan Walker at a home in Mansfield, Texas. Three women were allegedly sent inside to check out the scene, and the affidavit claims McIntyre and another person ran into the home with "guns pointed at everyone."
Authorities say Walker came out of a room and tried shooting McIntyre and the other suspect, but missed, and was instead shot and killed. The five suspects then fled, but one later apparently confessed to the robbery. Police said another victim was also shot.
Tay-K, who was 16 at the time, was arrested later but eventually released from juvenile custody on house arrest. On March 27, 2017, days before a hearing intended to determine whether he would be tried as an adult in the capital murder case, the rapper and another juvenile slipped their ankle monitors and made a run for it. Tay-K makes direct reference to this on "The Race"—"Fuck a beat, I was tryna beat a case/But I ain't beat that case, bitch I did the race."
He eventually ended up in San Antonio, where he was allegedly involved in Saldivar's killing roughly a month later. On June 30, U.S. Marshals' New York/New Jersey Regional Fugitive Task Force arrested him in Elizabeth, N.J. He's currently facing two capital murder charges and one count of aggravated robbery.
XXL has reached out to Tay-K's attorney and San Antonio police for comment.
10 Rappers Who Were Shot While They Were in the Spotlight