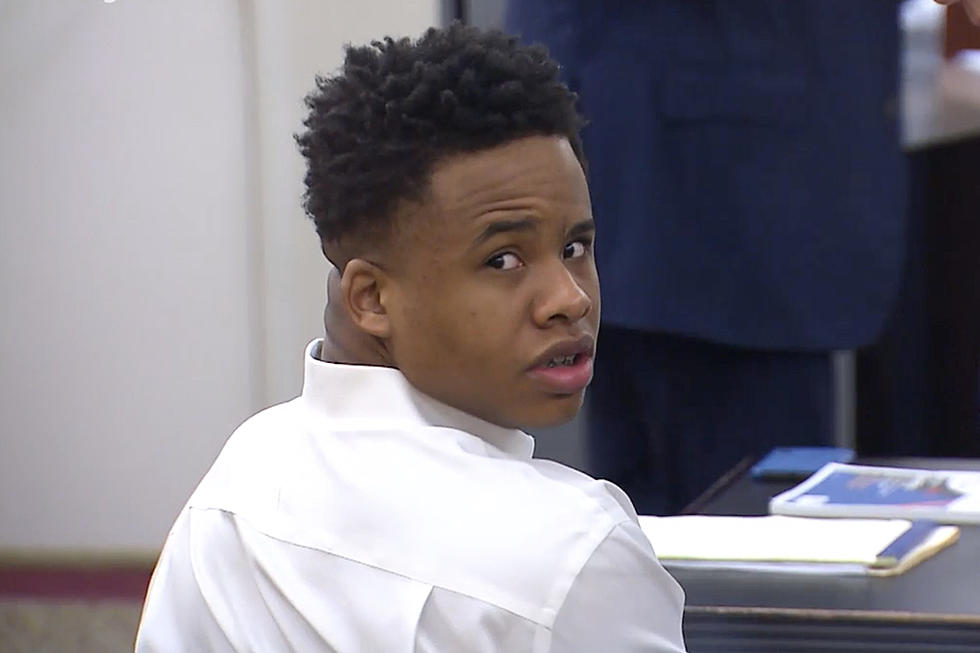 Tay-K Claimed He Was Hearing Voices After Being Captured by Police, Says Investigator: Report
Fort Worth Star-Telegram
On Wednesday (July 17), Tay-K appeared in a Texas courtroom for the second day of testimony in his capital murder trial. During the hearing, one investigator for the case made some interesting revelations about claims the rapper made after being captured.
According to the Fort Worth Star-Telegram, New Jersey fugitive investigator George Gyure testified that Tay-K told investigators that he had swallowed a bottle of pills and that he was hearing voices in his head after he was captured in Elizabeth, N.J.
The rapper was taken to a local hospital for evaluation and the results were negative. "After results came back, while we're waiting, he advised the nurse or the doctor that he was hearing voices," Gyure testified in court.
Gyure testified that Tay-K then underwent a psychiatric evaluation and that he was kept in the psychiatric ward for a day-and-a-half with sheriff's deputies on guard. Tay-K was eventually released and booked into the juvenile detention center.
Tay-K is on trial for the 2016 robbery and subsequent murder of 21-year-old Ethan Walker.  He had been on house arrest after being apprehended for the crime in 2016, but the rapper cut off his GPS ankle monitor in March 2017 before running from the authorities. It was during this time that he recorded "The Race," a song and video that chronicled his run from the law. Authorities also believe that he killed a second man in Texas one month after he began running from authorities. It was during this chase that he was recaptured by authorities in June 2017.
On Tuesday (July 16), Tay-K pleaded guilty to two counts of aggravated robbery but not guilty to capital murder and an additional count of aggravated robbery. His defense attorneys maintained that the rapper couldn't have known that his associate Latharian Merritt would shoot Walker during the robbery.
If convicted of capital murder, Tay-K would be sentenced to life in prison with a possibility of parole after serving 40 years of his sentence.
You can watch Star-Telegram's news report on Tay-K's murder trial below.
See Rappers Who Were Arrested in 2019