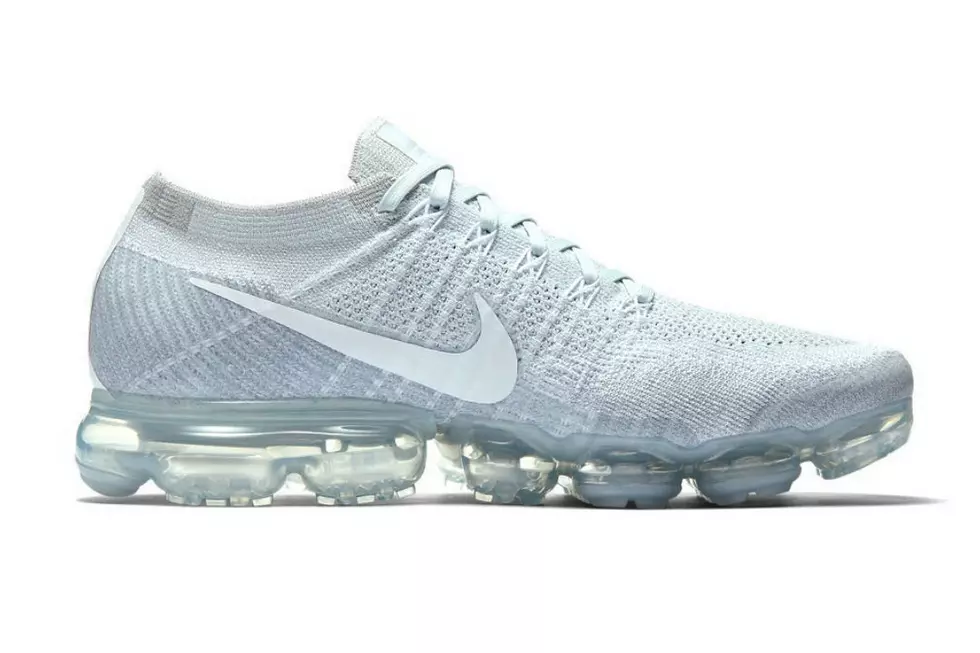 Nike's Vice President of Innovation Kathy Gomez Helps Keep the Air Max Relevant
Nike
On March 26, Nike celebrated its annual Air Max Day, honoring one of the most beloved sneaker series of all time. Special Air Max pop-up locations in four major cities were set up across the U.S., to present the rich history of the sneaker, as well as the future of the Air Max shoe design, with its Nike Sneakeasy locations.
In conjunction with this year's Air Max Day, Nike also celebrated the 30th anniversary of the Air Max 1 sneaker. Known for changing the game with its innovative design and helping push sneaker culture forward, the Air Max 1 still remains a classic after all these years. The brand looked into the future of the Air Max series with a next-generation silhouette, the Nike Air VaporMax. Constructed with a Flyknit upper and an air bubble cushioning system, the VaporMax has been one of the most highly anticipated sneakers since images of the shoe surfaced on the internet a few months back.
During a recent visit to Nike's Sneakeasy pop-up location in New York, XXL got a chance to check out the Nike's Air Max activation featuring a mix of retros, remixes and innovations. In addition to checking out the Swoosh's pop-up shop, XXL spoke with Vice President of Nike Innovation, Kathy Gomez, to discuss the legacy of the Air Max series, the latest VaporMax release and the future of the historic sneaker line. Check out the interview below.
XXL: The Nike Air Max series has been a hit among sneakerheads for many years. Why do you think the series has been so successful for the brand after all these years?
Kathy Gomez: It's pretty amazing when you look back. It's been 38 years and I think that we worked really hard to keep relevant and keep improving it. It's critical to us that it gets better and better with each iteration and that running consumers fall in love with it when they see something fresh come out.
The Nike Air VaporMax was officially introduced this spring. How long were the shoes in development for?
You can argue that we've been working on this for 37 years, so, it was always a dream to really have that sensation of running on air and as I talked about it was really kind of an engineering capabilities that had to change for us to be able to build it and unlock that sensation, so, I think it's always been a vision to be able to create something like this. That felt like this, and then the look comes from just the pure nature of engineering it honestly.
The nickname of this shoe throughout the process was called Feather Max and I think if you close your eyes it kind of hits that brief really well and that simple brief kept everyones focus on the same page. This design really didn't change that much over time because it was so pure that's what makes it beautiful.
Nike's Flyknit material has been a huge success for the brand, and it's now featured on the VaporMax shoes. Why do you think Flyknit has been such a hit with sneakerheads?
I think that it creates a fit that is so individual. We don't hear people complain about the way the Flyknit fits. It just hugs your foot in a gentle way and it takes away any pressure points or layers and you know if a shoe fits than everyone is going to have a good experience with them. Fitting is such an important unlock to keeping people kind of happy and comfortable and Flyknit I think, helped us leap frog where we were with fit.
Looking ahead, where do you see the Nike Air Max series years from now? And why?
When we start something new like the VaporMax, where we have new capabilities, it unlocks a whole bunch of new thinking and new explorations, so you'll see us continue to explore the Air Max series and you'll see us give more personal appeal to individual preference. You'll see us play with shapes and proportions and just continue on the journey of delivering shoes that make people happy.
What do you love most about working with Nike?
I love being surrounded by super smart and creative people that inspire me all the time and of course, I love shoes and sports.
Before I leave, I have to ask you what's your favorite Air Max sneaker of all time?
My favorite Max is probably the Air Max 95. But one of my favorite Nike shoes is the Huarache. I just love that it was fun and unique.