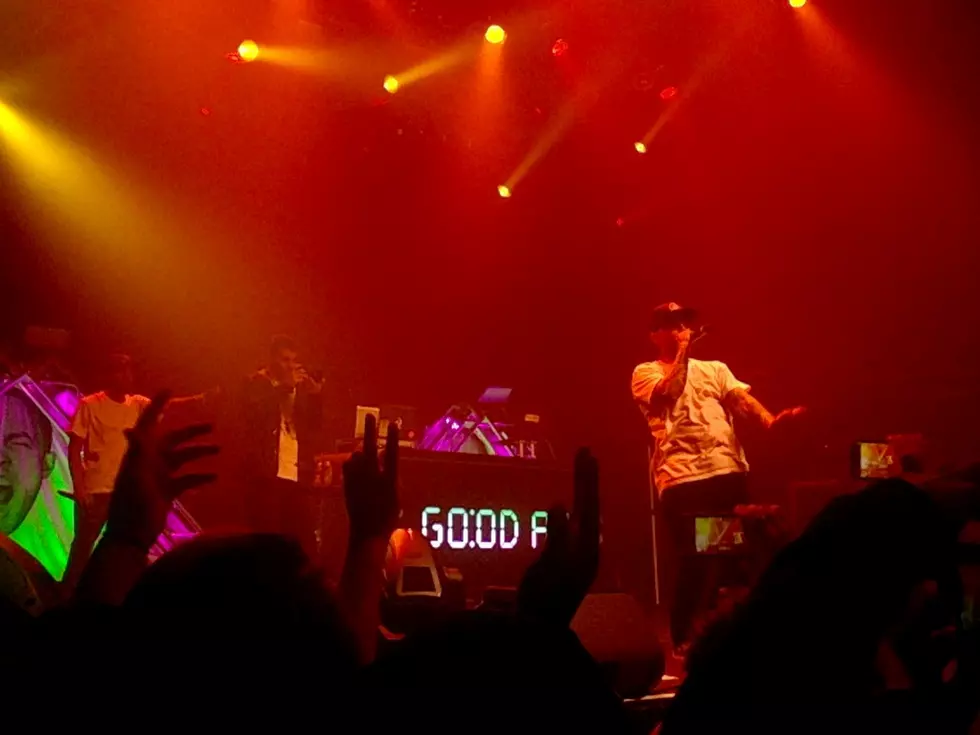 Mac Miller Wakes Up NYC With His GO:OD AM Tour
XXL
A mild, almost sleepy evening in NYC is usually more the setting for "Netflix and chill" than a rowdy hip-hop show. But the solitude of the city was surprisingly fitting as Mac Miller's GO:OD AM Tour ascended on Midtown's Terminal 5 on Wednesday (Dec. 16).
You can always tell who's making that four-avenue trek from Columbus circle for a show. Last night's lot was young, loud and boisterous, much like the guys they were going to see. As the hall began to fill up around 8 p.m., Boston boy Cousin Stizz took the stage reciting standouts from the Suffolk County mixtape. The crowd responded to "No Bells" and "Dirty Bands" with a head nod but really caught the vibe with "Shoutout."
After Stizz, The Come-Up Boys and Michael Christmas kept the East Coast vibe going. Christmas and his "do-it-all" hype-man got the crowded especially lit with "Bitch Don't Hit My Phone." Ready-rolled blunts were lit once Atlanta duo EarthGang hit the stage. Johnny Venus and Doctur Dot switched up the feeling in the room with "Monday" and "Missed Calls" before ending on "AWOL," the lead single from their latest release, Strays With Rabies. 
Finally it was time for the man of the hour. Just as the audience began their "We want Mac" chant, promptly at 10:15 p.m., in a shower of orchestrated strobe lights, Mac attacked the stage. The 23-year-old Pittsburgh spitter and former XXL Freshman rocked a Mighty Ducks jersey for the beginning of his set, but ditched it by the fourth song in favor of a cool white tee. Mac and his DJ kept the pace of his show moving, first opening with 2011's "Loud," then jumping around his six-year discography. He covered everything from 2010's KIDS cuts up until his 2015 release, GO:OD AM.
As a testament to breath control and stamina, Mac flailed around on stage while rapping every bar clearly, with just DJ Clockword and some cameramen accompanying him. When he did need a moment to breathe, Mac ordered his audience to practice some call and responses and sometimes even had a red cup in hand for "water breaks."
Going through "100 Grandkids," "Weekend" and "Clubhouse" a sweat-drenched Miller ran off-stage around 11:30 p.m. and was automatically beckoned for an encore. Always accommodating, Mac popped back into the spotlight, but this time, brought out a guest. New York's own Ja Rule appeared to recite his classic "Living It Up" which made for a great fan moment for everyone involved, including Mac.
"If you had told 15-year-old me, that this was going to happen, I would have shit my pants."
Despite sometimes being swept under the rug of the rap game, (blame on release schedule timing?) New York's GO:OD AM tour stop proves that Miller is secure in his showmanship and connection to his day ones. As herds of teens filled out of T5 into the West Side streets, the consensus of post-show chatter was that the crowd was now awake and energized. Have a GO:OD AM.
See Best Rap Performance Nominees & Winners at the Grammys Over the Years