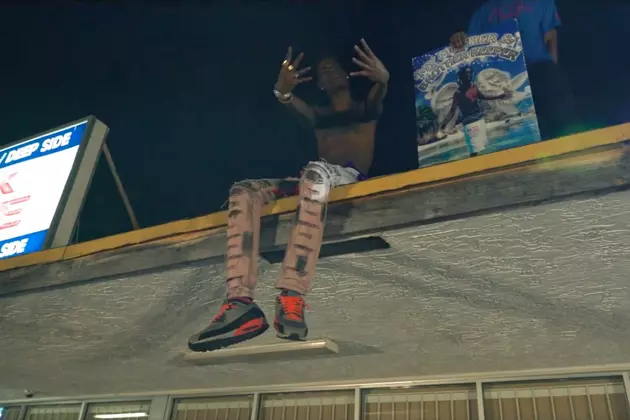 Lajan Slim Is "Back At It" in New Video
Lajan Slim via YouTube
Lajan Slim is "Back At It" in his latest music video. Today (Feb. 9), Lajan unleashes his new visual, which offers a brief window into the Broward County, Fla. MC's life.
Throughout the three-minute, Dirty Bird Films-directed clip, Lajan Slim takes us to his "Deepside" neighborhood, also known as "The 4." The Haitian rapper tells XXL the inspiration for the video was drawn entirely from his own life. The footage was shot at the exact corner he used to hustle on, with the same people he came up with.
"I made it a point to shoot at the Kwick Pick corner store because thats apart of my life and my story," Lajan says. "If it wasn't for rap, I'd either still be at that Kwick Pick hustling, or lord forbid, dead or in jail. This video means so much to me in so many ways. This video is a reminder of why I rap, where I came from and where I still could be."
The "Back At It" video (which you can view below) is also important to Lajan for another, more tragic reason. "This video caught the last happy moment I had with my brother Randy, who got shot just days after we filmed," Lajan says. "It's so crazy how you could be holding an RIP sign for a loved one not knowing that it's your last day to live."
Lajan Slim has major plans for 2017. He dropped three tracks at the top of the year, "Back At It," "Knee Deep," and "Snapping and Scopping." He says he wanted to give his fans a taste of new music to start off the year, because he's taking his time with his next project.
"I've gone through a lot of pain and emotion throughout my life," he says. "I've even battled with a lot this year I want to express through my music. I feel like my sound has evolved with what I've recorded so far and I just can't wait to present it all to the world."
Watch the video for "Back At It," produced by Trauma Tone, below via YouTube. In case you missed it, check out the 22-year-old's interview with XXL for The Break.
133 Rapper-Launched Record Labels From the Past and Present