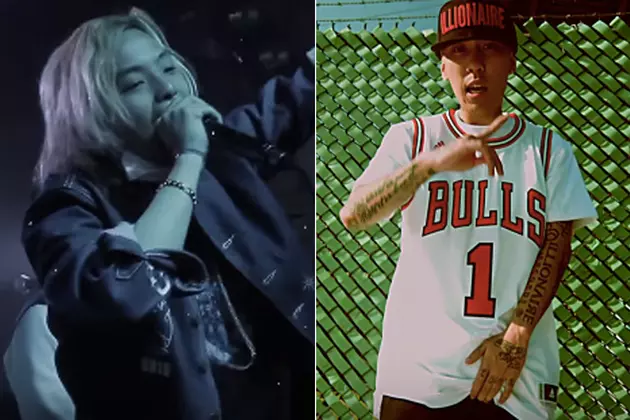 The New New: 10 Korean Rappers You Should Know
Keith Ape via YouTube / 1llionaire via YouTube
The South's got something to say -- South Korea, that is. Over the last several years, the nation's hip-hop scene has exploded as acts like Keith Ape, Zico and CL have been killing the game in Korea, while gradually establishing a presence in the U.S. For those not paying attention, it might seem like the Korean rap scene of today materialized overnight, but that's certainly not the case. Hip-hop has been thriving in the country for years.
The genre began spreading through South Korea after the fall of the nation's authoritarian military government at the end of the 1980s. The collapse of that censorship-heavy regime, along with the cultural collision course that was the 1988 Olympic Games in Seoul, South Korea laid the groundwork for the nation's thriving rap scene in 2016. It hasn't been easy, but the Internet's made it easier for rap fans from other countries to absorb bits and pieces of American hip-hop culture in the blink of an eye. As a result, a new generation of Korean rappers have emerged showcasing an intriguing mix of K-Pop and hip-hop.
Some of South Korea's best rappers have more in common with One Direction than they do members of the ASAP Mob. Others would fit right in with the Travi$ Scotts and Young Thugs of the world. While some of the rhymers in South Korea have been around for years, others have made a name for themselves in what seems like the blink of an eye. XXL takes a look at many of the biggest names in South Korea's vibrant hip-hop culture.
Hometown: Seoul, South Korea
Twitter: @KeithApe
Notable songs: "It G Ma," "It G Ma (Remix)," "Let Us Prey"
Sounds like: His song "It G Ma" has drawn comparisons to something OG Maco would put out because of the track's ostensive similarities to "U Guessed It," but that's not the whole picture. While he does have a proclivity for bouncing across trap beats, he's also got the gift of melody ("Let Us Prey") and "Diamonds" is a track we could easily see A$AP Rocky hopping on.
Why you need to know him: Keith Ape is arguably the biggest non-idol rapper South Korea has ever produced. He dropped his mixtape in 2014, but it was his single the following year that marked the beginning of his rise to the top of the nation's burgeoning rap scene. Featuring guttural yells, unrelenting energy and adlibs that wouldn't sound out of place on a Future record, "It G Ma" instantly made Ape one of the most cross-culturally viable rappers South Korea had to offer. Five months after his breakthrough single made waves on the web, Ape released the "It G Ma (Remix)," which features A$AP Ferg, Father, Dumbfoundead and Waka Flocka Flame. Ape has been compared to OG Maco, but he's since tried to distance himself from that comparison. He did just that with "Let Us Prey," a melodic banger he dropped back in September.

CJENMMUSIC Official via YouTube

CJENMMUSIC Official via YouTube

Hometown: Seoul, South Korea
Twitter: @ZICO92
Notable Songs: "Boys and Girls," "Eureka"
Sounds Like: A rapping K-pop star
Why you need to know him: Zico has been rapping since at least 2009, but he got his first bit of major exposure in 2011, when he joined the uber-popular South Korean boy band, Block B. The Seoul-raised rapper-singer's songwriting skills have earned him plenty of respect in South Korea's hip-hop underground, but as the leader of a boy band, he's still very much a pop star. If you want to hear someone that infuses the gloss of K-pop with the verbal gymnastics of a traditional East Coast rapper, Zico is your guy.

OfficialEpikHigh via YouTube

OfficialEpikHigh via YouTube

Hometown: Seoul, South Korea
Sounds like: Seoul's less jazzy version of A Tribe Called Quest or a collective B.o.B.
Notable songs: "Born Hater," "Happen Ending"
Why you need to know them: Epik High is a Seoul, South Korea-based alternative rap group with a sound much different from most of their contemporaries in America and South Korea. Over a career that's stretched at least 13 years, the group – composed of Tablo, Mithra Jin and DJ Tukutz -- has dabbled in everything from jazz, to rock to mainstream hip-hop. Epik High is more like a group of rappers that sound similar to B.o.B. and earlier this year they became the second ever South Korean artists to light up the stage at Coachella. They've released nine albums over the last 13 years, with their most recent project being Shoebox, which dropped two years ago.

Hometown: Seoul, South Korea
Twitter: @RealOkasian
Sounds like: A less violent 21 Savage.
Notable songs: "Get That Money," "Walkin (Remix)"
Why you need to know him: If you like listening to Keith Ape you should probably thank Okasian; he's the guy who recruited the "It G Ma" performer for his rap group, The Cohort, several years ago. Like Ape, Okasian has an affinity for trap beats, gold grills and all the other staples of down South hip-hop, and he really can't be compared to more pop-oriented groups like BTS. Okasian's icy, monotone delivery should theoretically be at odds with the hard-hitting bass in his instrumentals. Instead, it gives him the mystique of someone with an unshakable calm, even as his lyrics drip with arrogance and energy. He began getting more attention from the U.S. after appearing on "It G Ma" in 2015. He and his Cohort crew will no doubt keep making more noise in the future.

Hometown: Ilsan, South Korea
Notable songs: "Do You," "Joke"
Sounds like: Pitbull or Flo Rida for those pop vibes.
Why you need to know him: Rap Monster rarely fails to live up to his name. The Ilsan, South Korea-raised rapper is one of the region's most dexterous rappers, capable of switching flows effortlessly as he glides across an array of diverse instrumentals. The 22-year-old first gained major recognition back in 2013, with his boy band, BTS. Since then, he's continued working with the group, even as his individual star continues to shine brighter.

Hometown: Seuol, South Korea
Twitter: @CHRT_JAYALLDAY
Sounds like: Keith Ape's distant cousin.
Notable songs: "Godzillas," "Sirens"
Why you need to know him: JayAllday is a member of The Cohort, along with Keith Ape, Okasian and several others. Like Ape and Okasian, Jay is an aspiring trap rapper -- he's just a little behind his friends in terms of notoriety at this point. Still, no team is good without great role players, and with tracks like "Godzillas" and "Sirens," Jay could become an all star sooner than you think.

Hometown: Seuol, South Korea
Twitter: @IBGDRGN
Sounds like: Rap over electrohop
Notable songs: "Good Boy," "Crayon"
Why you need to know him: If you know anything about the Korean rap scene, you know G-Dragon. Since dropping his debut, Coup d'Etat, solo album in 2013, the multi-talented rapper-singer has gotten a ridiculous amount of views on YouTube. Before his outing as a solo artist, he was already the leader of the boy band Big Bang, which is easily one of South Korea's biggest K-Pop acts. In other words, he's pretty much got the game sewn up. Admittedly, he is probably more of a K-Pop star than he is a "rapper," but in a genre where the lines between rapping and singing are now pretty much nonexistent, GD makes our list. Check him out if you're into fast and furious dance moves, and energetic flows over electrohop beats.

Hometown: Seoul, South Korea
Twitter: @ChaelinCL
Sounds like: CL's pop-rap hybrid style calls Nicki Minaj to mind, leaning a bit more toward the pop side. Sprinkle in a bit of M.I.A., and that's pretty much CL.
Notable Songs: "Lifted, "Dr. Pepper" and "Hello Bitches"
Why you need to know her: With effortless swag, dynamic musical ability and good looks, CL is a name you're going to be hearing a lot of in the near future – if you haven't already. CL started off as a member of the Korean group 2NE1 and made a breakthrough as a solo artist with her 2013 single, "The Baddest Female." 2015 was another banner year for the talented young rapper as she linked with Diplo, RiFF RAFF and OG Maco for the track "Doctor Pepper," which has over 11 million views on YouTube. That track, along with last year's "Hello Bitches" and her recent single "Lifted" have her positioned to make a big impact in the U.S.

CJENMMUSIC Official via YouTube

CJENMMUSIC Official via YouTube

Hometown: Seoul, South Korea
Twitter: @Isshoman
Sounds like: South Korea's Mac Miller
Notable songs: "If I Die Tomorrow," "Time Travel"
Why you need to know him: Beenzino is a name you'll invariably come across if you're interested in South Korea's rap scene. For those of you that didn't know about one of the country's most talented wordsmith's, here's a quick refresher: The Illionaire Records artist has a knack for melody and is one of South Korea's more skillful storytellers. Zino has garnered critical acclaim ever since he dropped his debut album 24:26 back in 2012, and has only become more successful since. This past May he dropped his newest album, titled 12. You can check that out here.

Hometown: Seoul, South Korea
Twitter: @Notoriousgonzo
Sounds like: The opposite of K-Pop.
Notable songs:"Am I," "We Here"
Why you need to know him: Dok2 is only 26, but he's already co-founded a record label and penned songs for some of the brightest talents the South Korea rap scene has to offer. His record label Illionaire Records, which he founded with his friend and frequent collaborator The Quiett, features rapper Beenzino on its roster. Illionaire Records isn't a big label, but with those three dynamic talents at the forefront, they'll undoubtedly continue doing some big things in the rap game. As for Dok2's own projects, he released his latest project, Multillionaire, just a few months ago.