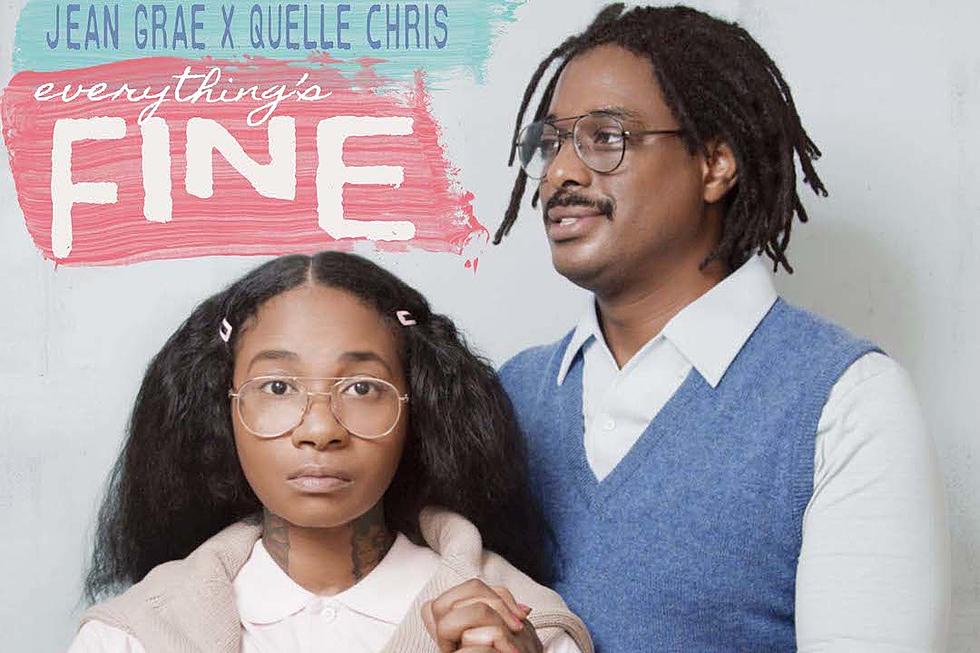 Jean Grae and Quelle Chris Prep 'Everything's Fine' Joint Album
Mello Music Group
Following the news of their engagement last month, Jean Grae and Quelle Chris are teaming up for their new joint album, Everything's Fine. The hip-hop couple announces the new project, which will be arriving through Mello Music Group on March 30.
The LP is produced by both Grae and Chris, and contains features from the likes of Your Old Droog, comedian Hannibal Buress, Grammy Award winner Anna Wise, Saturday Night Live comedian Michael Che, actor Nick Offerman and many more. Everything's Fine contains a total of 15 tracks.
According to both Chris and Grae, dives into the attitude that most of us try to carry on our shoulders while the country and world face monumental issues and challenges.
"We have a dickhead for a president, and before our eyes, racial, religious, and sexual identity rights are moving backwards," Chris states. "Money is still a thing (I'm waiting for Star Trek life to start). There's war, your kids may be sick, but if someone randomly asks 'how's it going?' most people will say 'fine.'"
The album won't be tackling the issues of society, however, but more so the hip-hop creatives' mindsets.
"This album is full of our minds. Our hearts. Our love for production, and words. flow and a lot of musicality," Grae explains. "We don't approach topics, issues, writing, or making beats in the same way. I'm harsh, blunt, quick, technical, I arrange classically and play more than I sample. I make joints with 80 tracks. I'm layers upon layers upon layers. Quelle is patient, he's kinder. More loose and minimalistic. He makes sounds work together that shouldn't fucking work. How? I have no idea. These are dreams within dreams."
At the start of Dec. 2017, Quelle Chris proposed to his longtime partner and frequent collaborator. The two have been together for years and have worked heavily together on audiobooks, visual projects, talk shows and more.
Check out the tracklist and cover art for Jean Grae and Quelle Chris' Everything's Fine album below. You can pre-order the project on iTunes, which will automatically download their "Ohsh" single with Buress.
Jean Grae and Quelle Chris' Everything's Fine Tracklist
1. "Everything's Fine"
2. "My Contribution To This Scam"
3. "OhSh" Feat. Hannibal Buress
4. "House Call" Feat. Big Tone, Anna Wise, Johnathan Hoard
5. "Don't Worry It's Fine" Feat. John Hodgman, Michael Che
6. "Gold, Purple, Orange" Feat. Dane Orr
7. "Peacock" Feat. Dane Orr
8. "Doing Bettar Than Ever" Feat. Ash "Dap" Kondabalu
9. "The Smoking Man" Feat. Denmark Vessey
10. "Breakfast Of Champs"
11. "Scoop Of Dirt" Feat. Your Old Droog
12. "Zero"
13. "Everything's Still Fine" Feat. Nick Offerman
14. "Waiting For The Moon" Feat. Mosel, Anna Wise
15. "River" Feat. Melanie Charles, Paul Bae Bro Wilson
See 50 of the Best Hip-Hop Projects of 2017