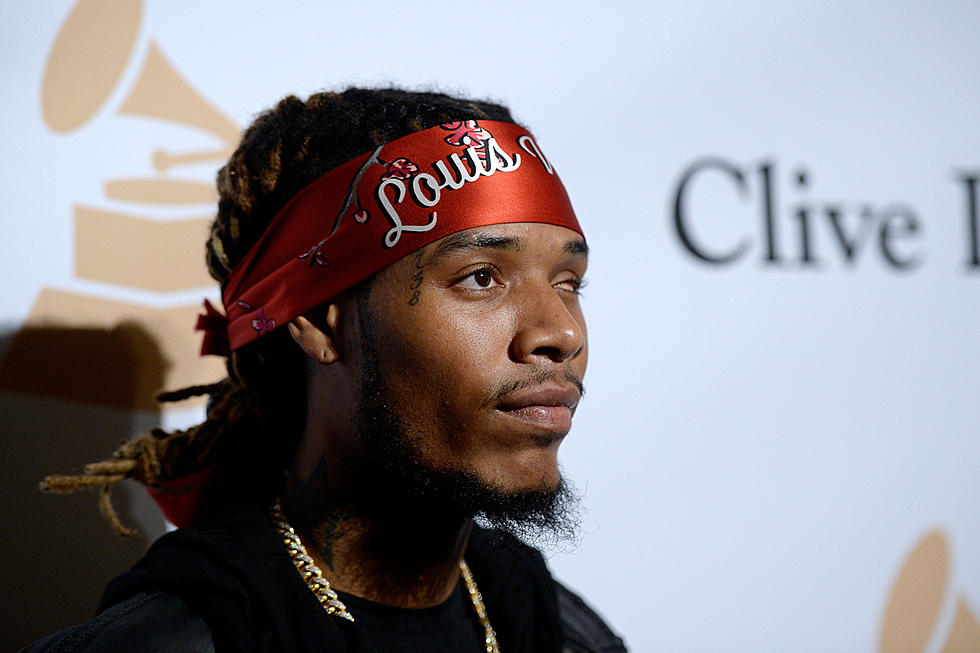 Fetty Wap Looks Back on 2016 Grammy Awards Night: "I Feel Honored to Be a Part of It" – Exclusive
Kevork Djansezian, Getty Images
With Internet culture today, regional hip-hop is nearly non-existent. It was a little over a year ago when Fetty Wap's "Trap Queen" went from a SoundCloud outlier to relentless chart-climber, propelling the one-eyed MC from Patterson, N. J. to a household name. The whirlwind that followed for Fetty and his Zoo Gang crew is the stuff most rappers hope for in a lifetime. From his national TV debut at the 2015 MTV Movie Awards alongside Fall Out Boy to gracing the 2015 XXL Freshmen cover plus cosigns from rap's upper echelon, Zoovier has managed to pump out hit after hit while still remaining the genre's lovable underdog.
But with all the accolades he's racked up over the last year, Fetty's crowning achievement thus far is landing two Grammy nominations at this year's ceremony. "Trap Queen," the hit that started it all, was nominated for Best Rap Song and Best Rap Performance. Unfortunately, he didn't get any gilded gramophones that night (Feb. 15), but Fetty knows getting noticed is the first step to success.
XXL caught up with Fetty Wap the day after the big show (Feb. 16) as he reflected on his first Grammys experience and how he's going to make even more noise in 2016.
XXL: Describe the moment that you found out you were nominated for a Grammy.
Fetty Wap: I don't even remember when I found out. I feel like honestly, with the whole Grammy thing, I feel honored to be apart of it. It was an honor to be nominated, as an artist that was just coming up, to be nominated at the Grammys. Even for the Grammys to even notice me, that's big, you know what I'm saying? I feel good about that. In my head, I already knew I wasn't going to win. I told my camp like, "I won't get my hopes up high." I'm real regular with it. I just so happen to have a song that the people like and it was Grammy nominated. That's the way I feel. People keep asking me which category I thought I should've been apart of and stuff like that. I don't have a say in what I should've been apart of because I didn't create the Grammys. I'm just happy to be apart of it. It's still history.
Even though you didn't take home any yourself, it was a big night for Kendrick. Did his wins or his performance inspire you?
I mean, I'm really my own inspiration. I don't broadcast my life or nothing like that but there's a lot of stuff I do for people in my camp that pushes me, makes me want to work harder to have them be able to provide for their family. You want everyone in the crew to be cool with reppin' the crew. I just want to make it like, if that's what you want to do… I just want to be able to help you. And I'm blessed to have them as an artist. As an artist, you supposed to excel you supposed to want it. But as far as inspiration, I got a lot of inspiration coming from the home team.
That's dope. And you talk about the home team so much and Nitt the Grit was there with you at the Grammys. What has his guidance in all this meant to you?
Everything. It's like what he say, goes. The respect I got for him, it's like he don't use his talent like that. He knows that I don't second-guess him. I don't question because I know if he's with it, we with it. If he not with it, I'm not with it. But he'll ask me as if I was him and sometimes it'll be my opinion over his opinion, but either way, it'll always work out. We never guide each other wrong. We have faith in each other and we still got faith in each other, that's why he is where he is.
What's up with Monty? What does he have coming up for himself this year?
Mont, that's my brother. I always say that. It's because before where I got to where I'm at right now, Monty was there. Monty ain't going to have to rap if he don't want to. He don't gotta rap. I got him. He's going to be good because that's my brother so to see branch [him] out and be his own artist, that makes me feel proud to have him by my side. He's not feeding off of me; he's feeding off his own energy. Monty is his own artist and together, we just are who we are. We the Remy Boyz, we the Zoo Gang, that's how it is. I got all these guys back no matter what it is.
And now, you're starting to branch out to do EDM festivals. Do you see yourself moving into the EDM world more?
Really, I just want to be everywhere. I want to get into everything. I'm just here for the experience and enjoying myself.
See 40 Hip-Hop Albums Turning 20 in 2016