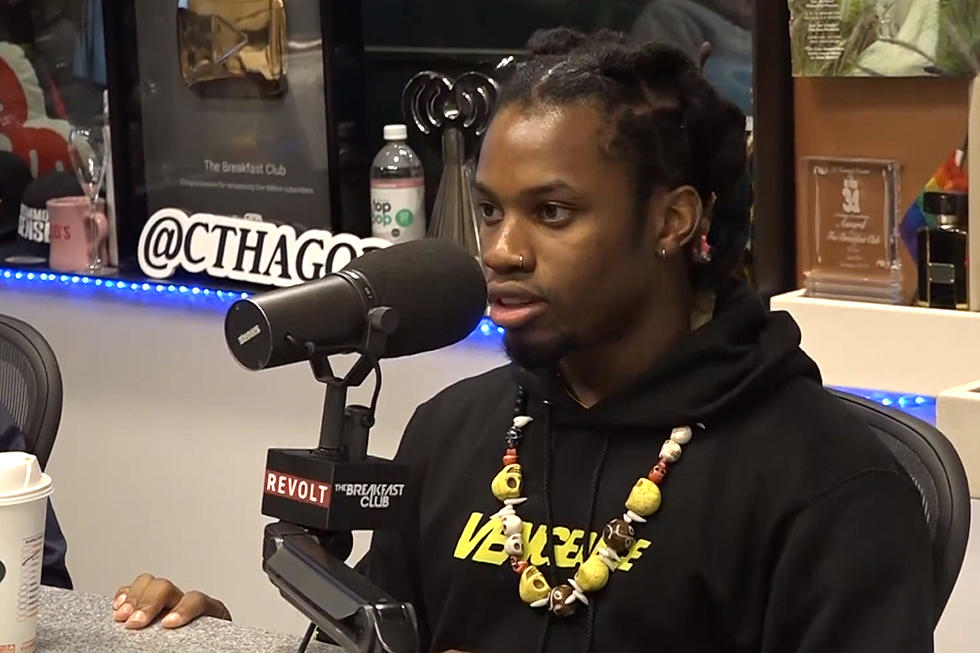 Denzel Curry Discloses He Was Molested as a Child
Breakfast Club Power 105.1 FM via YouTube
Denzel Curry appeared on The Breakfast Club today (Oct. 9) and the conversation turned serious when the Florida rapper made a startling disclosure about his childhood.
The interview moved from his relationship with XXXTentacion to sexual assault after Angela Yee questioned him about the inspiration behind the title track on his latest album, TA13OO, or Taboo. His voice began to crack as he mentioned the #MeToo movement, then Charlamagne Tha God outright asked Denzel if he'd ever been molested.
After taking a deep breath, the "Black Balloons" rhymer says, "You know, I'ma be real, I did get molested when I was young."
"I don't like talking about it 'cause it's just like, it's not me," he continues. "I don't want that to define me as my person." Curry, who was visibly uncomfortable, added that as a man, one feels "emasculated" when molested by another man, which may be the reason a lot of men who've been abused usually don't speak on the issue.
On the topic of XXXTentacion, Denzel Curry shared how moving out of Florida "was the smartest thing" he ever did due to negative influence from those in his hometown. "Love is always gon' be where home is, but it's also where hate it as well," he explains. Because of that, Curry tried talking XXX—who was at the height of his career before his death—into moving to California.
"Once you get to a certain part in your career, the hate is gonna come," Denzel adds.
The Breakfast Club also asked Curry his thought's on Vic Mensa's 2018 BET Hip Hop Awards freestyle, in which he mentions X. "Don't talk nothin' about the dead, bro," he said. "Especially that's a friend of mine. And I know you, that's the different part... It's wack as fuck. Period."
Watch the entire interview below.
See Behind-the-Scenes Photos of Denzel Curry at 2016 XXL Freshman Class Cover Shoot