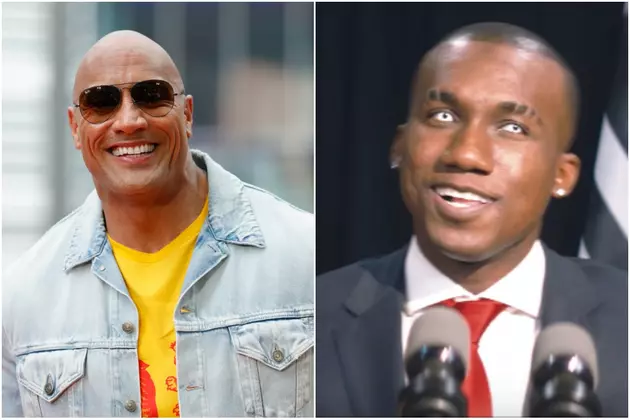 The Rock Listens to a Hopsin Song in New Video He Posted From the Gym
Andreas Rentz, Getty Images / Hopsintv via YouTube
So, it turns out The Rock might be a fan of Hopsin. In a new workout video he posted to Instagram, the sounds of Hopsin's "Hop Is Back" are playing in the background.
In the vid, The Rock, born name Dwayne Johnson, is doing a pretty intense tricep exercise, hoisting himself up and down with what appears to be some sort of weighted chain around his neck. Those muscles gotta come from somewhere, right? The Rock also serves up a motivational message in his caption.
"Big dogs eat," the muscle-bound actor says in the caption. "As many of you know, it ain't a size or gender thing...it's a mentality thing. Shout to all my big dogs around the as we're over here quietly on our weekend grind earning sweat equity. Because at the end of the day, we're always willing to put in the raw hard work for the one thing we relentlessly chase daily - the results. Heavy ass chains around your neck are always optional. Have a hungry and productive week #HardestWorkersInTheRoom #BigDogsEat."
Many believe the clip is a shot at Tyrese, who went at The Rock a couple times last week for allegedly causing the delay of the new Fast & Furious movie.
Hopsin, who recently returned with a new song called "The Purge," is at his best on "Hop Is Back." On the song, the former Funk Volume rapper flexes a tight flow and dense rhyme schemes rapped with Eminem-esque ferocity. It sounds sort of like the audio-equivalent of an adrenaline rush, which in turn only makes The Rock's workout seem more epic.
Check out The Rock's workout video below. Listen to Hopsin's 2013 track, "Hop Is Back," beneath that.