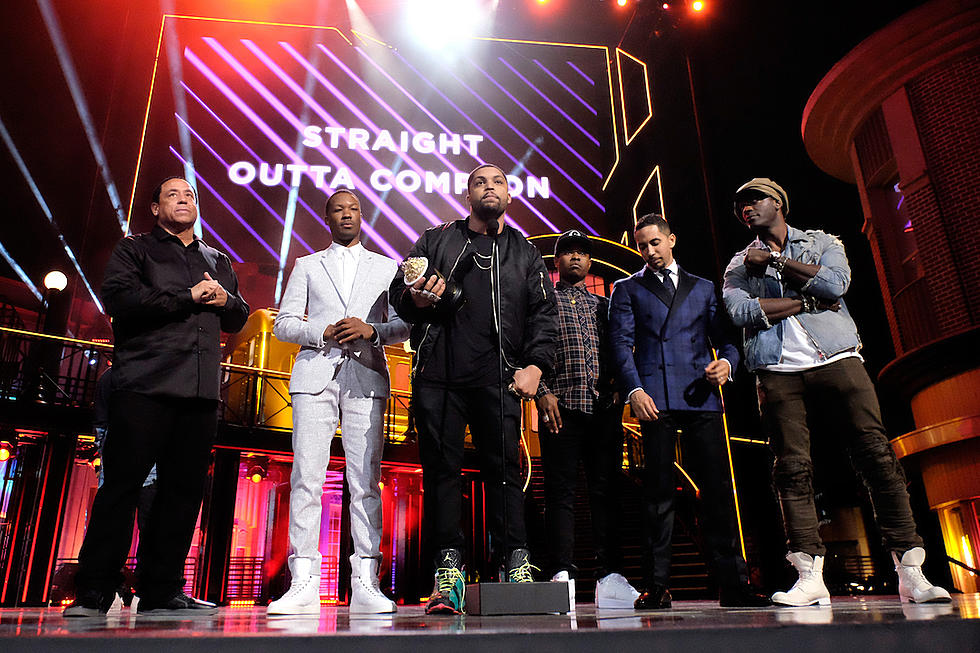 'Straight Outta Compton' Wins True Story Award at 2016 MTV Video Music Awards
Frazer Harrison, Getty Images
The 2016 MTV Movie Awards took place over the weekend, and in addition to Will Smith receiving the evening's Generation Award, hip-hop took home another prize, as the cast of Straight Outta Compton received the golden popcorn for Best True Story. In the above clip, Kendrick Lamar announces the category winner, with DJ Yella shouting out his fellow Rock and Roll Hall of Fame inductees and Jason Mitchell and O'Shea Jackson Jr. speaking afterward.
Mitchell uses the stage time to present a joke as a Freudian slip, mistakingly thanking the Academy for the award. Straight Outta Compton was nominated for Best Original Screenplay at this year's Oscars, but lost the award to Spotlight. Jackson Jr. then plugs Barbershop: The Next Cut, which stars his dad Ice Cube, and encourages all to surround themselves with people who support and inspire them.
"N.W.A., the Straight Outta Compton story is so much beyond music," he says. "It really speaks to brotherhood. And I want everybody in here, when you leave here tonight, really look at the people around you, look at the friends that you surround yourself with. Because I know the people around me, they support me and they motivate me. If you're not hanging out with people that motivate you or what you to be a better you, you're not hanging out with the right people. Everybody in here, no matter what it is you do, you got a boss that's seen your type a dozen, a hundred, a thousand times. But make sure they ain't seen you yet. We out, this for Kobe."
Watch the cast accept the award up above.
40 Hip-Hop Albums Turning 20 in 2016