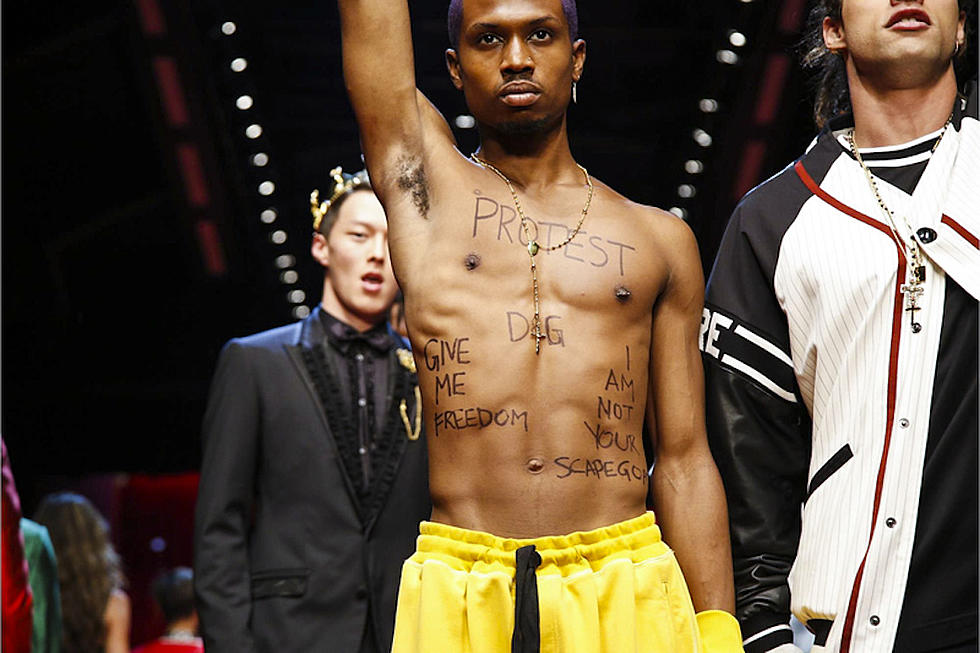 Raury Protests Dolce & Gabanna Fashion Show While Walking on Runway
Gio Staiano for NOWFASHION
Dolce & Gabanna, for the second year in a row, invited influential millenials to walk their Spring/Summer 201818 show in Italy. This year they included Raury, who chose to use his time on the runway to protest the brand by taking off his shirt and then leaving mid-show.
In an interview with GQ, he explained that he disrupted the show to protest the high-end brand because of its recent campaign that belittled what boycotting means to him. "As a young man from Stone Mountain, Georgia, the birthplace of the Klu Klux Klan," Raury "really felt this mockery of boycotting." He was also put off by the fact that the brand had styled Melania Trump.
Once Raury removed his shirt, you can see a series of sentences on his chest written in marker. They include: "Protest D&G," "GIVE ME FREEDOM" and "I AM NOT YOUR SCAPEGOAT." He believed he was brought in with the other models to make the brand look cool to the youth despite the controversy, explaining the meaning behind "I AM NOT YOUR SCAPEGOAT." Following through with this act of defiance sounded like a spontaneous decision he made backstage at the show as it was going on. Security for the show almost detained him as he quickly tried to leave but eventually let him go.
You can check out pictures from the show as well as a video of Raury trying to leave the premises below.
Here Are the 2017 Hip-Hop Music Festivals You Need to See