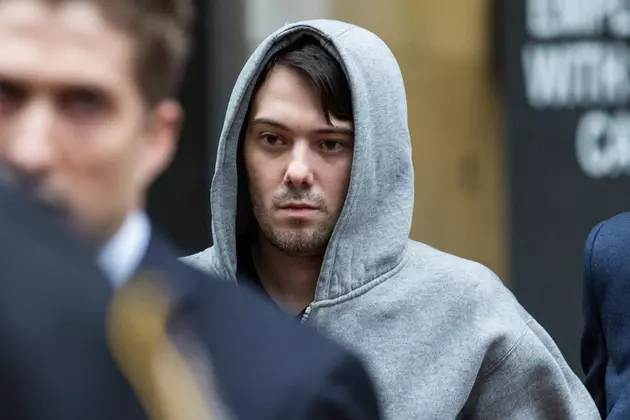 Martin Shkreli's 2015 Arrest Stopped Things From Getting Ugly Between Him and Wu-Tang Clan Fans
Andrew Burton, Getty Images
The Wu-Tang Clan ain't nothing to F with. And apparently their fans aren't either. According to statements made in a new memoir about the sale of Wu's infamous 1 of 1, Once Upon a Time in Shaolin album, which was sold for $2 million to Martin Shkreli, Wu fans were ready to take the Pharma Bro out, but the plan was thwarted when he was arrested by the FBI.
The allegations were made in the new book, Once Upon a Time in Shaolin: The Untold Story, which is written by Cyrus Bozorgmehr. Bozorgmehr was part of the three-man team, along with RZA and Tarik Azzourgarh, who conducted the sale of the mysterious 31-song album.
According to excerpts from the book obtained by DailyMail, things got tense when Shkreli dissed RZA in a scathing interview following the sale.
"No one had ever dissed RZA or the Clan like that. Ever," Bozorgmehr wrote. "There had to be retaliation for this, whether it was through words, fists, or maybe even bullets from a Staten Island crew who wouldn't let the Clan get dissed by this fuck. There's an awful lot of motherfuckers who'd be delighted to step to Martin first - no matter what anyone said. Man's going down."
The book claims when Shkreli was arrested and charged with securities fraud, securities fraud, conspiracy and wire fraud conspiracy that tensions started to die down.
Bozorgmehr claims the arrest also stopped Shkreli from putting out a visceral Ol' Dirty Bastard diss that would have made things a whole lot worse.
"What the fuck is wrong with this guy?,  Bozorgmehr wrote. "Using a dead Clan member to threaten the murder of the rest of the Clan? That would have been tantamount to inciting a gang war."
See Photos of Rappers' Fashion Choices in 1997