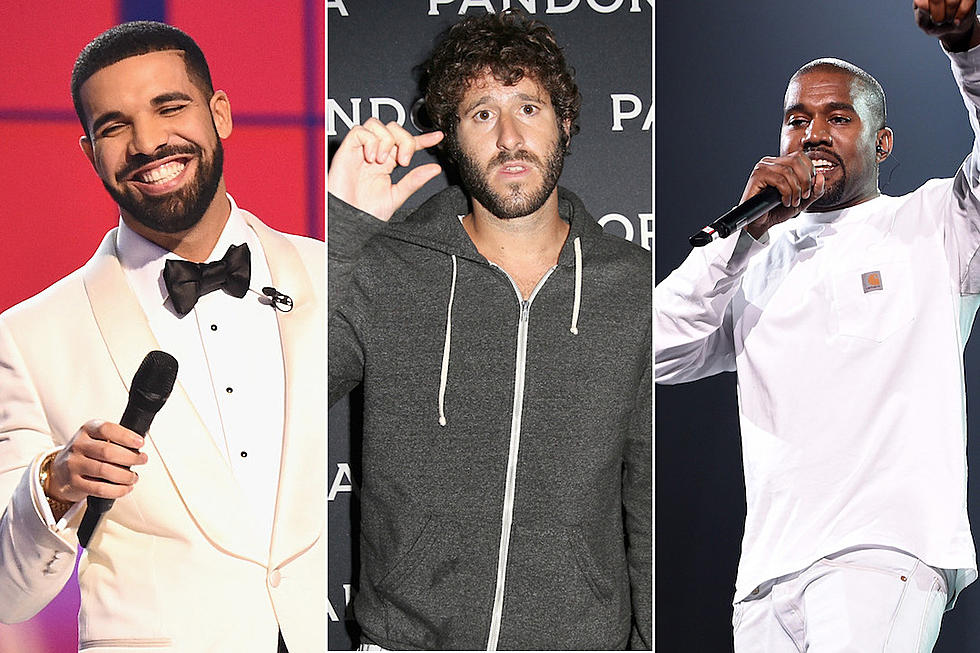 Lil Dicky Shares Drake and Kanye West's Reactions to His "Freaky Friday" Video
Rachel Murray/Michael Loccisano/Dimitrios Kambouris, Getty Images (2)
Lil Dicky's "Freaky Friday" music video with Chris Brown quickly turned into a viral sensation after he released it back in March, but before he dropped it for the public, he premiered it for Drake and Kanye West. While in the studio with Yeezy at some point before it released, Dicky received a surprise visit from the More Life rapper, where he showed them both the video.
During an interview with Beats 1's Travis Mills, the 2016 XXL Freshman shares the whole story of the unofficial premiere party, revealing what he felt while being in the studio with West and then seeing Drizzy walk in.
"I was lucky enough to be in the studio with Drake and Kanye before I put 'Freaky Friday' out," he explains. " I showed them the video before I put it out. I went there to meet up with Kanye and I didn't even know Drake was coming. I was with Kanye, and it was already the best afternoon of my life," reveals Dicky. "And then just out of nowhere — I remember I was texting Gata, and I was saying like, 'Man, I'm having like the best day' — and then Drake walked in, and I was just like, 'I got to go, bye.' Then, all of a sudden my energy shifted towards how can I seem as cool to Drake as possible, without looking like I'm trying hard to be cool at all."
Dicky took advantage of having two music big wigs in front of him, where he pulled up his "Freaky Friday" video, which features him switching bodies with Breezy and living each other's separate and very different lives. Fortunately, both Drake and Kanye seemed very excited about the visual clip.
"Luckily, I was armed with "Freaky Friday" before it came out, so I was like, 'Yo, do you want to see this new video?' I'd already showed Kanye, and he loved it and was like, 'Yeah, let's see it again,' and I showed Drake, and Drake was like, 'Dude, that's one of the best videos of all time,'" he continues.
Before he left, Dicky also took advantage of the opportunity to tell both Kanye and Drake how much they mean to his musical career, naming them as his top two artists ever.
"I told them, I said, 'Guys, while I have you both here, you guys are by far, my favorite two musical artists ever and whoever is third, there's a big drop off to me," he says. "I do love Jay-Z, too, and he's so important, but in terms of shaping my life, you guys shaped my musical life.'  Drake was like, 'Man, thank you so much.' He seemed moved by such a thing. Kanye was like, 'Yeah.'"
Check out the full interview with Lil Dicky on Beats 1 below to hear the story.
Behind the Scenes With Lil Dicky at the 2016 XXL Freshman Shoot