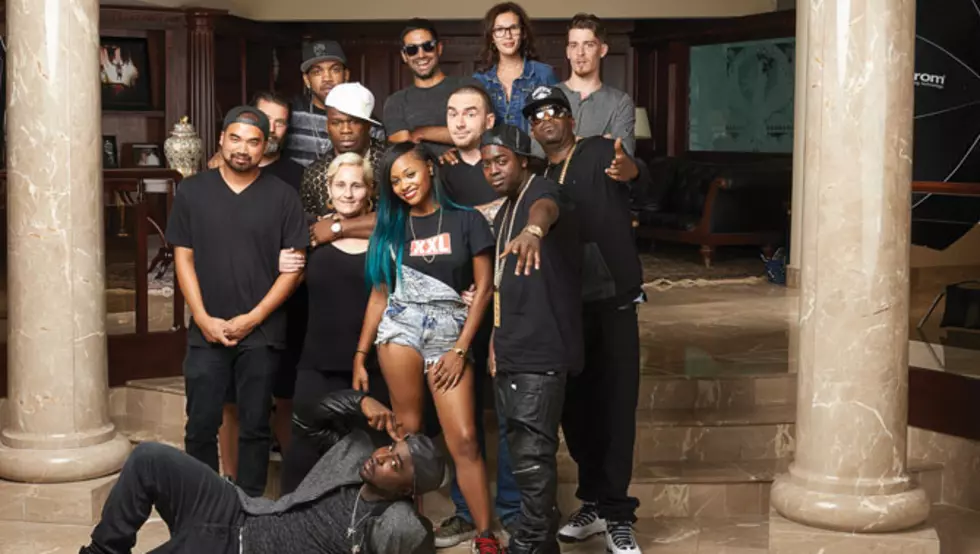 Editor-In-Chief Speaks On XXL's New G-Unit Cover
Photo Credit: Tom Medvedich
I think I was meant to be the member of a hip-hop crew. See, I'm a team player, I pick sides, I'm ride or die, and I'll take on my buddy's beef, holding grudges until the end of time. Those were some of the qualities I always loved about G-g-g-g-g-g-G-Unit. So when they broke up, I was extremely disappointed. Sure I knew the dudes personally a bit so it was upsetting to see them not getting along firsthand, like they once did. But also, it felt like hip-hop took an L. To me, historically, G-Unit was (is) the ultimate hip-hop crew. It's rappers who came up with each other and blew up together, each selling millions of records. Dudes who actually record/ed together (rather than email verses around) in a studio at a mansion that they all stay at when not traveling around the world together to perform. A rap crew that shares holidays together. That supports each other's individual projects (and beefs) with more than just a tweet. It's what wannabe rappers only hope to get to be a part of. (Welcome, new member Kidd Kidd!)
I honestly didn't think we'd ever see a G-Unit reunion, and when I saw Young Buck, Lloyd Banks and Tony Yayo backstage with 50 Cent at this past Summer Jam, I almost shed a tear for hip-hop. XXL has a long history with G-Unit. We were with them the last time they were together as a group more than half a decade ago at 50 Cent's Farmington, Conn. house for our May 2008 issue. So it made sense that we pick up where we left off with them and create the definitive reunion story while out at 50's place, again. But it's six years later so times are different. We have XXLMag.com these days, an outlet that existed but was different for content back in the G-Unit heyday. So this issue we have a cool cover story, dope photos, special interviews online and some great video content with the G-g-g-g-g-g-guys. Kellen and Riley Dengler worked with us to shoot an intense G-Unit roundtable and a mini documentary, plus much more. So definitely check that out. (Shout out to Nikki Martin, Sharon Salamone and the whole G-Unit office for all of their help with this project!)
I love G-Unit. I've spent a huge chunk of my adult life documenting theirs, so it's kind've special to see this reunion happen. I sincerely hope we do it justice and that fans understand the importance of a crew like theirs. As Jeezy might say, they are the last of a dying breed.
Besides G-Unit's reunion, this issue is also special because it celebrates the 30th anniversary of one of the most important labels in music history: Def Jam Recordings—with a look at what's making them win these days (page 89).
We also have a long overdue feature story on Lil Wayne's manager, Cortez Bryant, co-CEO of The Blueprint Group (page 48). Someone should've really done a story on this dude years ago, but I'm glad we're the first. Cortez is the man.
And we also caught up with Joey Bada$$ in Brooklyn to go in real detail on his life story (page 52), and then there are some sexy photos of this month's Eye Candy, Tatted Up Holly (page 58).
"Good as a bag of Afghanistan reefer / I can't fuck with me and y'all can't neither"