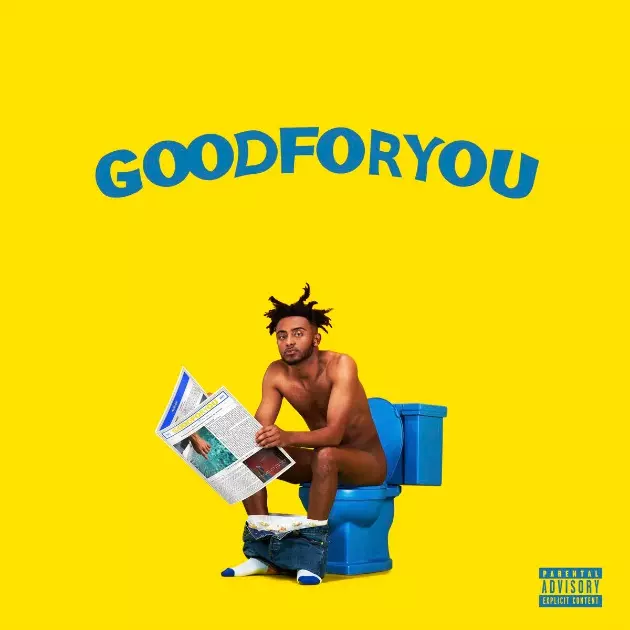 20 of the Best Lyrics From Amine's 'Good for You' Album
CLBN LLC/Republic Records
The West continues to make major waves as one of the more active regions in hip-hop as of late, and Republic Records signee Aminé looks to further bolster his coast's standing with his colorful rap style. Coming out of Portland, Ore., an area that has been relatively untapped in terms of its rap talent, Aminé has emerged as one of the hottest rookies of 2017. The rapper has a great chance of putting his city on the map if his success thus far has been any indication.
The son of Ethiopian immigrants, Aminé originally had hoop dreams, but would begin to take a stab at rapping after being cut from his high school squad. He began to catch a local buzz by making diss songs about rival high schools. Deciding to pursue rapping as as a full-time career, in 2014, Aminé released his debut mixtape, Odyssey to Me, as well as an EP, titled En Vogue. Following up those projects with his 2015 release, Calling Brio, Aminé would enjoy a breakout 2016, releasing his hit single "Caroline," which shot up the Billboard charts, peaking at No. 11 on the Hot 100.
With his single in heavy rotation, and a spot in the 2017 XXL Freshman class, Aminé is ready to take another leap in his career with his debut album, Good for You. The LP attempts to live up to the hype set by "Caroline" and stamp Aminé as one of this year's more touted newcomers. Boasting guest appearances from Ty Dolla $ign, Nelly, Offset, Charlie Wilson and Kehlani, Good for You is an upbeat collection of songs that prove that Aminé is no one-hit wonder and has the makings of being a star.
After giving Good for You a spin, we've selected 20 of the most quote-worthy lyrics from Aminé's album that caught our attention.
"Veggies"

Aminé Featuring Ty Dolla $ign

"Now pass me the lighter/Old flame callin' so she wanna light the fire/Now I'm super tired/When we get together, room sound like a choir/Yeah, I'm a true lifer/Pussy make me happy and it make me inspired/Forget to read on my Bible/Only God know why I go through these cycles" - Aminé

"Yellow"

Aminé Featuring Nelly

"I was down, yeah, now I'm better/Stuntin' with my dogs like my first name Cruella/Black girls love me 'cause a nigga got some feta/And white girls love me like my first name Coachella" - Aminé

"Let's get gory/Like a Tarantino movie/Don't wanna talk it out, can we fuck it out?/'Cause we gon' be up all night, fuck a decaf/You say I'm a tall thug, guess I'm a G-raffe/If ya want safe-sex, baby use the knee pads/Freaky with the sticky icky/Baby give me kitty kitty - Aminé

"Head up in the clouds/My feet to the ground/I hate all your friends/But y'all splittin' rent/So every night I'm over/I try to find some closure/But you open your jaws/And then I'm goin' raw" - Aminé

"British girl, got a show in London/Won't you come around? Put you on the list, it's nothin'/Say you gotta work 'cause you're studyin' for Masters/Yeah, these women fine but only on the camera/They deceivin', super thievin'/They fitness come and go like when they weave in" - Aminé

"All up in my face with the oochie wally wally/Sounding like girls at a party on the molly/I ain't tryna link or build/Bubble space, bubble space, still, nigga, chill/Oh, you got a chain? Sick/Oh, you got some fame? Sick/Got a new Rolex and you knew he had to flex/'Cause the hoes gon' check"

"Now I'm 23/Loving and learning from all the lovers that I see/Nissan beige, but the body burgundy/Love my car same way I used to love Key/Friends need a Uber, sis need tuition/Fans want the music, but they want a politician/Pressure, pressure, pressure, pressure, pressure/Shut the fuck up, I don't need the extras"

"Wedding Crashers"

Aminé Featuring Offset

"Vultures at the altar tell the pastor to watch his back/My girl said she wanted change and then she got a quarterback/Well, damn, I ain't no football player/But I hit it harder than a football player/The girl of my dreams just became a girl/And well, we can talk about that later" - Aminé

"Wedding Crashers"

Aminé Featuring Offset

"I slide in it and then Imma dodge in it/I got her selling her soul/Pick up five bags in a row/White diamonds look like the Pope/Gucci Python on the loafers/Yeah, my pinky look just like the ocean/It's colder, North Dakota/From the bowl to the chauffeurs/Having fun in a Rollster/In Milan copping Goyard" - Offset

"Naked like a nudist/Fruity Loops and Stanley Kubrick/Peanut butter jelly/Cousin bumping Makaveli/Sipping Stellas with my fellas/Bumping nothing but Fela Kuti/Groupies say they wanna do me/Truly, that feel like a blessing/But finding one to love is getting harder every second"

"Mama called/She said, 'Don't worry 'bout me, baby, get your problems solved'/I told her "Ask me for whatever, whenever you want/I just went double platinum/Mama say my health is more important than my album/I'm not loud, I'm Ethiopian rowdy/Send my parents to Maui, now they skin look like a brownie/Yo-Yo see me grind, Dimitrius say he proud/My niggas lift me up, whenever I'm 'bout to drown"

"Walking on the pavement I chipped my pride and my teeth on/The girl I grew up with lives a couple houses down/The 8 Bus run the same, dogs howl when the train/Comes like my ex girl and next girl/Used to rock the S curl/Wanted me a Nextel but my momma copped a Razr/That's why I couldn't blame her"

"Everybody wanna be a star/Everybody want a nice car/Everybody wanna live great, have a good damn time, never trip with the law/The popo up in P.O./Dirtier than B.O./Bullies from the past act like I'm they fucking hero"

"Every day I'm counting up my paper/Petty niggas hate, the ones in public with the vapors/Leave 'em in the dust and then we tell 'em see you later/Only people that truly know me is my mama and my maker/Shawty, you like my freeform dreads/I love it when she give a nigga freeform head/It's the banana boy, favorite color you know/Yellow is the new black, and I'm Mr. Caputo"

"Dreads like Bob Marley/Hardly ever call these hoes, I'm too gnarly/Look like George Foreman/Couldn't afford Jordans/Talk to informant/Never, I'm important/Maybe I might die"

"I wouldn't do much for money man/Aminé ain't Juwanna Man/Now they all, women makin' calls/Like, 'Aminé, do you got that paper? Let me hold it'/Mama need a whip and my daddy need a crib/Got a phone, lil nigga, why the fuck I need a Rollie?/Black pepper chicken and chow mein, my favorite/Sayin' you ain't racist really sound racist"

"I'm Tom Cruise, the rap game the couch from Oprah/I'm here for my range, boy, not them Rovers/Money make my world go 'round/Money make my heartbeat pounce/Ask God for a lot/Success ain't 'bout the fame and how much jewels you rock/Success is when I can tell my momma to quit her job"

"Patient, I don't ever chase it/If I need some time, Imma stretch it like it's latex/Jesus take the wheel/I need David Copperfield/Parallel to parasails, I'm Aminé McFly/Better ask Moana (Woo)/Flexin' like I'm Maui/I don't care what people think, I'm perfect in my psyche"

"Heebiejeebies"

Aminé Featuring Kehlani

"I got the baddest bitch/Shorty keep hollerin' at me/Told her I'm a young OG from the west/And I'm repping up the 503/I ain't no average bitch/Baby come swing my way/I'ma put you on this game/Get it all gas no breaks" - Aminé and Kehlani

"Heebiejeebies"

Aminé Featuring Kehlani

"I've never seen your type of species/Give me heebiejeebies/Attitude Khaleesi/Woah, and I'm like woah, woah, woah/You, you got so much potential/Every moment spent with you/I bet was always eventful" - Aminé and Kehlani