Nas Talks Marriage to Kelis in "Bye Baby"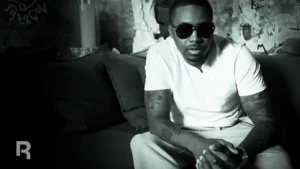 Judging by the handful of leaks that have hit the Internet, Nas' upcoming album Life Is Good is shaping up to be some of his best work in recent years.
Two of the legendary MC's greatest assets are his storytelling ability and honesty. In "Bye Baby," released online yesterday, he displays both. The song, which will serve as the closer on the album, details the Queens rapper's relationship with his ex-wife, singer Kelis.
In his first verse, Nas jumps around a bit in terms of the timeframe of his story, as he's discussing everything from when he first saw Kelis, to their wedding day, to failed attempts at resurrecting the marriage.
"Bye baby, I guess you knew why I walked away/When we walked to the altar that was an awesome day," he raps to open the song, before quickly shifting in the next line to a different point in the relationship: "Did counseling, couldn't force me to stay." Nas also says that he was attracted to Kelis when he first saw her on TV, rapping, "Wanted you as my shorty since before I saw you screamin'/'Hate you so much right now'."
In the next verse, Nas talks touches on the fact that Kelis was seven months pregnant with their child when she filed for divorce. He then calls out Pharrell and Star Trak, wondering why his ex-wife ran with the crew; "You and your Star Trak fam, I'm thinking you cats are weird," he kicks, taking it back to when they first met. Next, he references their home in the Dominican Republic, and references a moment of pride when Kelis got into an altercation with police in 2007, for which she was arrested: "You screaming at the racist cops in Miami was probably the highlight of my life/Like, 'Hiyo, look at my wife'/Gangsta, me and twenty cops 'bout to fight, crazy night/Bailed you out, next morning we got clean/Like it never happened and later we at that Heat game/Just another day in the life of two people in love/But it wasn't enough."
For the song's closing verse, Nas tracks the divorce process, and reminisces on others calling him out for his relationship with Kelis, though he defends his feelings and actions. In the end, though, he seems at peace with the fact it didn't work out: "Next go 'round, I hope I pick the truest type and watch me do it all again/It's a beautiful life, aight/Goodbye."
Nas' Life Is Goo will be available July 17. —Adam Fleischer (@AdamXXL)