Jay-Z Partners With Will Smith to Form Film Company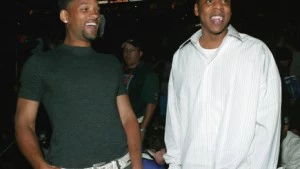 Overbrook Entertainment partners Will and Jada Pinkett Smith are teaming up with Jay-Z to release movies.
According to Billboard, one of the first projects they're embarking on is a remake of the Broadway classic "Annie," in which The Smiths's daughter, Willow, 9, would star. Willow is also signed to Jay-Z's Roc Nation label, which produced her first certified Platinum single "Whip My Hair".
"Annie" will be developed with Sony Pictures Entertainment and produced by Overbrook Entertainment and Jay-Z.  The successful trio have also co-invested in beauty products line Carol's Daughter, and co-produced "Fela!"—the Broadway  play.
"The Overbrook Entertainment family and I have a unified vision. We've already produced a Tony Award-winning play and we're developing a true superstar in Willow," said Jay-Z in a statement. "This venture into film development and production is a perfect next step with teams that are accomplished, creative and innovative."
It's fitting that Brooklyn's own would remake "Annie" has the MC sampled "It's a Hard Knock Life," from the "Annie" musical, in his hit "Hard Knock Live (Ghetto Anthem)."
Another musician set to turn actor is Kanye West. The Chi-town spitter is rumored to  star as a gay band member in a movie about a 1939 jazz band. Oprah, Will Smith and West's 'H.A.M.' collaborator are alledenly funding the project, but the reports have yet to be confirmed. —Nicole LoPresti