Ab-Soul And Jay Rock On New Projects And What Makes TDE Tick From XXL's Oct/Nov Cover Story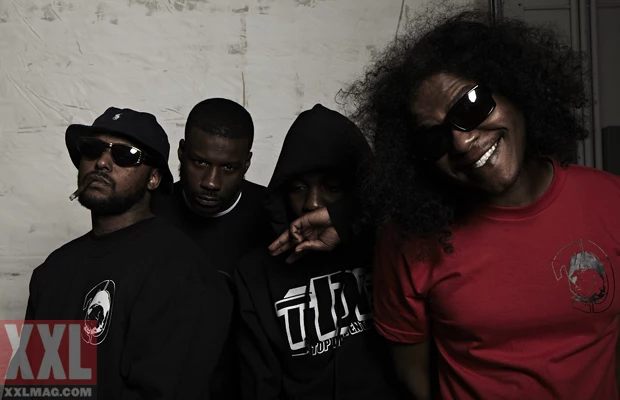 What do each of you specifically bring to TDE right now—not in terms of the history, but right now? 
Ab-Soul: I think the biggest thing with all of us is just where we're from. We're all from the same place, but different parts. We all kinda get the outlook on all of LA when we're in the same room. You can learn about Los Angeles in its entirety if you just go downstairs right now. I'm from Carson—that's where our headquarters just so happen to be so I guess I bring that Carson flavor. Jay Rock is from Watts, 90059, Kendrick—CPT, Q—South Central. This is LA in its entirety.
What do you think TDE brings to the music game?
Ab-Soul: I think we're showing the importance of a movement, of teamwork and having a machine [behind you]. We're not just co-workers. We really fell asleep in the studio with Jay Rock, working on songs. We really hustled together from the bottom, all of us. We didn't just meet each other here and got record deals, you feel what I'm saying? We really all started together with nothing. If anything, this should represent "teamwork makes the dream work."
When you look back or think back to those first videos you guys did as Black Hippy, running round getting Chinese food and all of those things, what would you say to those guys if they were in this room for 30 seconds?
Ab-Soul: That's a great out of body experience. I'd tell me, "When your hair grow just a little bit longer, bro, you gonna look tiiight. Just hang in there. You going through an ugly stage right now, but if you just hang in there you gonna look like Jesus." I'd tell Q to keep working out. [Laughs] I'd tell Dot [Kendrick], "You need to look a little more like Compton, dog. You're looking a little too MTV for me."
Jay Rock: I'd tell myself, "Damned, dog. Loosen up a little bit." I was just too tough.
What caused you to loosen up between then and now?
Jay Rock: Just traveling and going [to] different places. I seen how these dudes are moving, too. Even though I was in front, I always sat back and played the background. I do go back and look at old footage of me [and see] how I used to be. It was just too much. I see it now and it's just starting to all come together. Like I said [earlier], I'm just taking my time with things and growing. I'm still growing, too.
You're in an incredibly fortunate position where you took those knocks, but you didn't have to take them for yourself. Like, the whole situation with Warner Bros., you walked away with—
Ab-Soul: You gotta think: Jay Rock took me and K. Dot all the way around the country, shaking DJ's hands, going to radio stations, meeting these people. So when Kendrick Lamar came back around they were already expecting it. They were waiting on us. That's what Jay Rock represents.
Jay Rock: Exactly.
It's very rare that someone opens doors for other people and then has the opportunity to sit back and figure out what you want to do because the other people have gone through the doors and now they're holding the door open for you. A lot of people don't have the luxury of saying, "It gotta be right." It's more like, "It gotta be out."
Ab-Soul: That's where the family comes in. This is my family. Nobody gets dropped from this. With your family members, you have issues with them and you have fights, disagreements and everything like that, but at the end of the day it's all family. Jay Rock can take all the time he needs to take to make sure he feels comfortable with what he puts out to the world.
Jay Rock: With my old music, I was just rapping, just having fun putting words together and rapping dope lines. You can't deny the shit we kicked was hard, but I was just rapping. Now I'm taking my time, putting concepts together. If you heard Follow Me Home, you could hear the concepts in the songs. I'm just trying to do more of that with this next one. I want to give the people something they could just really live with. We ain't trying to put no BS out.