Chris Lighty's Death Officially Ruled Suicide, His Brother and Russell Simmons Want Further Investigation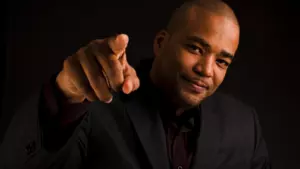 The death of Chris Lighty was officially ruled a suicide today by the New York City medical examiners office. Yesterday morning, the founder of Violator Management and Records and manager to stars like 50 Cent, Mariah Carey, Busta Rhymes and P.Diddy, was found dead of a suspected self-inflicted gunshot wound to the head at his Riverdale, NY apartment after an argument with his ex-wife, Veronica.
Any cause for Lighty's suicide is still unknown but many online and in media have speculated that the rap vet had been stressed by debt and a rough divorce. Blue Williams, Lighty's partner in Primary Violator, told MTV that he did not believe money woes or tax issues were the reason for Lighty's death but other work and life pressures that weighed heavily on his partner's shoulder's. "Chris' debt is probably less important than the pressure that he was under," Williams told MTV News. "What people are missing and what people don't see and what Chris is an example of is how much, as Black men, we carry around and don't always communicate…"
But in the wake of the ruling, Lighty's brother Dave Lighty told Lisa Evers of Hot 97 and Fox 5 News that he was not completely convinced it was a suicide and that he wanted a further investigation performed by the NYPD. Dave Lighty told Evers: "I'm surprised, shocked, and lost at this moment. I want the truth to come out. This isn't my brother. My brother was a strong person, is a strong person. Nothing is adding up. I can't get a direct answer from anybody…I understand there's a process to be followed. I can't even get clear answers from people I think I should be getting clear answers from… I just want to know what really happened to my brother. If he did take his own life, all right, I just wish he could have reached out and spoken to us. We were all here for him. I just want the truth. The truth."
Russell Simmons agreed with the sentiments and this afternoon tweeted, "I don't think Chris Lighty killed himself. His brother Dave, wants an investigation and so do I. Nothing's adding up…" He then linked to the audio of Evers and Lighty posted on his site, globalgrind.com.
With many unanswered questions still swirling, fans continue to pay homage online to the music impresario, who is gone too soon. Since the rumors first broke on Twitter yesterday and all day today, Chris Lighty has been a trending topic as the entertainment industry and fans have tweeted their shock and sadness while sending condolences to Lighty's fam and close friends.
XXL will continue to bring you updates on the death of Chris Lighty as they are released.—XXL (@XXL)