N.O.R.E. Changes Title of Upcoming Album to Student of the Game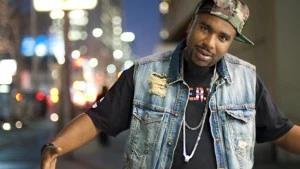 "Super Thug" the movie, yes. S.U.P.E.R.T.H.U.G. the album, no. N.O.R.E. has decided to change the title of his new LP. After a talk with the distributors of his upcoming independent movie, N.O. was swayed to call an audible. The film company felt that if S.U.P.E.R.T.H.U.G. wasn't going to contain music from the movie, it should not have the same title.
"I kinda agreed with them," the New York rapper told XXLMag.com yesterday on phone from Miami. "I felt I should hold it together but make it two separate entities. I said I'll leave the movie 'Super Thug.'"
The new title of Nore's upcoming LP is now Student of the Game.
"I thought long and hard, said I want to incorporate the new music and incorporate what I love from my era," he explained. "You might hear a Jahlil Beats and the next beat is Pete Rock. You might hear a Dreddy beat and the next joint is produced by Primo [DJ Premier]. I'm not opposed to what's going on right now. I love what's going on right now. You might hear me with a Titty 2 Chainz on one record, then I might reach out to Large Professor. I was just thinking how do you enjoy the hip-hop you came from and say then say, 'Look muthafucka, I know what's going on'?"
"More than even being Nore the artist, I'm a fan of the game," he added. "I was still excited downloading Self Made 2. Besides Ross, Wale and Meek being my homies and Spiff [TV] damn near like my cousin. As a fan, I was still excited to wait to Tuesday morning and spend my money on iTunes for the Self Made album. I was excited to buy that Waka Flocka Triple F Life. I'm still a fan."
Fans of N.O.R.E. can expect "Super Thug" the movie next year and Student of the Game around September or October of this year. The first single is coming soon and is called "Want Today."
"It's a statement record," he promised. "I want people to know I enjoy my job. I really love my job. My feet don't heard, I don't have bad knees. my weight is coming together. I want people to know they gonna hear me for a while. I'm not going anywhere." —Shaheem Reid (@ShaheemReid)