Happy Birthday, Heavy D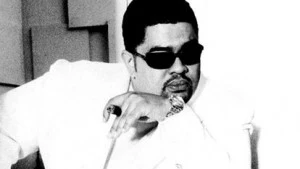 XXLMag.com would like to wish a very special happy birthday to the late, great Dwight "Heavy D" Myers. The rap legend and icon from Mount Vernon, NY passed away on November 8, 2011 from a pulmonary embolism. Myers would have turned 45-years-old today.
Throughout his illustrious career, Heavy is credited for launching the career of Sean "Diddy" Combs as well as his own group, Heavy D & The Boyz.  Together the group released a slew of well-received albums including 1987's Living Large, 1989's Big Tyme, 1991's Peaceful Journey and a few others. Notable tracks such as "We Got Our Own Thang," "Is It Good to You," "Now That We Found Love," "Black Coffee," were just a sprinkling of joints from the group's respected catalog. Hev was also able to make classics with both Michael (1992's "Jam") and Janet Jackson (1990's "Alright [Remix]"), and was one of the few artists to work with both Biggie and 2Pac (Grand Puba's "Let's Get It On").  The Overweight Lover also discovered the group Soul for Real, produced records for Jay-Z and Beanie Sigel, and mentored Uptown Records label mates Mary J. Blige and Jodeci.
He also dabbled in acting, earning recurring roles on the TV series Roc and Living Single and appearing in films such as B*A*P*S (1997), Life (1999), Step Up (2006) and a few others including the recent Eddie Murphy starring Tower Heist (2011) film.
Myers leaves behind a legacy of classic music that his fans will party to for years to come.—XXL Staff