Nicki Minaj Talks New Perfume and Clothing Line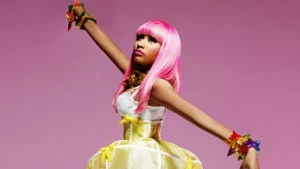 In March, it was revealed that Nicki Minaj would become the face of Pepsi's new beverage, Pop.
Well, now, the YMCMB femcee is divulging details for her new perfume and clothing line.
"This is around 6 p.m., this is right when you've maybe taken your second shower and you want to feel real, real nice and sexy, and then you want to start maybe talking real sultry like this…" Nicki described the fragrance during a recent appearance on The Tim Westwood Show in the UK.
"And that's the Nicki you'll be smelling like, darling, and that's the Nicki your girl will be smelling like if you buy it for her, fellas. Wink, wink."
From there, Nicki segued into talking about the clothing line she has in the works.
"The clothing line is coming out very, very amazing and pretty…but I'm not rushing that one," she added. "It has to be really perfect, ya know what I mean? It can't be some ragdoll stuff. It has to be amazing and really, really specific to Barbz, ya know what I mean?"
Away from the music, which seen Nicki's sophomore LP, Pink Friday … Roman Reloaded, crowned No. 1 on the Billboard charts in its debut week earlier this month, Minaj has definitely been making power moves in the business world.
"Just that I put so much pressure on myself sometimes, I guess sometimes I'm so you know business savvy," Nicki said. "And I like to get everything done, even sometimes if I'm exhausted I'll still and try make everything happen."—Jakinder Singh