Nicki Minaj Says She Doesn't Feel New York City Love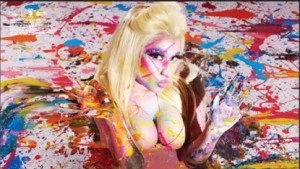 Nicki Minaj definitely feels the love from her fans…just not always from the ones in her hometown of New York City.
When asked if she feels like she gets the proper love from New York, the South Jamaica, Queens MC was pretty blunt in answering.
"Hell fucking no!" Nicki exclaimed to radio personality Charlamagne Tha God, who interviews Minaj as part of the "Press Conference" iTunes Store bonus track found on her Pink Friday: Roman Reloaded album, which dropped Tuesday (April 3). "I was selling my mixtape out of my muthafucking BMW out on Jamaica Avenue…fuck you niggas! You niggas don't know the half of what I've been through!!!"
From there, the interview touches on topics including Nicki's often zany personality, her brand and comparisons to Lady Gaga or Madonna.
"Well I don't know…in a minute, if I fucking sit down and piss, they're going to tell me I can't do that 'cause another bitch did it," Nicki told Charlamagne about the constant comparisons she draws.
During the conversation, Nicki also touches on balancing the actual music with her corporate endeavors.
"It's unfortunate that at times Hip-Hop culture will tell you to lean only to one side, when that is detrimental to your future," the Young Money princess explained. "It's detrimental for your growth. It's detrimental to your longevity. At a certain point as a woman; I'm not talking about as a man because we've seen the blueprint with Jay. We've seen that you could come in the game and do 10, 12, 15—still win and still be the king of Hip-Hop. We have not seen that with a woman so show me the blueprint. That's all I want you to do—Show me the blueprint."—Jakinder Singh